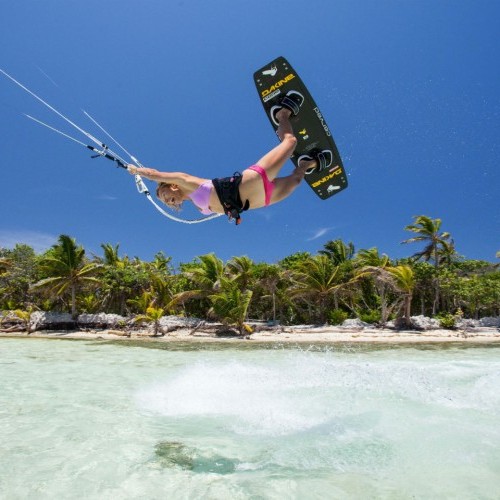 Why Visit?
Haven't you ever heard of Roatan! No wonder... the Islands of Honduras are in the far western part of the Caribbean and often overlooked. Well lucky us, the Eastern side is well preserved as well as its authentic charm and unspoiled nature. The Island's lush green hills, white beaches, and crystal clear warm waters are surrounded by the world's second largest reef system. The modern history of Roatan was a zigzag and resulted in a blend of Caribbean Latin culture and cuisine.
Wind and Weather
The wind blows steadily from the end of December until August. However, the Caribbean trade winds are the most consistent and reliable period, is from March until August. Occasional weather fronts mix up January and February. The wind speed is mostly between 12-25 knots and occasionally over 30. The water and overall temperature are pleasant all year round, and clear skies are the norm. It often rains during the night or in the early mornings, and if it rains during the day, it only lasts a few minutes. Avoid October and November as those are considered the rainy season and not suitable for kiting.
Getting Around
Roatan is the largest of the 3 Bay Islands, long and thin (50km long but only 2-4km wide), there are Taxis readily available upon your arrival and a ferry dock or the airport. Remember to always agree on the fare rate before stepping into the taxi to eliminate potential arguments!
Food and Drink
There are many types of restaurants and other options for food on the island, and there are two major Supermarkets if you want to pick up groceries. Native dishes include pan-fried fish, rice, fried or boiled plantains, tortillas, and beans. Honduras also offers an abundance of fruits and vegetables.
Nightlife
The western side is mostly known for its nightlife environment. People from the mainland refer to it as the "Zona Viva", and as for tourists that want to have a wild night, this is the place to go! The western side is a small town that sits right on the water and is made up of mostly bars and restaurants. Here you find small but very spacious bars hosting local bands.
No Wind
The Island is a real diving and snorkelling mecca – virtually it's entire coastline is fringed by an astonishingly diverse coral reef teeming with tropical fish. On land, exquisite white-sand beaches like West Bay, a mountainous interior of pine-forested hills and the remote wild east of the island (once a pirate hangout) beg to be explored.
Internet
Most hotels and rentals have high-speed internet, and most cafes and restaurants offer free Wifi.
Accommodation
There is quite a variety of places to stay on Roatan but only a few places in the less developed eastern side. On the Camp Bay Beach, there is currently only one hotel the "Camp Bay Lodge" and several upscale private homes for rent.
Featured
Ayvalik is a traditional seaside town on the Northern Aegean sea in Turkey. It is located on the southern coast of the Gulf of Edremit, just across from the eastern coast of the Greek island of Lesbos. It is situated on a narrow coastal plain surrounded by low hills to the east which is covered with pine and olive trees.…
The rugged scenery and unspoilt nature around Lagos and the Costa Vicentina Natural Park are breathtaking. Our region has one of the biggest and best-preserved coastlines in Europe. Some of the most beautiful places are only accessible by water, which makes it extremely exciting to explore this region on top of a SUP board or under a kite. Sandy beaches,…
Located 220km from Lima, Paracas shares the border with a national park. The town has a large fishing community, as well as touristic shops and restaurants. Paracas is one of the closest kite spots to Lima, and it attracts kiters from all along the coast. The spot is perfect for all levels of riding; closer to the beach, the water…
Chris has become the main "kite" source since discovering this slice of paradise. If there is anything you need to know, from safety tips to advice on accommodation Chris is your guy. He's also founder & co-owner of the Camp Bay Lodge & Kitesurf Roatan.
Been to Roatan? What did you think?
Where are the Best Kitesurfing Beaches in Roatan?
Camp Bay Beach is the largest natural beach and the main kite spot on Roatan and enjoys a good mix of sheltered water inside and waves on the reef. When it gets windy, it can get choppy. Usually kiting starts in the afternoon or as soon as the winds switch over from ESE in the morning to ENE around noon. The wind picks up in strength after 3 pm till sunset. The kite school has beach assistants and rescue boat on site. The waters are obstacle free but anywhere around 2-4 meters deep. There is plenty of space and rarely gets crowded.
Wind: Cross on from the right (E, ENE, NE) also works for other directions (WNW, NW, N)
Waves: Out on the reef
Shorebreak: None
The southward-facing harbour is protected by a reef and has a huge shallow flat water spot. This spot is ideal for morning sessions when the wind is still an ESE, E, direction. The kite school organises boat excursions including lunch at local restaurant and VIP setup service since there is no beach and has to be done standing in knee-deep water.
Wind: Cross on from the right (ESE, E, ENE)
Waves: No (crossing the reef is prohibited)
Shorebreak: None
Flatwater: Yes especially with ESE and low tide
This famous little cay is surrounded by the most beautiful shades of blue and popular by both tourists and locals. The Spot gets choppy, but it's a pure beauty to kite around. Unfortunately, we've seen a major decline in its vegetation and size over the last couple of years.
Wind: Side shore (E, ENE, NE)
Waves: None
Shorebreak: None
When is the Best Time to go Kitesurfing in Roatan?
The windy months to go kitesurfing in Roatan are January, February, March, April, May, June, July, August, December
Statistics
Do you know a good kitesurfing school here?