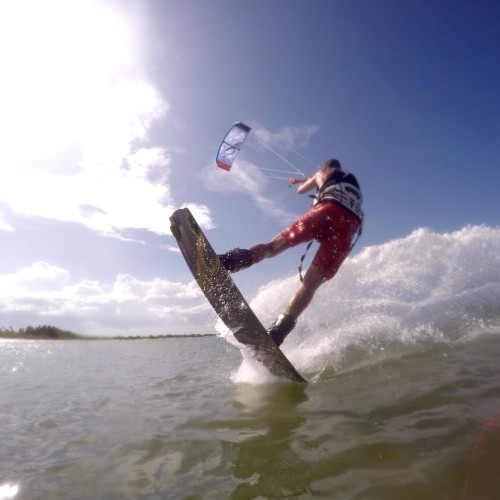 Why Visit?
Rameswaram is a well-kept secret and one of the best kitesurfing spots in India. The eastern coast of India receives stable and steady trade winds for almost nine months every year, giving us a long kiteboarding season. Here you feel like real explorers, with so much on offer. You can indulge in the ancient history which features fabulous architecture and monuments to ogle at or merely enjoy the pristine secluded coastline. However, the main show involves clear blue waters, flat water lagoons, fantastic surf and just you to fill the space. There plenty of kite spots on this island which is nestled in the Gulf of Mannar Marine Reserve making it a paradise for beginners & pro-riders who would like to explore. All being said, the location is just 30 km across the bay from the world famous kite spots of Kalpitiya in Sri Lanka but a better-kept secret with only a handful of kiteboarders. Kitesurfing in the area requires permits which can be managed through the local kite school.
Wind and Weather
Rameswaram has two wind seasons, each for 4-5 months, sometimes more. The south-west winds start around April and last until September with winds blowing in the 18-25 knots range, while the north wind blows between December and March ranging 15-20 knots. Being an island has it's perks, as you can exploit wind from all directions. It rains a little from October to mid-December.
All in all, Rameswaram stays quite dry for the rest of the year. The air temperature stays warm throughout the day (no wetsuits!) with board shorts & bikini weather for all sessions. In the shade, it's cold with the wind keeping the temperature pleasant. The islands near the kite spots create sheltered bays with flat water & a scenic backdrop for sunset sessions. With a good swell pre and post-monsoon, there are some excellent reef breaks which create awesome kickers for mega jumps.
Getting Around
Tuk-Tuks or Autos as they call them are readily available for transport around the island. The only kite school is walking distance from the central kite spot. For other sports cars or autos can be hired or you can join a Kite Safari with a support crew to hop between islands. It is not advisable to venture without the assistance of the kite school who can secure permits for kitesurfing in the various spots.
Getting There
Buses and trains are connecting Rameswaram to most major cities of Chennai & Bangalore. Nearest Airport is Madurai, which is a 2-hour drive from the kite spot and cabs can be organised by the kite school for a convenient airport transfer. Chennai and Bangalore have an international airport with flights from all over the world.
Food and Drink
Rameswaram is a big town with the famous Ramanathaswamy temple which attracts millions of pilgrims who ignore the beaches entirely. There is infrastructure in the city for fixed vegetarian meals & snacks around every corner. The kite school provides all the culinary delights of India with hearty portions of fresh seafood, organic vegetables & juices for mixers. The local beer is world famous and you do get an assortment of other drinks at government shops in the vicinity.
Nightlife
When everyone's gone fishing, you make your nightlife with a BBQ campfire, some live music and mystical stories of what makes India so charming. There are no pubs or clubs in the pilgrimage centre, but there are plenty of stars in the clear skies NS amazing sunsets.
No Wind?
Since Rameswaram is an Island, there is always a non-windy side for those interested in wakeboarding, stand up paddle, kayaking trips, SUP yoga, sailing, boat rides etc. You can also go exploring the architecture and cultural wonders of this holy town. Day trips to the ghost town of Dhanushkodi also known as Lands End can be organised in a 4x4 offroad jeep for an 8 km beach drive.
Internet
The kite school has a satellite internet connection which offers a reliable 5 Mbps connection so kitesurfers can work and play all day. Besides internet dongles are available cheaply which can give a good connection while travelling on a 3g sim card.
Accommodation
There are two properties which were created just for Kitesurfer's, with large open areas, washing, drying and storage for equipment with easy access to kite spots. Kathadi South which is on the south side & Kathadi North located on the north side.
Kathadi North is a boutique homestay and hosts four comfortable en-suite natural cottages located near the pristine Blue Palk Bay with an endless stretch of sandy white beach. Well suited for travellers who would like to spend time by the sea, kite and stay close to nature.
Kathadi South is a budget property which hosts three beach huts and a few tents built to blend with the surroundings. Common washrooms with solar-powered showers. Surrounded by sand, the beach is just a few feet away. The ocean in all its shades of blues makes it perfect to plonk, swim around or indulge in a good book. There are many hotels and lodges in Rameswaram town which cater to pilgrims who visit the famous temple. Some of them are decent but not located close to the beach or kite spots; transport will be required to reach the beach.
Featured
Barbados offers conditions ideal for all water sports lovers. Consistently howling trade winds with beautiful, warm turquoise water and clean waves make it a playground for kitesurfers, stand-up paddle boarders, surfers, sailors, scuba divers and freedivers. Regardless of your kiteboarding style, Barbados offers conditions for all, from freestyle, freeriding and wave riding. Many visitors get hooked on the island because…
Lake Puclaro is a windsurfing and kitesurfing paradise with guaranteed wind. In the summer season its beautifully warm and sunny, and the atmosphere down at the beach is amazing. People come from all over the world to spend the day on the lake, meet the resident locals and explore into the valleys of the Andes mountains. Gualliguaica is part of…
Ayvalik is a traditional seaside town on the Northern Aegean sea in Turkey. It is located on the southern coast of the Gulf of Edremit, just across from the eastern coast of the Greek island of Lesbos. It is situated on a narrow coastal plain surrounded by low hills to the east which is covered with pine and olive trees.…
Jehan has been exploring India for almost 18 years as an adrenaline junkie, after securing instructorship in various adventure sports he finally settled for his one and true passion Kitesurfing. Extremely passionate about developing adventure sports, Jehan has started various projects to train and facilitate the growth of tourism for his country. He shares his knowledge about the Indian coastline and spectacular kite spots with a select few who can help the growth of the locations sustainably.
Been to Rameswaram? What did you think?
Where are the Best Kitesurfing Beaches in Rameswaram?
Swami's Bay is the most popular spot and enjoys a good mix of flatter water and waves on the reef near the islands. Even when it gets windy, it's not very choppy since the islands create a breakwater. The spot is secluded with seldom fishermen or tourists who visit for photographs.
Wind: Cross-shore
Waves: Out on the reef
Shorebreak: No
When is the Best Time to go Kitesurfing in Rameswaram?
The windy months to go kitesurfing in Rameswaram are January, February, March, April, May, June, July, August, September, December
Statistics
Do you know a good kitesurfing school here?