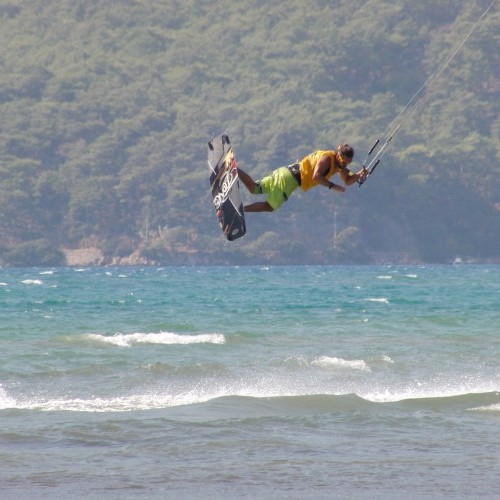 Why Visit?
Gökova Bay is situated in the west of Turkey and surrounded by the warm and clear Aegean Sea, amazingly it is still one of the relatively unknown spots in Europe which means you can enjoy riding here without battling amongst the crowds. The bay itself is 3km wide which means there is plenty of space for everyone! Each afternoon from about noon onwards a thermal wind fills the bay offering clean and consistent winds for you to enjoy. The water is flat and shallow making it the perfect spot to learn freestyle and enjoy freeriding. You'll find a peaceful village next to the spot called Akyaka it is steeped in the traditional Turkish style and filled with restaurants and bars with a laid back cosmopolitan atmosphere.
Getting Around
Although there is no accommodation at the kite beach, as it is a nature reserve, it is within walking distance, however a hire car is recommended if you also wish to explore the area.
Food and Drink
There are plenty of restaurants in the village of Akyaka, mainly serving delicious Turkish cuisine with a few also serving more familiar European dishes. This area is famous for its fish restaurants, you'll find them along the river Azmak, and they are not to be missed.
No Wind?
What do you mean no wind? It's always windy here but if you are unfortunate to have a no wind day, there is plenty to see and do. SUPs are available for hire along with mountain bikes and there are many tracks to walk along, up through the pine forests. Jump in the car and within 45 minutes you can be at the river delta and mud baths in Dalyan or only 30 minutes away is the lively town of Marmaris. Day trips can also be organised locally to Cleopatra's Island, Effesus and Pamukkale.
Internet
ADSL is available nearly everywhere in the village. With plenty of Wi-Fi hot spots in the bars and restaurants.
Accommodation
There is a huge range on offer, depending on your budget you can choose between self-catering, bed & breakfast, hotels and private villas.
Wind and Weather
For five solid months a year Gökova Bay has daily thermal winds turning on like clockwork around noon, giving you a nice lazy morning before hitting the water.
The wind blows from May with about 75% wind probability, however from June to the end of September there are very few windless days giving approximately 99% probability during these months! Even the beginning of October can prove reliable, though in this month we do see the wind decline. These statics have been compiled from a weather station at the bay.
A light sea breeze starts around 09:00 and accelerates to around 18-20 knots by 12:00 as the air temperature increases.
Keep in mind that this is a thermal location and therefore Windguru will not give you a precise forecast. As a rule of thumb, if it's sunny it's Always Windy!
Due to its orientation, Gökova Bay does not suffer from gusty wind; it is clean, smooth and friendly as there are no obstacles for it to pass over on its way to you and your kite!
Featured


St Martin is mainly known for its consistently dry climate and sunny weather. However, not everyone knows that its wind conditions are also consistent year round and the crystal clear waters offer a wonderful playground for everybody. Half Dutch, half French, the island offers a multicultural  atmosphere. You will enjoy the French fine cuisine, duty-free shops on the French side…


Westward Ho! is a picturesque seaside village near Bideford on the North Devon coast in England. The name Westward Ho! derives from the Victorian novel by Charles Kingsley, and is unique as its the only place in Britain with an exclamation mark is in its name. Renowned for its miles of golden sandy beach and backed by a pebble ridge,…


The Belgian coastline (North sea) is only 60km long and consists of sandy beaches - no cliffs, rocks, or reef. There are over 15 spots all spread out along the coastline, so no matter where you are, there's always a spot to kitesurf nearby. Even though the coastline is full of buildings, there are beautiful sandy beaches. Some of the…
Sarah and Mark discovered Gökova Bay in 2010 and firmly put it on the international kitesurfing map. Always Windy offers a complete service to take the hassle out of organising your trip.
Been to Gökova? What did you think?
Where are the Best Kitesurfing Beaches in Gökova?
There is only one spot here, but at 3km long it's a pretty big one! Kite Beach has seen some development in recent years and you'll find ample space for parking and a good launch area. If it gets busy with the learners just in front of kite beach simply ride along the bay to find a quiet spot all to yourself to ride. The water is shallow for about 150m out to sea and the bay is suitable for all levels, from beginners to experts, we've even had Aaron Hadlow riding here! There are no obstacles or hazards to watch out for and with 7 rivers entering the bay the water is clean and clear and not too salty!
Wind: On-shore
Waves: None
Shorebreak: None
When is the Best Time to go Kitesurfing in Gökova?
The windy months to go kitesurfing in Gökova are May, June, July, August, September
Statistics
Kitesurfing Hotels and Accommodation in Gökova
Do you know a good kitesurfing school here? Submit it below.