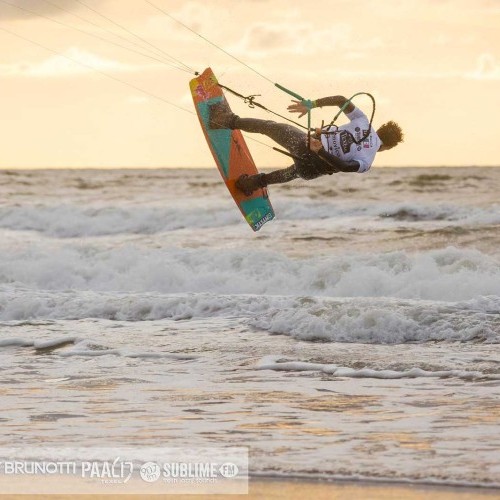 Why Visit?
Texel is the most famous island in the North of The Netherlands. It will take you approximately 20 minutes from the mainland to bring you to paradise by ferry!
With 20km of beach on the west side and a generally good wind forecast, you're' guaranteed to love this spot! There are waves and flat water spots for freestyle, and it is the perfect spot if you like long downwinders. You can kite in most wind directions, and you get to travel around and discover the island while chasing the wind! Forget the crowds; just a few seals keep you company in the water!
You will find a lot of walking trails and forest bike tracks; nature lovers will also enjoy the beauty and peacefulness of the island—many beach restaurants "Strandpaviljoen" where you can eat delicious traditional meals. Paal 9 is a local restaurant on the south beach with a great atmosphere and fantastic food; you should check it out.
You can also hire out a tiny beach hut to keep your personal belongings in while you are at the beach or shredding some waves with the local surfers (who are all super friendly)
Texel is perfect for beginners to advance kiters that want to discover and preserve a super chilled island.
Wind and Weather
In Texel, you can kite and surf all year round. You get the best north wind and swell during the winter months, which deliver great wave riding sessions. The season starts from April until October, during those months you'll' be able to take lessons or rent equipment. Offseason, a 4:3 wetsuit is recommended and 8m-10m kites,, but during the summer months, a 3:2 wetsuit is enough and bring your 9m-12m kites. If you need some tips, the Surf Center Paal 9 crew is always around, and you can ask them any questions you'd' like!
Getting Around
The easiest way to get around is by car and that way you can also get to the spots quickly. However, you can also rent an electric bicycle with a trolley and explore the island with all your equipment. There are plenty of well-organised bicycle paths around. The island is 25km North to South and 10km from East to West, so it's' tiny with lots to do!
Food and Drink
There is plenty of variety in food, atmosphere, and style on Texel! Fish from the north sea and local lamb from Texel are the two unforgettable tastes of the island and indeed recommended.
In July, there is the Food Festival that takes place on Texel, and during that weekend, there's a great beach vibe with delicious food.
Beer is top of the list in Texel; The "Skumkope" is the most famous beer from a large variety of beers that are locally brewed; you don't' want to miss out on that! Texel also has its roasted coffee, which is highly recommended.
Nightlife
In De Koog, there are plenty of restaurants, bars and pubs, all in one street! You'll' enjoy the vibe there as everyone is amicable, and the parties are guaranteed to keep you up all night. In the summertime, there is an abundance of festivals on the island. Early July, start with "Sommeltjespop"" which is a family-friendly live bands festival that happens in De Waal. Sun Beats (a big house-music party) takes place on the beach in mid-July at Paal 17, which is incredible! Towards the end of August is the ''Kite Weekend'' at Paal 17 as well, and then the Tropical Sea Festival that happens in De Koog is also always an event you don't' want to miss out on. As I said, there is still something going on.
No Wind?
There are so many things to do on Texel but not many days without wind!
You can enjoy a grand tour of the Slufter with long walking trails, rent a bicycle to explore the island's incredible landscapes, dunes, and forests or for those looking for action, there is also a great mountain bike trail in the woods.
If you want to see the island from a different perspective, Skydiving is always an option!
Internet
There is internet available everywhere on the island, it's free, and it's' fast!
Accommodation
You have a full range of choices, from camping in the dunes with tents or yurts to rental houses and hotels. Also, check out Air BnB.
Netherlands
Error getting country data...
Featured
Seco Island is a paradise for kitesurfing. It is only a tiny island (400 m x 100 m) in the Sulu Sea, 50 km west of Panay. But despite its size, it has great kiting conditions, delicious food, fantastic sunsets and star-filled night skies. Sunsets are amazing too making this the perfect dream spot. Wind and Weather The wind is blowing almost all year.…
Sakalava Bay is a kitesurf jewel spot, reachable via sandy road from the concrete road stretching from Diego to Ramena village. It is the most beautiful bay in Diego Suarez area and the only one gathering perfect wind direction, flat water, waves and protection from the reef. Since the ground is sandy, the risks of getting injured are minimized.  At…
Constant trade winds, a choice of sandbars, five kilometres of powder white sand beaches and large summer swells make Watamu a wonderful playground for kiters of all levels. A world heritage site, Watamu is also a protected area of outstanding natural beauty with safari game reserves as well as a stack of other activities and sights close by. Wind and…
French, and lived in Tarifa for 15 years, I started windsurfing when I was 8 years old and then got into kitesurfing in 2005 with the first bow kites! I've been an IKO instructor since 2006 and start traveling the world the world till I met my dutch wife in Vietnam through our shared passion; watersports. Now we have 2 beautiful kids and have been enjoying the lay-back atmosphere of Texel for the past 3 years.
Been to Texel? What did you think?
Where are the Best Kitesurfing Beaches in Texel?
Paal 9 has a beautiful sandy beach, giant waves with NW wind and a freeride spot with SW wind. You can park very close to the water, so it's perfect for checking the conditions. This spot works well with most wind directions, except for offshore from the East.
Surf Center Paal 9 can give you lessons from beginners to advance kiters with brand new equipment and professional and passionate IKO instructors.
Wind: Works well with most wind directions, except for offshore from the East
Waves: Yes
Shorebreak: None
Paal 17 is on the west coast, and it is where the Kiteboarding World Cup stop in 2017 took place. It's a sandy beach that is perfect for a freeride/freestyle spot and can also get some waves. It is considered the busiest spot on the island, and it works with most of the wind, except the east.
Wind: Works well in all directions except East
Waves: Small waves
Shorebreak: None
This spot is for more advanced riders as there is a strong current. It's a perfect spot for foiling.
Wind: Works best from the N or NE
Waves: Small waves
Shorebreak: None
When is the Best Time to go Kitesurfing in Texel?
The windy months to go kitesurfing in Texel are April, May, June, July, August, September, October
Statistics
Do you know a good kitesurfing school here?