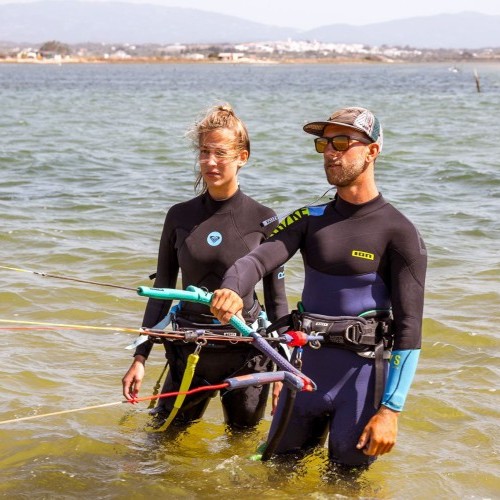 Why Visit?
The rugged scenery and unspoilt nature around Lagos and the Costa Vicentina Natural Park are breathtaking. Our region has one of the biggest and best-preserved coastlines in Europe. Some of the most beautiful places are only accessible by water, which makes it extremely exciting to explore this region on top of a SUP board or under a kite. Sandy beaches, crystalline lagoons, flat seas and fun waves, south-west Algarve has it all.
Wind and Weather
The Portuguese northerly wind is called "Nortada" and is the best friend of all kitesurfers from and travelling to the Algarve. We are blessed with this Nortada for almost every day from May until October, and during the high season, the nortada will howl over the Portuguese mountains until it reaches the Alvor lagoon with a speed of 13 to 30 knots. Mornings are usually calmer (wind wise) than afternoons which are perfect for beginners and more advanced kiters to spread out during the day and enjoy ideal conditions for the level they are at. Furthermore, the Algarve is blessed with more than 300 days of sun per year and the temperature during the high season can peak over 40 degrees (Celsius). Although sun intensity is pretty high, the wind gives a nice cooling feeling which makes the climate very pleasant, but also very dangerous to sunburn so we'd advise all travellers not to be shy with sunscreen.
Getting Around
Portugal is a straightforward country to get around with public transportation. Bus schedules are clear, trains are punctual, and taxis are very cheap for European standards. For those who are keen to have private transportation, renting a car is very affordable in Portugal the prices for rentals start at only €5 per day
Getting There
Portugal is the most western part of Europe. So it's effortless to reach by plane or car depending on where you're heading at this end.
Food and Drink
Gastronomic and The Algarve go hand in hand. There is a wide variety of seafood from skinned horse mackerel "carapace climates" to octopus to all kinds of clams and shellfish. For fish fanatics, the combination with the "vino Verde" (green wine) is an absolute must that will uniquely tickle your senses. For the non-fish eaters, there is, of course, a broad variety of meat as well. The Portuguese have their traditional chorizo, which is made to perfection, and if combined with some local goats cheese will make a delicious appetiser.
Nightlife
There is a vibrant nightlife culture in the Algarve.  Sagres, Lagos, Portimão,  Monte Gordo and Albufeira all have a lot to offer for those who still have the energy to spare after they've quenched their appetite for kiting during the day, but Lagos is the queen of nightlife in the Algarve. Depending on what your preference is during what time of the day, you can spend your time and money in the beach bars, nightclubs, lounge clubs and the broad variety of cafes.
No Wind?
Activities available are kitesurfing, windsurfing, stand up paddleboarding, sailing, parasailing, surfing, body boarding, skim boarding, kayaking, paddle boats, wakeboarding, waterskiing, kneeboards, inflatable tubing, and jet skiing. The Algarve does offer everything!
Surfing, in particular, is very popular in Portugal, hosting the massive annual Ripcurl Pro Surfing competition on Peniche Beach. Other activities include scuba diving courses and excursions, fishing and sailing catamaran trips, bicycle hire and guided tours, hiking, pilates, yoga, aqua aerobics, Zumba and body fitness classes, tennis, horse riding, golf, hot air balloon, skydiving and helicopter tours, Jeep safaris and city tours.
Internet
Portugal has good coverage of 3G and Wifi is very common.
Accommodation
There are plenty of good hotels and a great variety of laid back surf camps to be found. Just be aware that during the windy season for kite surfing, all of the accommodation gets completely booked out so make sure to reserve a spot at your favourite kitesurf camp in advance.
Featured
Hood River buzzes with kiteboarding energy each summer. Cool air from the Pacific Ocean is sucked through the Columbia River Gorge to the hot, Eastern desert. Strong thermal winds blow nearly every day from May through September. Hood River is a charming town with a myriad of opportunities to explore the outdoors, both on and off the river. Suitable for…
Boasting azure blue lagoons, shallow warm water and consistent trade winds from dawn to dusk, Cocos Islands are perfect for all levels... complete beginners, intermediates or advanced freestylers. Wind and Weather The wind blows consistently 15-25 knots all day every day from July through to October. The perfect quiver of kite for the average person would be a 7,9, and 12m. …
Tigertail Beach is a beautiful, white-sand beach on Florida's Marco Island (on the Sunshine State's west coast). It's a unique spot, and you can kite its flat-water lagoon or easily walk across a thin strip of beach separating the lagoon from the gulf and kite the surf and chop in the Gulf of Mexico. However, it is a bit of…
We offer Kitesurf Holidays with Surf, Kite & SUP lessons fully certified by VDWS International in Lagos, Algarve, Portugal.
Been to Burgau? What did you think?
Where are the Best Kitesurfing Beaches in Burgau?
The strong Nortada wind in the summer and the big Alvor Lagoon with waist deep water offer ideal conditions to learn and practice kitesurfing in the Algarve. In the past, the PKRA Kiteboarding World Tour was held here in Alvor, and recently it was stated again by world sailor Alex Thomson "Alvor is one of the best kiteboarding spots in the world".
Wind: Cross on from the right
Waves: No
Shorebreak: No
Perfect for lessons, the Meia Preia is a huge long beach that offers great conditions to fly power kites on land and do body drags in the shallow water. The offshore wind makes this spot only suitable for beginners or very advanced kiters. Intermediates should stay inside a safe lagoon.
Wind: Offshore
Waves: Out on the reef
Shorebreak: No
This is the place to go for wave riding with big waves, strong winds all on an endless sandy beach. A great location!
Wind: Cross on from the right
Waves: Yes
Shorebreak: Yes
When is the Best Time to go Kitesurfing in Burgau?
The windy months to go kitesurfing in Burgau are May, June, July, August, September, October
Statistics
Do you know a good kitesurfing school here?