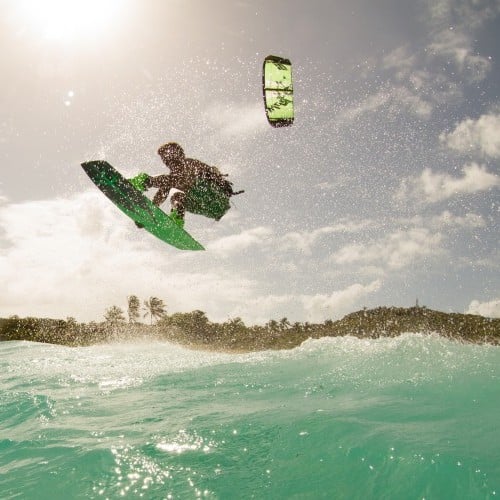 Why Visit?
It's no secret that Antigua has been a significant kiteboarding destination for over a decade now. The island is renowned for being the birthplace of kite legends like Andre Phillip and his protégé Jake Kelsick. Ever since the release of the hit kite film Autofocus, all eyes have been on Dre and the local crew, who consistently pump out high-quality media from their home turf. The wind blows steadily from December through July, and the warm turquoise waters are always inviting. The island offers ideal conditions for kiteboarders of all levels, and the friendly faces keep enthusiasts coming back for more each year.
Wind and Weather
Wind speeds range from 12 to 25 knots from late November to July. The wind/water is always warm, and there is never a need for wetsuits. If it does rain, it never lasts more than a few minutes; clear skies and warm sunny conditions are the norms.
Getting Around
It's best to rent a car while you're here as the local bus system doesn't service all the best areas and taxis can be costly. However, a quick Google search will bring up many options for car rentals on the island.
Getting There
Antigua is considered the hub of the Caribbean, with daily direct flights from major cities like London, Toronto, Montreal, New York, Miami, Atlanta and many more.
Food and Drink
You can expect to find all types of restaurants and other options for food on the island. From local BBQ and jerk chicken stalls to fancy French and Italian cuisine, a wide range of food is available. You can test your palate on anything from Indian Currys to Arabic shawarmas in St John's. In the English Harbour town, you can find many restaurants offering Italian, Mediterranean and even South African cuisine. Look a little closer, and you can find more unique stalls that serve Ital, a local Rastafarian (vegetarian) dish that is sure to delight.
Nightlife
English Harbour town is the place to be for nightlife in Antigua. The town is home to several major marinas that are home to some of the world's biggest motor and sailing yachts during the winter months. Surrounding these marinas are several bars, restaurants, and nightclubs that cater to the community. Some bars have live entertainment that ranges from reggae to rock and pop music, and the popular lounges feature local and international DJs regularly.
No Wind?
On no-wind days, there are lots to do and see. Antigua boasts a selection of 365 beaches, one for each day of the year. So take a drive, and you can usually find one all to yourself. There's excellent snorkelling, diving, eco-tours, zip-lining, and other adventures.
Internet
Internet is readily available just about everywhere on the island. All hotels and rentals usually have high-speed internet, and most cafes and restaurants have free wifi.
Accommodation
There is quite a variety of places to stay in Antigua. You can find cottages near the main kite beach (Jabberwok Beach) and some hotels that are just a short drive away. If you're looking to stay for an extended period, it's advisable to look into renting a house as it usually works out to be more affordable.
Antigua
Error getting country data...
Featured
Mozambique is one of the most exciting countries you'll ever visit - the long Indian Ocean coastline is dotted with incredible beaches. From Kitesurfing to surfing, scuba diving, safaris, fishing and more, there is something for everyone to enjoy! Make sure you take a break from kiteboarding and check out Kruger National Park while you are there - you won't…
Ninety kilometres south of Fortaleza, the tiny village of Uruaú is famous for its 24-hour blowing wind! The wind is perfect for riders learning new tricks, improving their skills or beginners wanting to progress. Even though Uruaú is a tiny village, it has everything you'll need as it is close enough to Fortaleza but free from any city stresses! Furthermore,…
This is it, a surf style palm leaf bungalow on the beach.  Simplicity at it's finest. Sleeping to the sound of the waves and waking up to the view of the turquoise water. One of the best places in the world for kitesurfing is the Dominican Republic, especially the flat water lagoon paradise in Buen Hombre. Buen Hombre is a hidden…
Adam has been at the helm of Kitesurf Antigua for the past 10 years. Operating at Jabberwock Beach, the number one kite beach on the island, he's the 'go to' guy for kiting on the island. If there is anything you need to know, from safety tips to advice on accommodation Adam is your guy. Adam also plays the role of Art Director for the well known kiteboard company out of Antigua, Tona.
Been to Antigua? What did you think?
Where are the Best Kitesurfing Beaches in Antigua?
Jabberwock Beach is the main kite beach in Antigua. It's a national park with beautiful palm trees, natural vegetation and turquoise waters that are warm all year round. Step out of your car and onto the beach where you can always find a friendly hand to help you launch or land your kite. With the side-on winds, it's perfect for learning and you can usually find a good mix of beginners to expert riders there. Water conditions are 'bump and jump' with some flatter spots behind the reef. There is also a small shore break that can be fun for smacking waves when conditions are favourable.
Wind: Side on
Waves: No
Shorebreak: Small
Johnson's Point is a really fun spot when the wind goes South. It's important to note that the wind here blows side-off, so it's important to ride with a partner and make sure you're well powered before going out, as any incident can lead to you drifting out to sea. There's really flat water on the inside and the waves on the reef offer some great little ramps on the way out.
Wind: Side off
Waves: Yes
Shorebreak: No
Halfmoon Bay is a favourite among the locals. The wind direction needs to be pretty much dead east for the spot to work its best, and luckily we get lots of east wind during the high season. The shore break can get pretty big if the wind has been strong for a few days, which can make it challenging for novices to get off the beach. For intermediate to advanced riders the shore break offers up some mega ramps for launching, and once you get past the break you can enjoy the flatter water with rolling swells. This spot is really photogenic, so be sure to bring your camera if you're going to hit it.
Wind: Onshore
Waves: Yes
Shorebreak: Yes
Green Island is definitely one of the best spots in Antigua. The island is located just at the mouth of Nonsuch Bay, a huge riding area with constant wind and flat waters. The launching beach is facing all the predominant winds that blow through Antigua. The spot can be reached only by boat and 40knots Kite School offer the lift and assistance service to independent riders. The spot is ideal if you wish to spend a full day at the beach, extremely safe for the riders as a rescue boat is always available, and very enjoyable for the non-kiters, with shade and shelter from the wind. Snorkelling is just fantastic right off the beach.
Wind: All directions
Waves: No
Shorebreak: No
When is the Best Time to go Kitesurfing in Antigua?
The windy months to go kitesurfing in Antigua are January, February, March, April, May, June, July, November, December
Statistics
Do you know a good kitesurfing school here?
Kitesurfing Videos and News in Antigua