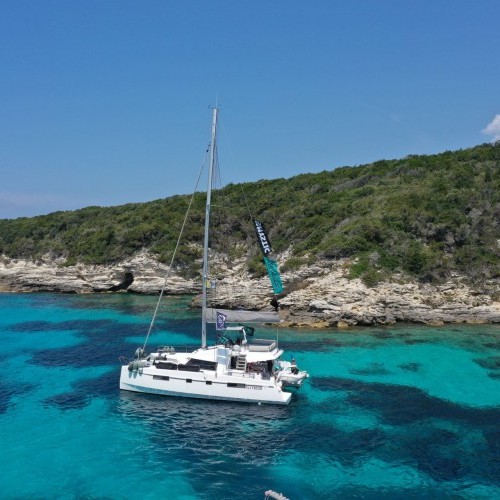 On Board with The Action Cruise
Features / Tue 22nd Mar, 2022 @ 12:00 pm
Have you ever dreamed of stepping on board a sailing catamaran to set off and explore stunning scenery with not a worry in the world, except for which kite size you want to use for your next session?
Kitesurfing is a thrill on its own, but a kite adventure is even better. A kite adventure on a sailing catamaran? Now that's another level! Today, we're taking a closer look at the experience offered by The Action Cruise, which operates Kite & Sail Camps in some of the most beautiful destinations around the world, including Sardinia, Greece, Grenadines and Antigua.
You might be wondering, "What, exactly, is a Kite & Sail Camp?" To put it simply, you board a beautiful sailing catamaran for 6 to 9 days of kiting, relaxing, and exploring. You get to kite in incredible locations under the watchful eye of an experienced crew, practice new skills like launching from a boat, riding in unique or unconventional spots, and learn IKO safety procedures and new tricks and techniques.
Your crew includes three very talented sailors and kiters who are on board to make sure you have the best experience possible. They incorporate photo and video coaching to help you develop your skills, pick you up if you need a rescue, and organise light-wind activities like SUPing, wakefoiling, and wakeboarding.
It's not all about shredding on the water, though, because simply being on the boat is half the fun! Explore open sea passages, island hop, and chase the wind with the crew. Breakfast, lunch, and dinner are included, so you can kick back, relax, sip on a cold beverage, and enjoy the ride!
Win a Commander Twin Tip by Eleveight, CORE's all-new Link harness, or an ultra-light board bag from Prolimit this issue in our FREE subscriber prize draw.
There is something special about waking up on the spot, able to pump up and ride at a moment's notice. Following the catamaran on a downwinder is an incredible opportunity, and having experienced instructors available to offer coaching and make the adventure safe and comfortable is unbeatable. And to be able to kite where nobody else does? Now, that's a unique experience!
We featured an article by Annabel van Westerop in a recent issue of IKSURFMAG, detailing her incredible journey through Sardinia with The Action Cruise. Read the story of her adventure here!
Win a Commander Twin Tip by Eleveight, CORE's all-new Link harness, or an ultra-light board bag from Prolimit this issue in our FREE subscriber prize draw.
Now, you may have a few questions, like… "What if my kiting level isn't high enough?" or "What kite gear should I bring?" or "Why are Kite & Sail Camps restricted to The Action Cruise ASD Members only?" or "Should I go sailing in Sardinia or Greece?!" We're here to help answer some of these most common questions!
Required Kiting Level – This trip is recommended for intermediate or advanced kiters who are able to ride upwind consistently in every wind condition, control the kite on the land, body drag upwind, relaunch the kite from water, body drag to their lost board and self-land the kite with chicken loop quick release. That said, beginner kiters are welcome, though they are required to declare their level and book either beginner lessons or an Assistance Plus package. So, don't be afraid! If you're unsure of your kiting level, the crew will be there to help, and this trip could be what it takes to get you to that next phase of fun!
Kite Gear – The Action Cruise has all-new 2022 North Kiteboarding equipment on board. If you're taking beginner lessons, gear will be provided. If you are an intermediate or advanced kiter, you can rent a full set of gear for your trip and be sure to always have the kite size you need to get on the water! If you'd like to make use of The Action Cruise gear, be sure to request it in advance to ensure availability.
The Action Cruise ASD Membership – All participants are required to join The Action Cruise ASD (Associazione Sportiva Dilettantistica), which has an annual fee of only 10 euros. Membership requires accepting the statute and regulations and complying with the bylaws and resolutions of both the ASD and Centro Nazionale Sportivo Libertas. Participants must also have a medical-release letter for sporting activities. Becoming a member is a very simple and fast process, outlined here.
Sardinia or Greece?! This might be the most difficult question of all! Where would you like to go sailing? Well, the month you'd like to travel might answer that question for you! In Sardinia, kite and sail camps operate between May-June and late September-October, while the Greece camps run from July-early September. Scroll to the bottom of this article for the full camp schedule for 2022.
In Greece, you have the opportunity to explore the Cyclades in 12-35 knot Meltemi winds on a 7 or 8-day trip. The Camp starts in Paros – Paroikia, and the catamaran sails through the central Cyclades islands. Kite in Paros, Antiparos, Small Cyclades, Mykonos, Rinia, Milos and other secret spots. Learn more about sailing in Greece here!
In Sardinia, you will sail through North Sardinia and South Corse on a 6-day trip with Mistral winds ranging from 12-35 knots. The Camp starts in Cannigione-Olbia, and the catamaran will sail between North Sardinia and South Corse. Kite in the Olbia area, La Maddalena area, Porto Pollo area, South Corse, and Strait of Bonifacio. Learn more about sailing in Sardinia here!
Whichever you choose, you can be sure that you'll be sailing to and riding in the best spots with the best conditions for kite sessions, lessons and coaching. If you're a winter season adventure, the team at The Action Cruise can take you sailing in the Grenadines, Antigua and Barbuda upon special request. Over the Christmas season, there are often dates available for single requests, so don't hesitate to reach out and enquire!
The Action Cruise is a team of passionate friends who love kiting, exploring and sailing in the Mediterranean and the Caribbean. They love to share their passion and enthusiasm for exploring, kiting, sailing and adventure, connecting people with the same desires on Kite & Sail Camps around the world.
So, what do previous guests of The Action Cruise have to say about the experience?
Vale says, "Travelling with these guys is epic! They know every single spot by heart, they take you onto the less beaten tracks, they are highly professional in everything they do, and mostly they make you laugh and keep your spirit high for the whole time of the trip. I couldn't recommend them enough, both if you're an experienced kitesurfer or if you want to learn this fantastic new sport."
Vincent said, "I spent an incredible week with this crew in Sardinia and Corsica. All the crew members are very nice and kind and take care of everyone on the boat. We visited the most beautiful places in Sardinia and Corsica, and the trip was 100% driven by wind conditions. The crew has only one objective: to maximise the time you spend on your kitesurfing board."
Charlotte wrote, "Great cruise. Well organised. Great wind and stunning spots. Definitely recommend Fede and the team. I enjoyed the first week so much that I extended my stay. I'll join Greece or Sardinia in the summer too… I was a solo traveller and this is a great way to kite and meet people. It was fun to learn some sailing too. Thanks!!"
Clea said, "Amazing crew, spectacular spots (wave/flat/no one else in the water, incredible colours), awesome atmosphere, great boat, great food… it's such an experience. Great professionalism mixed with great people. It's a tightly-run ship; Fede and Giulio know what they're doing. I felt very safe kiting & sailing, including in rough sea. It's a great opportunity to improve your kiting in different set-ups. And I had so much fun. And I ate so well thanks to Jordane. I came out of the cruise reloaded for months. Recommend 100%!"
So, what can you expect on a Kite & Sail Camp with The Action Cruise? Epic sessions, excellent crew, yummy food, good vibes, and stunning scenery. If that doesn't sound like heaven, I don't know what is!
To learn more about The Action Cruise, visit their website.
Kite & Sail Camp 2022 Dates
SARDINIA 1) 15 MAY – 21 MAY
SARDINIA 2) 22 MAY – 28 MAY
SARDINIA 3) 29 MAY – 04 JUN
SARDINIA 4) 25 SEP – 01 OCT
SARDINIA 5) 02 OCT – 08 OCT
GREECE 1) 05 JUL – 12 JUL
GREECE 2) 13 JUL – 20 JUL
GREECE 3) 21 JUL – 28 JUL
GREECE 4) 29 JUL – 05 AUG
GREECE 5) 06 AUG – 13 AUG
GREECE 6) 15 AUG – 22 AUG
GREECE 7) 23 AUG – 30 AUG
GREECE 8) 31 AUG – 07 SEP
The Action Cruise Crew
In Sardinia:
– Federico, IKO Kite Instructor, Sailor
– Davide, Yachtmaster Offshore, Kite Assistant
– Jurgita, IKO Kite Instructor
In Greece:
– Federico, IKO Kite Instructor, Sailor
– Davide, Yachtmaster Offshore, Kite Assistant
– Jordane, IKO Kite Instructor
In case there are multiple boats or extended trips:
Visit The Action Cruise to learn more!
Editor at IKSURFMAG, Crystal Veness hails from Canada but is based in South Africa. When she isn't busy kitesurfing or reporting on the latest industry news for the mag, she is kicking back somewhere at a windy kite beach or working on creative media projects.
Featured in this Post
Comments