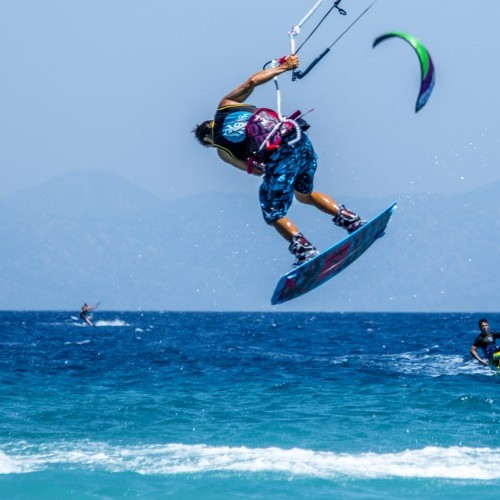 Why Visit?
If you're looking for a summer kitesurf destination with never ending wind, then Rhodes is the place to be. Kremasti is a very nice village in the north of the island which is not so touristic and where the IKO/VDWS licenced Air Riders Kite Pro Center is stocked with the latest North Kiteboarding gear. Going there is like visiting your kite family, the whole team is amazingly friendly and ready to help all the time and you will feel comfortable from the first moment onwards. Besides that, the island offers heaps of other possibilities to get active from hiking, biking, windsurfing, island safaris and of course enjoy swimming and sunbathing at one of the amazing bays. Beneath that, the so called "Island of the Knights" has numerous cultural and archaeological sites. Not to forget the City of Rhodes, where the atmosphere is a very special blend of traditional and cosmopolitan. So all in all it's a perfect summer destination whether you are a kite addict or not. There's something for everyone so no one will get bored here, that's for sure.
Wind and Weather
The Meltemi is the name of the summer wind in the Ägäis, which in Kremasti is coming side shore, slightly side from the left. Between the island Rhodos and Turkey, it turns into a western direction and is pressed through the straits. The result? An amazing jet effect. In the afternoon the thermal pushes the wind additionally, so you can expect 5 to 7 bft. On strong days the wind starts already in the morning with 3 to 5 bft. In spring and autumn sometimes the Tramontana is blowing from the north. In Kremasti this type of wind leads to a quite large shore break, however, this is not recommendable for beginners.
When the Meltemi starts the water stays quite flat in the beginning. The stronger the wind gets, the more chop you have on the water – but still the conditions are good for freestyle (freestyle and wake style are the main styles you find at this spot). Further outside you can enjoy the wind swell which is super fun when you grab the surfboard after you let off all the steam with the twin tip. The water is quite warm, you can expect 28, 29 degrees in the summer. So it's no problem if you lose your board and have to swim a little.
The standing area in the water is very narrow. From the shore the water gets quickly deep. But even super greenhorns will have no problems (if they are motivated and not afraid of deep water) because the teachers at the Air Riders kite station know exactly what they're doing and how they can assist and help. There's also a jet ski rescue service included if you register at the Air Riders station. For sure at this spot it might not be so easy as learning in Egypt – but if you can handle it here, you can go everywhere.
Getting Around
It's easy to hire a car or a motorbike for going around the island, there are rentals everywhere. When you arrive, Air Riders can organize the airport transfers. There are a lot of accomodation options in Kremasti, like simple guesthouses from where you can reach the beach by foot. In the next village Ialyssos you will find also some bigger hotels with pool and playing areas (which might be a good idea if you come as a family with kids). If you want to go for example to the Old Town, the taxis are quite cheap but there is also the possibility to use the busses during the whole day.
Getting There
During the summertime there are heaps of charter flights from different airlines who take you to Rhodes Diagoras Airport in no time. The prices are favourable, but as Greece is becoming more and more popular as a summer destination sometimes it could be hard to get a seat if you book late. Kremasti is just 10 Minutes away from the airport – so even if you come in the afternoon, just get to the kite station, pump your kite and start your vacation with an immediate session!
The other way to reach the island is by boat. There are ferry lines starting from the port of Piraeus daily, the trip lasts about 12 hours. But usually the waterway is more expensive and of course more time-consuming than a flight.
Food and Drink
Kremasti offers many opportunities to eat and drink – nice cafés where you can have your breaky and morning coffee, cool bars where you get excellent cocktails (like Skybar where you must try the Mojito ) and restaurants with delicious food and fair prices. What you should try in the restaurants is Meze (also called Mezedes): A multi- set menu with a lot of small dishes like greek salad, fries, fried feta cheese, stuffed wine leaves, vegetables in different preparation methods and, as a main course, meat or fish depending on what the innkeeper has in stock. It's so delicious and always different, depending on the restaurant where you eat and on the day when you come. The whole thing you get for a quite cheap price, drinks like beer or ouzo included. After an exhausting day on the water this will give you all your energy back! Just a few minutes away from Kremasti you will find the villages Pastida and Maritsa which offer super nice restaurants in a non-touristic atmosphere. Absolutely worth a visit! If you want to buy food there are also some supermarkets in the village and the kiosks which are open 24/ 7.
Try Meze in one of the restaurant who offer them – an amazing tasty mix of regional small dishes that will fill your energy levels up again for the next kite day. You'll love it! (You can also ask for vegetarian Meze).
Nightlife
In Rhodes Town everything is a little bit more expensive. Nevertheless you should go at least one evening to this cool city. Especially the beautiful old town, one of the largest medieval towns in Europe, is a must see, getting in through the old Gate of Freedom, it's so impressive! Also the nightlife is amazing,  you will find a lot of small and super stylish bars, outdoor- discos and much more. For example the amazing cocktails at Mozaik or the atmosphere at Macao ... yum! Just go out and see where you land.
Another thing is the famous as well as infamous Bar Street. If you like hardcore partying then this is your place to be! But then you should hope that the wind comes very late on the day after. Or (the best that can happen in this case) it doesn't come at all. If you wanna see well known DJs like Axwell or Ingrosso you have to go to Paradiso which is a huge outdoor club located on the other site of the island. They start their gigs at 3 a. m. and the party goes on till sunrise.
If you prefer just having a perfect cocktail in relaxing lounging atmosphere, then visit Epavlis Café in Maritsa. Sitting next to the pool and relax, after you've had one of the gorgeous burgers or club sandwiches there makes a perfect evening.
Dancing till sunrise and enjoying the music of world famous DJs sound like your cup of tea? Then visit Paradiso! But don't forget that probably the next day will be windy again.
No Wind?
During the summer (especially in July and August) days without wind are very rare. Even if there is no wind in the forecast, the thermal effect guarantees that the wind will pick up in the afternoon. But ok, if you have no wind in Kremasti, you can go down to Prasonisi in the south of Rhodes. It's a very natural beach with one wavy onshore and one flat offshore site. Although Prasonisi is a super beautiful place, don't expect perfect kite conditions cause in summer it's super crowded with kiters and windsurfers. So ok, back to no wind in the north of the island. You can hike up Filerimos hill and enjoy the view, visit the Valley of the Butterflies and the Museum of Natural History, the ancient city Kamiros or the amazing beautiful town of Lindos. If you want to go shopping, you will find everything you need in the New Town of Rhodes, there's heaps of trendy shops (and for those who are waiting in the meantime, a lot of cozy cafés and bars) – but don't forget to visit the Old Town inside the medieval walls with its fortress like buildings, bastions, minarets, fountains and busy squares.
Ok, you are here for kitesurfing and not for sightseeing … but though you should absolutely visit the old town of Rhodes. Even philistines will be impressed!
Internet
Nearly all of the cafés, restaurants and taverns offer free wifi access, as well as the shops, hotels and guesthouses.
Accommodation
In Kremasti you find a lot of cheap but nice rooms in guesthouses and apartments, also the hotels in Ialyssos offer rooms for very reasonable prices. In Ixia you find one huge hotel next to the other, but be aware – it's very, very touristic there and some kilometres to go to the Air Riders kite station.
Featured


The Cayman Islands, a British Overseas Territory, is made up of 3 islands in the western Caribbean Sea. It is famous for its tax havens to many global businesses, but recently kiteboarding has prospered due to the warm Caribbean waters and steady trade winds. Located south of Cuba it is a relatively close hop from Miami, so there are lots…


Dahab (meaning 'Gold' in Arabic) is a small Bedouin town on the coast of the Sinai Peninsula. Only an hour away from St.Catherine and Mount Sinai, Dahab was initially filled with travellers on spiritual/religious pilgrimages. Dahab is also renowned for its windy conditions and its incredible underwater world. Anyone that has ever visited Dahab will tell you what a unique…


Bariloche is one of the most touristic and well-known places in Argentina, and people from all over the world come to visit it every year as every season has its magic. Bariloche is situated in a national park full of mountains, forests, lakes, and rivers topped off with super lovely kite spots, what's there not to love?! You get to…
Anja is a passionate kitesurfer and founder of kitejoy online magazine and Haubinger Custom made Beanies & Surf stuff. Besides that she works as a writer for different kite magazines and spends a lot of time as a digital nomad on spots where the wind is blowing.
Been to Kremasti? What did you think?
Where are the Best Kitesurfing Beaches in Kremasti?
The Kite beach at the Air Riders Kite Pro Center offers a good mix of flatter water with wind waves further outside. The windier it gets, the more chop you will have on the water. During peak times it may get busy in front of the station but if you go more upwind or further out you have a lot of space for riding. The best sessions are those in the mornings (on days with stronger winds) or in the evenings. The station opens 9 a. m. and closes 7 p. m.
Wind: Side to slightly side off from the left, sometimes onshore from the left
Waves: Wind waves further outside; on onshore days the waves get bigger
Shorebreak: Sometimes on strong wind days (or when the wind is onshore, which is unusual)
When is the Best Time to go Kitesurfing in Kremasti?
The windy months to go kitesurfing in Kremasti are June, July, August, September
Statistics
Kitesurfing Hotels and Accommodation in Kremasti
Do you know a good kitesurfing school here? Submit it below.