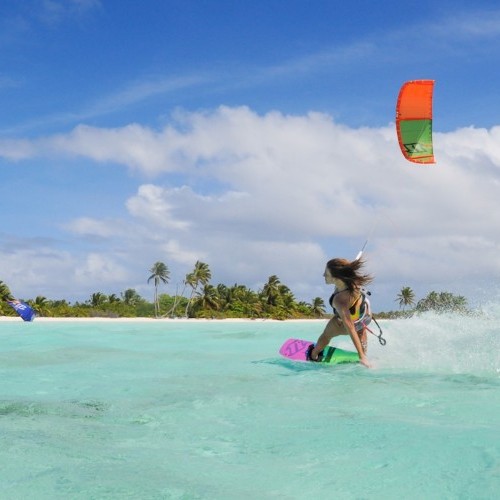 Cocos Keeling Island
Australia
Why Visit?
Boasting azure blue lagoons, shallow warm water and consistent trade winds from dawn to dusk, Cocos Islands are perfect for all levels... complete beginners, intermediates or advanced freestylers.
Wind and Weather
The wind blows consistently 15-25 knots all day every day from July through to October. The perfect quiver of kite for the average person would be a 7,9, and 12m.  The temperature will not drop below 25 and not go above 27 degrees Celsius.
Getting Around
Cocos Islands are quite small, so you will only need a push bike or moped. You can hire mopeds at the airport.
Food and Drink
There are only a few places where you can eat out. On west islands, the Cocos Club has nice food and is very social. If you're after a good feast after a long day on the water, you can't go wrong with the Tropika Restaurant. There's also Dory's cafe which is good for a morning coffee and breakfast. On Home Island, Rasa Di Sayang Restaurant offers a variety of delicious Seychelles, Malay and International cuisine, very famous for its irresistible fresh made desserts.
Nightlife
The Cocos Club is where everyone goes when the sun goes down. You can catch up with the locals and enjoy a cold drink after a solid day of kiting.
No Wind?
It is very rare to have no wind, but you can get a ferry over to Direction Island and relax on one the picture-perfect tropical islands. It offers exquisite white sandy beaches, shady shelters, wood-fired BBQs and walking trails.
Internet
Wifi is very slow and expensive. I recommend using the computers at the Visitor Centre.
Accommodation
You will need to book a house or a bungalow which you can book here http://www.cocoskeelingislands.com.au/accommodation
Featured


Tarifa is the most southern point in Europe, world widely known for having insane winds! If you are hoping to get very consistent wind, this is the place to go. There are loads of different spots that work depending on the wind direction. In Tarifa, you have a Levante that blows from the east and the Poniente that blows from…


For starters, I would like to clarify that geographically Ras Sudr is in Asia, but as it is part of Egypt and you would probably fly to Cairo airport, I've decided to list it in Africa! Ras Sudr is located in Sinai, one of the most magical parts of this world, with a lot of history. As a kite location,…


With exceptional wind conditions daily, kiters of all skill levels fall in love with El Cuyo quickly. An Uncrowded, shallow water beach that offers students the safest, most reliable, and fun learning experience possible. El Cuyo promotes an accelerated learning progression in a laid-back island atmosphere. On the picturesque emerald coast of the Yucatan and full of authentic Mexican culture…
Billy was raised and still lives in the surfing mecca of Margaret River, West Australia. He grew up surfing and skateboarding and at the age of 10 Kite surfing became his passion.
Been to Cocos Keeling Island? What did you think?
Where are the Best Kitesurfing Beaches in Cocos Keeling Island?
The Kite Beach is perfect for learning with crystal blue water, constant cross on shore wind and sandy beaches.
Wind: Cross On Shore
Waves: No Waves
Shorebreak: No
Butter flat water and small islands, the Sweet Spot is perfect for the keen freestyler. However, the unsure winds are a small price to pay for the dead flat water. Additionally it is situated right next to the airport so you require permission to kite at this spot.
Wind: On Shore
Waves: No Waves
Shorebreak: No
When is the Best Time to go Kitesurfing in Cocos Keeling Island?
The windy months to go kitesurfing in Cocos Keeling Island are July, August, September, October
Statistics
Kitesurfing Hotels and Accommodation in Cocos Keeling Island
Do you know a good kitesurfing school here? Submit it below.
Kitesurfing Videos and News in Cocos Keeling Island
11 months ago
When you've got no mates to film your adventures... Shot on Skydio 2 - Demonstrating the next level motion tracking of this autonomous drone! -…