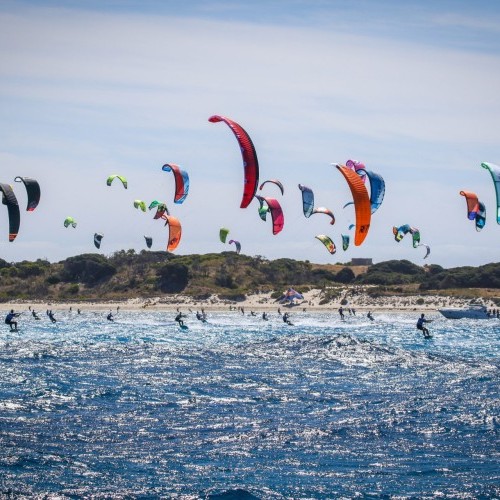 Why Visit
Rottnest Island sits off the west coast of Perth, visible on the horizon on most days; it's a mere 18km from the mainland. Steeped in history, it is now a protected nature reserve, accessible by private boat or two ferry companies that operate daily trips to the island. Home to white sandy beaches, crystal clear waters and the ever-inquisitive quokka, a native marsupial found only on this island, it's a must-visit location for anyone travelling to Western Australia.
Featuring some of the most beautiful beaches in WA, some stunning wildlife, and plenty of wind and turquoise water, it's the perfect place to go and experience something a little different to the beaches on the mainland. Visitors can go for a day trip or get the most out of the area. Why not stay in one of the many different types of accommodation on the island, ranging from camping right the way through to luxury beachfront bungalows. You can even live on the island for up to 15 weeks during the summer. The accommodation gets busy, especially at key periods, so book early to make the most of your trip.
Most of the northern beaches are home to moorings for boats and are not suitable for kiting as they offer shelter from the prevailing SW sea breeze known as the Fremantle Doctor. The southern beaches, though, are different; spots like Salmon Bay will have you thinking you've died and gone to kiting heaven.
Wind And Weather
The summer season officially starts in Perth on the 1st of December, but the famous Fremantle Doctor Seabreeze can kick in in the months leading up to that. You're pretty much-guaranteed wind from mid-November to the end of February. Summer in Perth is hot, and Rottnest Island is no different. Expect to be wearing boardies and bikinis on the beaches. Before the wind kicks in in the mornings, it can be up to 40 degrees. Be sure to seek shade and follow the Australian code of slip slap slop. Wear lots of factor 50 reef-safe suncream, a hat on your head and a long sleeve t-shirt.
You don't need a wetsuit on Rottnest Island in the summer, but a shortie can take some chill off the wind on windy days. Whatever you wear, watch out for the sun; it is brutal here. The SW sea breeze is fairly consistent and easy to predict, so plan your trip around a good forecast. The wind is constant and usually perfect for 10m kites, blowing from 20-25mph. Some days it can be more, and some, it can be less, but if it's a clear day of sunshine, the Doctor is almost bound to deliver.
There are some great surf breaks on Rottnest, and the local surfers often come over on the ferry; it's all swell-dependent, so again, check the forecast if you can.
Getting Around
There are no cars on the island, and there is a bus that can take you around, but with a total area of just 19km, it's easy to walk or cycle around. You can rent bikes, with trailers for kite gear, on the island or at the ferry terminal. A bike gives you the best option for getting around, and there is now a range of electric bicycles on offer, making it even easier to explore. The bus service works well and can take you to some of the main spots, but if you are serious about kiting, get a bike and explore all the options along the south coast.
Food And Drink
There are plenty of places to eat and drink on such a small island. So if you haven't brought your picnic to enjoy on a secluded beach, you'll find many options. The Rottnest Bakery is a great place to grab something quick and easy; they also make good coffee. As the whole island focuses on being eco-conscious, most of the things you eat and drink are sustainably sourced and locally produced with a drive to support Western Australian farmers.
The range of food on offer is impressive, from a sausage roll at the bakery to a 5-star dinner at Hotel Rottnest, and everything in between, there should be something to ensure you are satiated during your stay. A word of advice, when the ferries come in, there is often a mad rush to the restaurants and bars; either get off the ferry fast or be prepared to explore a little on the island first rather than spending your first magical moments on the island stuck in a queue!
Nightlife
You won't find a disco here, but the pub is open late and will serve beers until closing. So the best thing to do is chill at your choice of accommodation with a bottle of wine. Or even better, find a secluded beach, lie back, and enjoy the stars shining brightly over this majestic place.
No Wind?
There is still plenty to do if there is no wind, which is unlikely, especially if you plan your trip around the forecast. Meet a quokka, arguably a must-do on the island, be sure not to feed them or touch them. Human food makes them quite sick, and they are only too happy to eat it. Touching them can make you sick, so say hello, and get a photo but keep your distance. Seeing someone feeding or touching them does not mean it is OK.
Take a tour of the island on a bike, explore the stunning beaches, stop for lunch and do some snorkelling over the reef. If you feel adventurous, why not ride on the Eco Express, operated by the Rottnest Express ferry company? This purpose-built boat will take you on a high-speed island tour in just 90 minutes. The trained staff will seek out all the spots to watch New Zealand fur seals, the bountiful birdlife and, if you are lucky, perhaps even humpback whales that migrate through these waters from September to November.
Internet
Most bars and restaurants have high-speed WiFi, and you can also get a good mobile data signal on the island. Although with so much to see and do, it's the perfect opportunity to disconnect from the world and enjoy the surroundings.
Accommodation
There are many options here, ranging from the campsite as a budget option to luxury bungalows and apartments. You can book these through Rottnest, and rest assured it gets very busy during the summer months, so be sure to book early if you plan to stay overnight. Staying on the island gives you more time to enjoy the place and more time while the ferry tourists aren't present. The population goes from around 350 to 15,000 on busy summer days; these are all day-trippers. So to get a feeling of having the place to yourself, stay overnight!
Australia
Error getting country data...
Featured
Overall a fantastic place with some priceless unspoilt kiting spots. With great people and food and cheap beer (they even come with a plate of chips as well if you're lucky), you can't beat it. Northern Cyprus deserves attention but don't tell everyone; we don't want to spoil it with overcrowding like some of the more famous spots. Wind and Weather…
Rameswaram is a well-kept secret and one of the best kitesurfing spots in India. The eastern coast of India receives stable and steady trade winds for almost nine months every year, giving us a long kiteboarding season. Here you feel like real explorers, with so much on offer. You can indulge in the ancient history which features fabulous architecture and…
Consistent wind, turquoise blue waters, friendly locals, and plenty of authentic experiences are a few reasons Mindoro should be on your kitesurfing holiday bucket list. Mindoro is an unspoilt slice of kiting paradise should you take a less travelled path. One of over 7000 islands in the Philippines, its proximity to the Northern point of the Philippines means it experiences…
Rou has been kiting since the sports inception and has been working as an editor and tester for magazines since 2004. He started IKSURFMAG with his brother in 2006 and has tested hundreds of different kites and travelled all over the world to kitesurf. He's a walking encyclopedia of all things kite and is just as passionate about the sport today as he was when he first started!
Been to Rottnest Island? What did you think?
Where are the Best Kitesurfing Beaches in Rottnest Island?
The best place to kite on Rottnest is Salmon Bay, located on the South of the Island the western end of the bay faces south-east meaning the prevailing sea breeze is cross onshore from the right. On the inside the water is flat and in the middle of the bay, it can get choppy depending on the wind strength. There can be swell on the reefs nearby too, so those can be worth checking out. You'll enjoy an un-crowded session as due to the effort of getting here the Perth kitesurfers rarely come for a session.
Wind: Cross Onshore From Left
Waves: On Reef
Shorebreak: No
Home to the start line of the famous Lighthouse to Leighton Race, which sees over 100 kiters race from Rottnest to the mainland every year at the beginning of December. It's not the most ideal spot in the prevailing SW sea breeze, but as it's where most people experience kiting on Rottnest we figured we would give it a mention. Chances are if you are kiting here it's for the race, so here is some advice to reward the Google hunters out there.
The beach is tiny, the wind is cross offshore, find a spot and get set up as quickly as possible, if the sea breeze is in getting out and off the beach early. This will mean you are settled on the water ready for the start. If the wind is light wait it out until about 15 minutes before the start. There is a good chance of a postponement and the wind is gusty, meaning you might end up crashing the kite and missing the start if you head out too early. The launch is tricky thanks to the dunes, wade out as deep as possible and get upwind making the launch as hot as you can, especially if the wind is light. Try not to tangle with the other riders either!
Wind: Cross Offshore From the Right
Waves: No
Shorebreak: No
When is the Best Time to go Kitesurfing in Rottnest Island?
The windy months to go kitesurfing in Rottnest Island are January, February, March, November, December
Statistics
Do you know a good kitesurfing school here?
Kitesurfing Articles that Mention Rottnest Island
Kitesurfing Videos and News in Rottnest Island