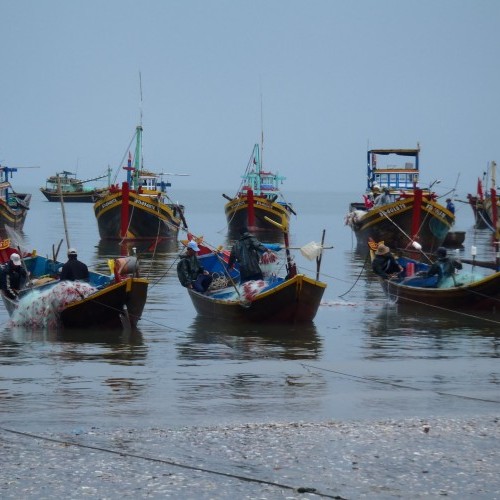 Why Visit?
Vietnam is in southeast Asia and runs from north to south along the South China Sea.  This is a country steeped in history, so even for the non-kiter, there is plenty to see and do.
Mui Ne, which means 'sheltered peninsular', is located 4 to 5 hours drive north of Ho Chi Minh City (formerly Saigon) and is blessed with a long golden sandy beach lined with palm trees and a clockwork trade wind.
Mui Ne gives you a bit of everything, you can relax in your beachside bungalow and switch off from the world, or you can head down to the popular bars and join in the nights fun.
The Vietnamese food is light, fresh and incredibly tasty and if you take a liking to it, there are local cookery schools for a fantastic half day course to learn some basics.  Yoga is very popular in Mui Ne with a dedicated Yogi hangout, Vegan restaurant, and daily Yoga classes and one thing you should not miss out on in Mui Ne is a pampering; there are so many massage and beauty therapy saloons to choose from you are spoilt for choice!
From Mui Ne, it is very easy to travel to other parts of the country either by bus, train or aeroplane from Ho Chi Min City.
Wind and Weather
Vietnam has two windy seasons, the North East Monsoon Season and the South West Summer Season.
The North East Monsoon Season starts around November and runs until April. The windiest months are January through to March, and you can expect winds at a constant 20 to 25 knots, with some days up to 40 knots, so bring your small kites!
What makes Mui Ne stand out is that it is surrounded by miles of red and golden dunes. As the temperature increases during the day, the wind is accelerated thermally by the dunes. This means in the mornings you will be riding slightly larger sizes, 10m and 12m kites, and as the wind picks up, you can switch to 9m and 7m kites!
Getting Around
Mui Ne is an approximately 10km long strip, so you can get around easily by foot, as most of the life is centred around the middle.  The local taxis are cheap and quick if you need to go a little further than walking distance, however, avoid the lure of the motorbike taxis, they are more expensive!
Food and Drink
In Vietnam, you are spoilt for choice.  There is local seafood at every restaurant and a great mix of Asian cuisine along with western alternatives.  A favourite is Lam Tong (which has also been visited by Gordon Ramsay).  Here you will find the local kiters tucking into large bowls of noodle soup for a mere £3 or less, along with Lam Tong's infamous rum and lemon – don't expect the service to be quick here, it's worth the wait as the food is cheap and delicious!  Ganesh is another restaurant that should not be missed!
Head north out of the hustle and bustle, and you will find some the Seafood Hawker Stalls set up along the seafront, serving the days catch straight off the grill. Head further out for an amazing goat BBQ experience!
No Wind?
There are many day trips available from Mui, pop into New World Travel who offer them all, and a lot more, at very competitive prices.
A little north from Mui Ne (approx. 10 minutes) you can take a lazy walk up the Fairy Stream to the waterfall at the end, or visit the famous Red Sand Dunes.  Head south (approx. 15 minutes) and visit the Cham ruins or continue into Phan Thiet and wander around the indoor market.  If you fancy going a little further, a day trip to the spectacular Takou Mountain to see the 49m long reclining Budha is highly recommended.
Internet
ADSL is available nearly everywhere. With plenty of Wi-Fi hotspots in the bars and restaurants.
Accommodation
There is a huge range on offer, depending on your budget you can choose from a basic room to a luxury resort.
Featured
Well, apart from the fact the island has a great reputation, this location has many things to offer for your kite holiday or trip. A place with great waves and butter flat water, a place with steady, reliable side shore wind, lots of space and astonishingly uncrowded! Only 7km away from the overcrowded spot of Paje lays this fairly undiscovered…
Lo Stagnone of Marsala in Sicily is known throughout Europe as the "gym" for kitesurfers. The ultra-flat and shallow waters make it a unique place for beginners to learn quickly and for freestyles; a flat water haven! Located 3km from Trapani Airport, it's ideal for kiters of all levels as you can cruise around the lagoon, explore the islands, and…
Venezuela, at the moment, is probably one of the cheapest countries in the world. El Yaque on Margarita Island is one of the best spots for kitesurfing globally, as it's windy almost all year round. You will find a vast range of riding conditions. Isla de Coche is located between Margarita and the mainland. You can do a downwinder 15km…
Sarah and Mark discovered Gökova Bay in 2010 and firmly put it on the international kitesurfing map. Always Windy offers a complete service to take the hassle out of organising your trip.
Been to Mui Ne? What did you think?
Where are the Best Kitesurfing Beaches in Mui Ne?
You can kite right on your doorstep!  Mui Ne does have a big shore dump at high tide, so if you are still learning ask one of the instructors, at your school, to take your kit out past the dump and hand it to you.  If you are advanced, your skills will be tested.  From Mui Ne central you can do a downwinder, approximately 1 hour, to the Harbour Wall.  Again speak with your school to organise a taxi to pick you up.
Wind: Side-shore
Waves: Yes
Shorebreak: Yes
This is the only flat water spot in Mui Ne and is approximately 20 minutes' drive south.  The best way to get here is by hiring a scooter, as it is a long hot walk back to the main road to get a taxi.  The beach is small and often dirty but gets there early in the morning, as the wind starts, and you will have a great freestyle session.  Around 1 pm the wind starts to switch direction slightly, and it gets gusty here.
Wind: Side/side-on
Waves: No
Shorebreak: No
Fifteen minutes north of Mui Ne central you have the wonderful beach known locally as Malibu.  If you like waves, this is the spot for you.
Wind: 0n/side-on
Waves: Yes
Shorebreak: Yes
Forty-five minutes north of Mui Ne central you will find Turtle island.  This is a small area where the wind funnels between a small island and the golden dunes.  Ask the locals in Mui Ne when it is best to visit this spot windwise.
Wind: Side/side-on
Waves: 0.5 to 1M
Shorebreak: No
One of the best secret spots along this coast is undoubtedly Phan Rang.  To get here, you need to go on an organised trip.  The journey to and from is approximately 5 hours and will give you a real taste of Vietnam away from tourism.  The wind is perfectly sided shore with a flat water lagoon and waves at the reef.  Freestyle your way out, ride down the line and come back upwind in butter flat water!
Wind: Side-shore
Waves: Reef Break
Shorebreak: No
When is the Best Time to go Kitesurfing in Mui Ne?
The windy months to go kitesurfing in Mui Ne are January, February, March
Statistics
Do you know a good kitesurfing school here?