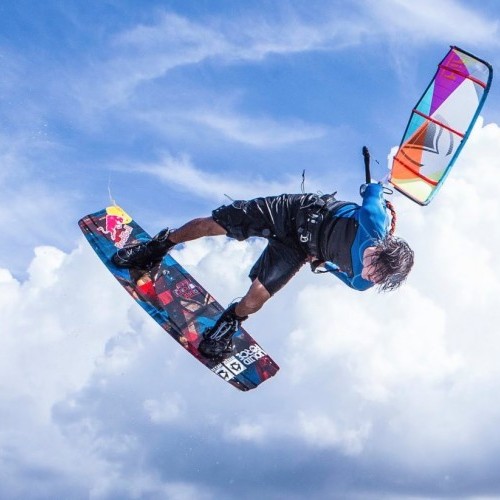 Why Visit?
Peru is a beautiful and safe destination, with the best climate ever, plenty of other activities like yoga, surfing, diving, whale watching, a wide variety of restaurants to try... You will not regret it! Mancora offers a 98% wind statistics, long, perfect waves and endless summer! What more could you ask for!
Wind and Weather
The windy season is From May to January with 98% wind statistics in the south spots (30mn away from Mancora) and 80% wind statistics in Mancora. The wind usually starts around 12:00 and dies out around 17h30. Most of the spots in the South-west and thermic with a side-on wind on most spots while some of them are side-off wind blowing at about 15 - 25 knots. In Peru, it's hot, dry and sunny every day with an average temperature of 27ºC and the water temperature at  20ºC. There are pure, tidy and consistent waves in the north during Austral summer and in the South during winter
Getting Around
Mancora is a small town where everything is walking distance. There are many moto-taxis to drop you downtown.
To visit all the kitesurfing spots around, we recommend you hire a kitesurf guide, Wild Kite Peru offers day-kite trips on the best spots depending on the conditions and the level of the riders, with the possibility of wave-coaching.
Food and Drink
The Peruvian gastronomy is famous for its immeasurable diversity. Legend says that its cuisine has the largest variety of dishes (close to five thousand) of which the most famous being the 'ceviche' (raw fish marinated in lemon juice) You should also try their famous drinks; like Pisco Sour or Maracuya juice, you will love it!
Nightlife
The nightlife in Mancora is considered the best in all of Peru. There is a wide choice of bars and restaurants all along the famous Panamericana and its side streets. Tourists come from everywhere giving it a laidback cosmopolitan community in this little town of the Peruvian Northshore.
No Wind?
This rarely happens, but there are certain days when the waves conditions do not allow beginners to go out.
So we would say: too many waves? No problem! The city of Mancora has endless possibilities to stay active. Originally known as a surfer/fisherman village where you can enjoy the wildlife, see whales, swim with turtles or surf / Stand-up paddle with sea lions. You can scuba dive along abandoned oil rigs, rent ATVs on the beach, bath in thermal mud pools or go out to eat in diverse restaurants. Relax, lay down on a wind-sheltered beach, go to the spa. And of course, have a "Pisco Sour" on the beach watching pelicans catching tubes as the sun sinks into the water for the sunset.
Internet
The internet connection is good but not as fast as in the bigger cities. The internet will be sufficient to work, call, text, watch Netflix or surf the web.
Accommodation
For the ones who want a paradisiacal set-up, a healing hide-away, they should stay in "Las Pocitas" beach, 10mn max away from Mancora, less than five minutes by motor-taxi from the city centre. For the other ones who want to be close to the surfing spot, the kite community and at a walking distance of all the restaurants and bars, then they should stay in Mancora. There is a huge offer of accommodations from the cheapest Hostels to 5-star hotels to the possibility of renting a house, Mancora has it all!
Featured
Just 2 hours north of Perth you will find one of the best spots to kitesurf on the West Coast of Australia. Lancelin is a popular place with kiters and at the weekends, many riders from Perth make the trip up and spend a couple of days enjoying the perfect conditions on offer. With waves and butter flat water there…
If you're looking for a summer kitesurf destination with never ending wind, then Rhodes is the place to be. Kremasti is a very nice village in the north of the island which is not so touristic and where the IKO/VDWS licenced Air Riders Kite Pro Center is stocked with the latest North Kiteboarding gear. Going there is like visiting your kite family, the…
Sardinia delivers all the ingredients for the ultimate kiting island. Quality kiteboarding, fantastic food and some of the best wine in the world... With a wide array of holiday charters heading to the island, flights tend to be very cheap. Easyjet, Ryanair to name two that often have very cheap flights, be careful to book baggage before as well as…
Support by locals, Axel is armed with 10 years of experience on the Peruvian North shore. He will to provide you with a lot of advices about the conditions on the Peruvian Northshore. His company offers the whole experience: customized kite journeys: accommodation, beginners lessons or advanced coaching , waves trips on the best spots, other exclusive activities and excursions, with his best vibes team!
Been to Mancora? What did you think?
Where are the Best Kitesurfing Beaches in Mancora?
Long desert beach with a side-on wind. One nice point break and a long section of shore break. You'll see fishermen downwind with their white sails boats, and you might also spot seals, turtles, and whales. Picturesque background decoration for Hemingway's movie adaptation of The Old Man and the Sea.
Wind: Cross on from the left
Waves: Pointbreak, sandbanks
Shorebreak: Yes
World class with off-shore wind up to 30 knots. Long, perfect beach break up to three meters split up into sections, some forming barrels. A closed down oil camp lies in the background.
Wind: Cross off from the left
Waves: Beach point break
Shorebreak: No
Great spot with the side-on wind. Either for beginners, freeriders or wave riders. A point break in front of the hotels creates a nice, long wave, perfect for learning to surf, paddleboard or kitesurf in the waves.
Wind: Cross on from the left
Waves: Reef point break,
Shorebreak: No
When is the Best Time to go Kitesurfing in Mancora?
The windy months to go kitesurfing in Mancora are January, May, June, July, August, September, October, November, December
Statistics
Do you know a good kitesurfing school here?