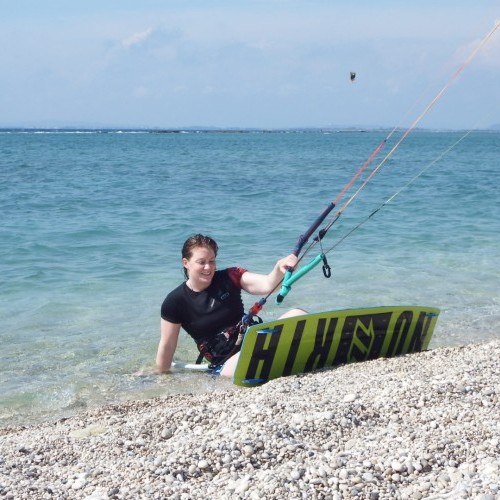 Why Visit?
If you could see my face right now, you'd be laughing your head off and deep in thought as to what sort of face that is. My answer would be "why on earth would you not visit!?" This place is the most wind reliant place I know! In summer, the location couldn't be better with sun and thermal wind every day (pretty much). The Greek culture is fascinating and the kitesurfing spots are beyond fabulous.
Wind and Weather
For five solid months a year, this area of the Ionian sea has the wonderfully smooth Maistro wind. This reliable daily wind starts to build around midday and then drops off at sunset, giving speeds between 15 to 20 knots.  In the mornings the sea conditions are like a mill pond, so you can either have a lazy morning or go SUPing before the Maistro arrives.  In the evenings you can kite until the sun goes down, which not only gives you a good long kiting session, but also some wonderful photo opportunities!
The wind starts in mid-May with about 75% probability, however, from June to the middle of September there are very few windless days, giving approximately 95% probability during these months!  The wind continues through until the end of September, but again, like in May, we are looking at about 75% probability as it declines to come into October.
Due to the combination of the clean Maistro wind and a thermal acceleration, coming over open sea to the beach, the spots do not suffer from gusty winds; it is clean, smooth and friendly as there are no obstacles for it to pass over on its way to you and your kite.
The weather during the summer months is what I would say is "scorching" (hot hot). But definitely bearable! In the evenings it cools down, although I still didn't feel the need for a jumper or jacket. I would recommend taking a jumper for those less hardy than my Scottish self ! The water temperatures are very reasonable during the summer months. I wore anything from a wee (little- wee is the Scottish word for little or small) bikini to a 2.5mil shorty wetsuit. Glorious!
Getting Around
If you want to make the most of your holiday I would fully recommend renting a car at the airport. While all kite spots are within a few kilometres of each other, it is too far to walk and there is no public transport option. The island boasts some of the most beautiful beaches in Europe and getting to them is also only possible via car.
Talking of spots – yes there is a total of 3 spots to choose from, and if you count the flat water lagoon and the Church by the Wooden Bridge, we are looking at five spots that Lefkada has to offer. Depending on the forecast and temperatures, the conditions vary and not every spot will work equally well. I was lucky to have Mark from alwayswindy.com transport me around in his roadster with my North kites and board strapped onto the back! The looks we got turning up to the beaches were pretty funny really, but then he has driven down to Dakhla with the same car!
Getting There
The nearest and most convenient airport is Preveza (Preveza – PVK) which is only 20 minutes away.   Many charter and budget airlines fly directly to Preveza (British Airways, EasyJet, Monarch Airlines, Small Planet Airlines, Thomas Cook Airlines, Thomson Airways, Titan Airways, Air Berlin, Austrian Airlines, Condor, Niki).
Corfu is also an option (Corfu International Airport -CFU).  From the airport you can take a bus (€1,50) or taxi to the ferry terminal and jump on a ferry to Igoumenitsa.  There are three types of ferry and they run every hour:
Open-deck: these only sail during good weather conditions and take 1 hour 45 minutes.
Close-deck: these work in all weather conditions, are bigger and take 1 hour 10 minutes.
Hydrofoils: these only take 45 minutes
On arrival in Igoumenitsa we can have either an airport transfer or hire car waiting with the drive being an easy 1 hour 15 minutes.
Another option is Ioannina National Airport (IOA) which is a 3-hour drive to Lefkada.
Although a long drive (approximately 5 hours on a good day) Athens is also an option if you fancy a stop over to explore this wonderful historic city.  An internal flight (Olympic Air) can then bring you down to Preveza or Corfu.
Alternatively, the bus service is frequent with a return ticket costing €63, however do book in advance as during peak times and weekends this service fills up quickly!  (on-line bookings: Ktel Lefkadas).  On booking you will pay for a return but only state your first journey.  Your return is booked at the bus terminal.
From the airport take the X93 to Kiffisou bus terminal.  The ticket office at the airport is outside between Exit 4 and 5.  Once in the bus terminal go to the small office at the Lefkada (Λευκάδα) bay and hand over your printed ticket and state your return bus date and time, it will be booked then and there.
Food and Drink
Mmmmm gyros! Of course the Greek cuisine has more to offer than just the rotisserie meat, cut into fine slices and rolled in a toasted pita bread… mmmmmmmm… So yes, there is also pretty much anything from the grill, loads of sea food and pretty much anything else you would get around Europe. The huge choice also means low prices – you can have a full meal for under 6 Euros (a Gyros is only 2.50 Euro and will pretty much fill you up after a long day on the water).
Nightlife
In the main summer months, you are spoilt for choice! While there are many bars and restaurants in Lefkadas old town, you can find various nightclubs along the seafront that start to get lively well after midnight. If you want to venture even further, Nidri is a 25-minute drive on the east coast of the island and even boasts an Amnesia club (of Ibiza fame).
No Wind?
Lefkada is well worth a visit even if you do not kite or just need a break (more likely as it really is very reliably windy from June-September). The stunning white pebble beaches, turquoise waters and imposing cliffsides on the west coast should not be missed. In Nidri there are multiple, specialised biking and hiking tours as well as SUP tours for all the water rats. Further inland you can also visit the local wineries that offer free tasting tours for their visitors.
Internet
You can get solid ADSL wifi pretty much anywhere. There is not a single café, bar or restaurant that does not offer wifi for free. You can even connect at the local A/B supermarket as it offers free wifi for its customers. Alternatively, you can get a pay as you go plan with 1GB of data for around 15 Euros at any of the telecom shops in town.
Accommodation
Lefkada has many accommodation options but it books out quickly for the main holiday months starting mid-July and running up until the end of August. It is very advisable to book early if you are planning to come during those months. The wind is good starting the second week of May and will blow reliably until mid-September so if you can book around July and August you will not only find much cheaper accommodation but also empty beaches.
It is advisable to find something around the north of the island, in Lefkas town or close to Frinni (that's near the kite beach in Agios Ioannis). From here it is only a few minutes drive to any of the kite spots, and you will be the first to see when the thermal kicks in.
Featured
Texel is the most famous island in the North of The Netherlands. It will take you approximately 20 minutes from the mainland to bring you to paradise by ferry! With 20km of beach on the west side and a generally good wind forecast, you're' guaranteed to love this spot! There are waves and flat water spots for freestyle, and it…
Geraldton is a port city about 6 hours north of Perth; it's long been a favourite with windsurfers due to the consistent wind conditions during the summer season. Now kiters are starting to venture North and enjoy the strong winds and amazing waves that grace this stretch of coastline. With plenty of places to kite in the area you'll never…
This is it, a surf style palm leaf bungalow on the beach.  Simplicity at it's finest. Sleeping to the sound of the waves and waking up to the view of the turquoise water. One of the best places in the world for kitesurfing is the Dominican Republic, especially the flat water lagoon paradise in Buen Hombre. Buen Hombre is a hidden…
Holly Kennedy is from Scotland an is a full time student alongside being a professional kitesurfer. She participates in freestyle and wave riding competitions and loves to travel checking out different kite spots. She is supported by North Kiteboarding and ION.
Been to Lefkada? What did you think?
Where are the Best Kitesurfing Beaches in Lefkada?
The beach is accessible via a wooden bridge (pedestrian only). You can access the beach via a dirt road leading off the main road to Lefkada island. There is a man-made reef protecting the fine shingle beach from waves, offering a huge, flat water playground. Most areas are chest deep, and if you ride further downwind, you can access the secret spot, known as the Church. There you will find a sandbank with a small chapel and glass flat water.
Wind: Cross on from the left
Waves: Out on the reef
Shorebreak: No
A 15-minute drive from Lefkada town, you get to the kite beach and lagoon fo Agios Nikolaos. The sandy beach consists of a long spit that separates the shallow side onshore area from the side offshore, flat water lagoon. The spot is shallow, sandy underfoot and with side onshore winds, it is a good area for beginners. It can get busy during the initial months as a few mobile kite schools are teaching along the onshore side spot. For freestyle and flatwater fanatics, the lagoon is perfect and for the most part, knee to chest deep.
Wind: Cross on from the right
Waves: None, moderately choppy on the side onshore side
Shorebreak: None
This beach is right on the north shore of Lefkada island. This spot is nearly 100% reliable and will be windy even on days when the other kite spots are not working. After a strong wind day, you will get a strong shore break but it rarely lasts for more than 2 days. Mostly you will be riding in medium choppy/wavy conditions with plenty of space, even on the busiest days.
Wind: Cross on to on from the right
Waves: Yes but rarely more than 0.5m
Shorebreak: Yes after strong wind days (20 knots and above)
When is the Best Time to go Kitesurfing in Lefkada?
The windy months to go kitesurfing in Lefkada are May, June, July, August, September
Statistics
Do you know a good kitesurfing school here?
Kitesurfing Videos and News in Lefkada
5 years ago
With only one recommendation, Lukas Pitsch and the guys take a chance and head into the unknown! Earlier this year, they spent two weeks exploring…