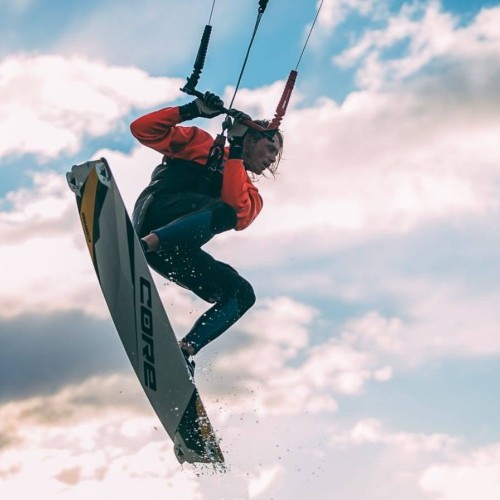 Why Visit?
Bariloche is one of the most touristic and well-known places in Argentina, and people from all over the world come to visit it every year as every season has its magic. Bariloche is situated in a national park full of mountains, forests, lakes, and rivers topped off with super lovely kite spots, what's there not to love?! You get to go kitesurfing, surrounded by mountains, and forest and Bariloche's city, definitely a unique view for every kiter. The sunsets in Bariloche are priceless, and the colours and mountains will leave you breathless.
Wind and Weather
From November and April, you'll experience consistent winds 5-7 days a week. During the rest of the year, you can kite but there are less windy days, and it's freezing. During the summer months, there are steady thermic winds with an average wind speed between 20-30 knots (and some days that reach 35-40 knots)
The temperature varies between 15-30°C during the summer as it's usually hot during the day and colder in the evening. The water is about 14°C is it's a good idea to have a 4/3 wetsuit with you in the summer.
Getting Around
The touristic bus routes services in Bariloche work pretty well, but during summer, and especially in January when Bariloche gets crowded they are often full and don't stop to pick up people up at some of the bus stops during the peak hours. Getting around by car is a lot easier.
Food and Drink
There are tons of places to eat and drink at, and over the past couple of years, it's been getting a lot busier around Bariloche. Nowadays, well have all kinds of restaurants; from Argentinian grills (of course), bars, gastropubs, gourmet restaurants to cheap (but still good) fast food places to top chefs gourmet restaurants.
Nightlife
During high season, there are a few streets that are converted into pedestrian zones with live bands and shows, surrounded by lots of bars and pubs. There is plenty of variety when it comes to homemade beer and of the best quality. There are also casinos, an ice bar, Irish pubs, nightclubs and more.
No Wind?
There are lots of activities to do around Bariloche is there is no wind, including SUP, kayak, rafting, diving, fishing, hiking, climbing, biking, paragliding or just renting a car and cruise around Circuito Chico or the Camino de Los 7 Lagos (Road of the 7 lakes) breathtaking views always surround you!
Internet
All the restaurants, bars, hotels with have WiFi, but it's always the best option to get a local SIM card once you arrive.
Accommodation
You'll find from hostels to five stars hotels. Keep in mind that the prices go higher during high season and it's not easy to find accommodation, especially in January, so, make sure you book early. Renting a car and booking a hotel on the outskirts of town is a good idea if you prefer nature and fewer people.
Featured
Why Visit C Mauritius Hotel? On the preserved eastern coast of Mauritius, C Mauritius' first hotel under the C Resorts brand boasts one of the most beautiful beaches on the island. Get a glimpse of the idyllic lagoon of Palmar as you take in the stunning sunrise view at C Mauritius. Experience the perfect island lifestyle at C Mauritius and…
Hamata is a kitesurf playground with crystal-clear water, a huge waist deep area for beginners and lots of space for the advanced ones to practice new tricks. Unlike other Egyptian spots, it is pretty green and diverse on the water with a scenic mangrove forest upwind of you and three beautiful islands with reefs a little bit further out. The…
Le Morne in Mauritius has to be one of the best spots for kiting on the planet; it caters for all abilities with a mix of flat water, easy waves and world-class barrels all within a 1-mile radius. The wind can be fickle, however, so while you can have the best week ever, you are just as likely to get…
Tomas Steppat started kitesurfing 3 years ago and ever since then, every winter he explores new destinations to teach and progress at including Australia, Spain and Brazil. During the summer, you'll find Tomas teaching in Barlioche (Argentina) at Kitesurf Barlioche School in Costa Kite spot with Marco Margini (owner of the school, close friend, and the person I have to thank for all this!) Tomas loves big air, old school and loops!
Been to Bariloche? What did you think?
Where are the Best Kitesurfing Beaches in Bariloche?
Costa Kite is the most popular spot in Bariloche, and it is just 5 minutes from downtown. It has beautiful colours, surrounded by mountains and Bariloche's centre.
When it's less than 20 knots, it can get a bit choppy with small waves on the shore, but with 30 knots+, you generally get 1m waves on the shore and 2m or more inside the lake. Doing a downwind in Bariloche is like riding one unfinishable wave (even better when its windy a few days on a row)
Wind: Cross on from the left
Waves: Yes
Shorebreak: Yes
Dina Huapi/ñirihuau is a super lovely spot! There are a few gorgeous significant mountains called Catedral, Tronador, Lopez right in front of it. As the wind is on-shore the waves are usually smaller than other places, so in less than 20 knots is almost flat, especially near the shore, so it's a pretty good spot if you are practising freestyle tricks.
It also has a flat water small river at high tide, it's small, but it's rideable!
Wind: On-shore
Waves Yes
Shorebreak: Yes
Peninsula San Pedro is the most challenging spot to ride in the area; it's not easy to find the beach, the wind is off-shore and pretty gusty, and the beach doesn't have much space.
Located at the end of one of the many arms of the lake and is surrounded by forest and shallow turquoise water; the water is flatter than anywhere else!
Wind: Off-shore
Waves: No
Shorebreak: No
Lago Moreno is a smaller lake about 13km away from downtown. Surrounded by big mountains and cliffs, It is a nice spot with Cerro Ventana and Lopez mountains making a venturi right in front of it.
The Lake is an excellent spot during the summer in thermic winds days, preferably with no clouds because when it's cloudy, it can get super gusty.
Wind: On-shore
Waves: Little ones
Shorebreak: A little
When is the Best Time to go Kitesurfing in Bariloche?
The windy months to go kitesurfing in Bariloche are January, February, March, April, November, December
Statistics
Do you know a good kitesurfing school here?