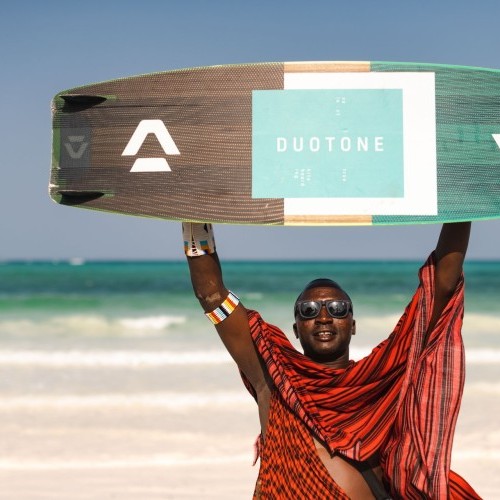 Why Visit?
The beach of Kiwengwa is the longest white sand beach on the island. During low tide, a sandbank is formed, creating pool-like conditions. During the full moon, the light of the moon reflecting on the white sand makes it possible to kite until late at night. The reef and pass right in front of the spot offer perfect wave conditions for professional riders.
Duotone Pro Center Zanzibar is located within The Beach Lounge, a venue with a private beach, lounge chairs, sunbeds, shades, a little outdoor gym, a seafront restaurant, and bars with fresh charcoal grilled seafood, as well as veggies, meat and pizzas. Duotone Pro Center Zanzibar is equipped with the latest Duotone, Fanatic and Ion equipment.
Wind and Weather
The trade winds blow between 15 to 25 knots with very few no windy days during the windy seasons. There are two prevailing trade winds, the "Kaskazi" from the northeast between December and March and the "Kusi" from the southeast between July and September. The wind blows mostly side onshore, which provides ideal conditions for kitesurfing.
Getting Around
Getting around in Zanzibar is fairly straightforward. If you are staying in Kiwengwa, the best is walking on the beach or renting a cab if you want to save energy for your kite session. The local population considers the beach a natural road and is used for children to go to school or to walk the cows. If you need to cross long distances, renting a car with a driver for the day is best.
Food and Drink
For local inhabitants, chakula (food in Swahili) is considered the most important part of the day. This is also the time when families come together and share their stories of the day. Zanzibar has a wide variety of food influenced by many different cultures. Zanzibar is also referred to as Spice Island as it was once an international exporter of spices. You will mostly find local flatbread "Chapati", which is widely eaten as a side dish, "Ugali", a white cornflower polenta-like side dish and lots of seafood cooked in coconut milk. "Chalula Chema" (Bon Apetit in Swahili). There is a variety of restaurants in Kiwengwa; I would recommend The Beach Lounge as it has a good vibe and is close to the kite centre (Duotone Pro Center) and offers charcoaled grilled sea and meat dishes as well as a variety of Pizzas, all with a lovely view of the beach and the kitesurfers.
Nightlife
Kiwengwa has recently emerged with a trendy nightlife. Every Wednesday and Saturday there is a party at the Pontile. The music starts around 10 pm and continues until late in the evening. The local Masai are expected guests and amazing dancers who can continue dancing the whole night without a minute of rest. They also regularly perform choreographies and will be happy if you join them.
No Wind?
For the less windy days, there is plenty to do in Kiwengwa and on the island, where all the spots are at day-trip distances. For example, you may visit the coral reef with a traditional wooden boat (Ngalawa) for some snorkelling and traditional sailing. For the divers here, there are plenty of world-class dive spots. Mnemba, a 20 min car ride from Kiwengwa, is a marine protected area and one of the best dive spots in the world. There are many other excursions, such as Prison Island, where you can see giant turtles, and Jozani forest, where you can see the endemic and adorable red colobus monkeys. Suppose you fancy the experience of bathing in crystal clear waters and walking on a stretch of sand in the middle of the ocean that gradually disappears as the high tide approaches. In that case, Nakupenda or many other beautiful sand banks are the places to be. Also, at the Duotone Pro Center Zanzibar, we offer SUPs and regularly organise guided sunrise and sunset cruises.
Internet
You will find free stable wifi in most bars, restaurants, and hotels.
Accommodation
We recommend Mvuvi Boutique Resort which is less than one minute walk to the Duotone Pro Center Zanzibar. Mvuvi Boutique Resort is a small boutique hotel with a private beach, a lovely beach restaurant, a small pool, a boutique and a spa.
Zanzibar
Error getting country data...
Featured
Cornwall is a very underrated spot for Kitesurfing; we have a reliable prevailing south-westerly and blue Atlantic waters that meet 400 miles of coastline. Given the shape of Cornwall, it gives us many options and variety, and you'll rarely find more than a handful of kites out at any given time. Beyond Kitesurfing Cornwall is the most southern point of…
Cape Hatteras is a beautiful, thin and small island situated in an extraordinary place in North Carolina. In Hatteras, you can truly relax. If it's windy, you go kiting. If it's not, you can go surfing and on the rare no wind or wave day you can go biking, suping, jetski tours or relax at the beach. Wind and Weather Year…
Nitinat Lake is a hidden oasis for kiteboarders that are seeking steady thermal wind. The end of the lake opens up to the Pacific Ocean, and the cool coastal air gets sucked down the lake like a vacuum, creating the most incredible thermal. The surrounding area is old growth forest, making this destination seem like a setting for a kiteboarder's…
Andrej is a vivid sea fanatic and loves everything related to the sea. He is a Padi scuba diving instructor with 3000+ logged dives, kitesurf instructor and skipper. He runs the kite and wingsurf school (Duotone Pro Center Zanzibar) in Kiwengwa
Been to Kiwengwa? What did you think?
Where are the Best Kitesurfing Beaches in Kiwengwa?
Kiwengwa is among one of the best kite spots in Zanzibar. It also has the longest white beach in Zanzibar; you will have plenty of space to launch and land the kite. It is popular for beginners and freestyle riders due to its flat-water conditions. There are some good waves at the natural reef, which makes Kiwengwa also ideal for wave kiting. Also, the spot is deep enough for foiling; even during low tide, a small natural lagoon is formed where you can foil.
Wind: Side on shore
Waves: Out on the reef (only for advanced riders)
Wavebreak: Near the reef
When is the Best Time to go Kitesurfing in Kiwengwa?
The windy months to go kitesurfing in Kiwengwa are January, February, March, July, August, September, December
Statistics
Do you know a good kitesurfing school here?