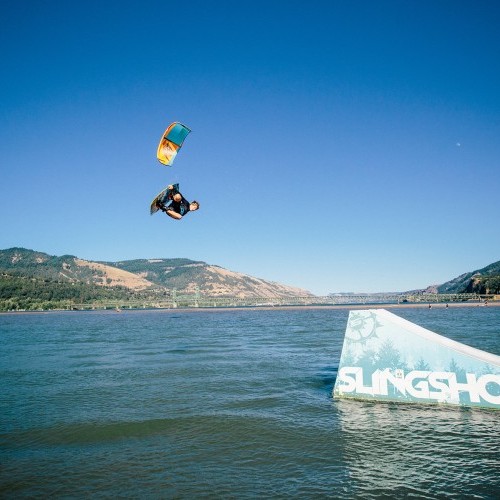 Why Visit?
Hood River buzzes with kiteboarding energy each summer. Cool air from the Pacific Ocean is sucked through the Columbia River Gorge to the hot, Eastern desert. Strong thermal winds blow nearly every day from May through September. Hood River is a charming town with a myriad of opportunities to explore the outdoors, both on and off the river. Suitable for all levels of kitesurfers it is a Mecca in the sport and somewhere that you have to visit at least once in your lifetime!
Wind and Weather
The good news is that it's windy almost every day from May until September. The wind that blows through the Columbia River Gorge can be strong and gusty.  Wind averaging 25 mph with higher gusts isn't uncommon. Expect air temperatures with highs between 75- 85 in the summer, and the water warms to around 70F in by late July most years. Sunny skies are the norm during the summer, but if you visit during winter, spring, or fall, you're more likely to experience rainy days and light wind!
Getting Around
The Hood River sandbar is the central stage for kiteboarding in the area and is near to downtown. However, if you visit Hood River, you'll want to have wheels, because there are many places to kite and explore up and down the Columbia River Gorge.
Food and Drink
Craft beer, local wine, strong coffee, and thoughtfully prepared meals are on tap throughout the Pacific Northwest. The Hood River Valley was an agriculture hotspot before windsurfers and kiteboarders moved to town. An abundance of locally grown and prepared food and beverage offerings keep Hood River residents and visitors fueled-up.
Nightlife
Hood River comes alive after dark with an eclectic mix of locals and tourists looking for a good time. There are plenty of bars to keep you entertained and if you are feeling brave head to Jacks after midnight and ask for a Scorpion; don't ask what's in it!
No Wind?
Although windless days aren't the norm in Hood River, there is no lack of alternative activities. Adventurous souls can stay busy mountain biking, kayaking, white water rafting, summer skiing and snowboarding, hiking, SUPing, and the list could go on.
Internet
The Columbia River Gorge area has a reliable internet infrastructure.
Accommodation
A variety of accommodation options exist including vacation rentals, hotels, and camping. Hotels tend to fill up on busy, summer weekends, so make your reservations early.
USA
United States dollar (USD)
Featured


Jeddah is located by the Red Sea in Saudi Arabia; which is one of the top destinations for Scuba Divers worldwide. As you may know, Jeddah is a 'commercial hub' and gateway for pilgrimages to Islamic holy cities like Mecca and Medina. Jeddah has consistent wind all year round. kitesurfing next to mangrove trees and super flat waters, it really is a dream come…


On the west coast of Lithuania, lies Palanga, a popular spot on the Baltic Sea for kiteboarding, landboarding, SUPing and surfing. 18 kilometres long and up to 300 meters wide of sandy beaches, is the busiest summer resort in Lithuania. The conditions can be quiet choppy and wavey especially if the wind blows from the west, northwest or southwest, (the…


The region around Greifswald is beautiful, wide and still not very touristy. The Greifswalder Bay is a huge bay with no currents and home to several great kitesurfing spots. It's perfect for training and also good for foiling (if you stay out of shallow water) and not too crowded. The kitesurfing is not tide-dependant, and in the summertime, you'll have…
Lindsay is a pro rider from Hood River in the USA, she works for IKSURFMAG as our Features Editor and is an integral part of the team. Lindsay is really into wakestyle riding and can be found in the Hood River Slider Park during the summer months, she also travels all over the world with the World Class Academy helping younger riders develop through kiteboarding!
Been to Hood River? What did you think?
Where are the Best Kitesurfing Beaches in Hood River?
The Event Site is the busiest launch in the area and can be crowded during the summer. The Event Site provides access to a large sandbar which extends into the middle of the Columbia River. The wind can be strong, and the water conditions are mostly choppy. From the main launch, kiters can ride upwind to get away from the crowds and into cleaner swell, or downwind to find flat water and park features.
Wind: The wind blows out of the west most days from 18- 25 mph
Waves: None
Shorebreak: No
Stevenson is located 30 miles west of Hood River on the Washington side of the Columbia River.  The wind at Stevenson can be steadier than other locations in the Gorge. Stevenson is a reliable site when the wind blows from east to west. The launch at Stevenson is challenging with slippery rocks and a steep bank to climb down. The conditions on the water are relatively choppy.
Wind: Expect west wind in the 18- 25 mph range most days
Waves: None
Shorebreak: No
Rufus is located 45 miles east of Hood River, on the Oregon side. At Rufus, the river gets narrow, which causes the river swells to become bigger and cleaner than other areas on the Columbia River. The launch is a long beach covered with round rocks. Kiters looking for strong wind keep an eye on the forecast for big days at Rufus.
Wind: Wind in the 18- 25 mph range, with some days of 35 mph +
Waves: None
Shorebreak: None
When is the Best Time to go Kitesurfing in Hood River?
The windy months to go kitesurfing in Hood River are May, June, July, August, September
Statistics
Kitesurfing Hotels and Accommodation in Hood River
Do you know a good kitesurfing school here? Submit it below.
Kitesurfing Articles that Mention Hood River
Kitesurfing Videos and News in Hood River