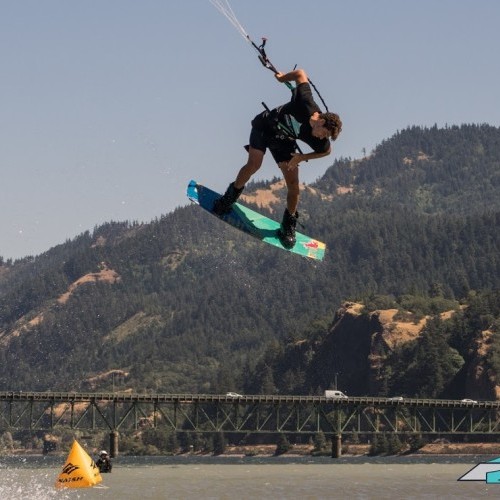 The Hood River Junior Jam Freestyle – Big Tricks Went Down!
Wed 18th Jul, 2018 @ 6:00 pm
Hood River Junior Jam freestyle competition is complete!
Schedule
Wednesday, July 18th 5 pm – Rider's meeting @ Hood River Marina. Media Day.
Thursday, July 19th 9 am – Rider's meeting @ Hood River Marina.
Thursday, July 19th 8:00 pm – Awards @ Hood River Marina.
Event Updates
For event updates, click here to view Hood River Junior Jam Facebook page.
Event Recap – Riders Meeting
The wind was already blasting at 9:00 am when the competitors gathered for the rider's meeting. At the meeting, the athletes learned about the freestyle format– each heat consisted of five tricks in-turn, and the best three trick scores were totaled for results. There were 3 first round heats: one heat of U15 boys and two heats of U21 boys and girls.
Liquid Force's Rich Sabo delivered information about the Slider Project and then riders stepped up to help the Slider Project with some routine adjustments.
First Rounds
The green flag went up at high noon. As soon as the U15 boys' heat started, the wind dropped. Riders took 30 minutes to rig bigger kites. As soon as the bigger kites were ready, the wind started to blast. Athletes ended up riding 7m – 11m kites in the first round. Highlights from the first round were Tom Seager's powered up riding and Antoine Mermet's front blind mobe. Tom Seager and Antoine Mermet won their heats and advanced directly to the final. Anthar Racca and Jack Rieder placed second in their round one heats, also earning a spot in the U21 final.
Dingle
The wind continued to build as the competition progressed into the dingle– a second chance to qualify for the finals. Tom Seager looked at the run order and remarked, "That's one stacked dingle!"
Athletes who had small kites pumped were rewarded. Mikaili Sol and Tomas Aguirre were going massive but weren't stomping landings. Vetea Boersma was able to throw down a slim 5 and heart attack, winning the heat. Aron Rosslee stomped a nice backmobe and blind judge 3, also earning a spot in the final.
Under-15 Final
Sand was flying off the sandbar, at times engulfing riders and spectators in a cloud of river sand. Riders were stacked on 7m to 9m kites. Tim Walsh opened up the heat with a clean raley to blind, and Robin Goetegebuer answered with a triple front roll. Competitors switched between big air in the gusts and freestyle in the lulls. The U15 riders learned a lot about competition and are fired up to keep pushing their riding.
Under-21 Final
The final heat was incredibly stacked. Aron Rosslee, Vetea Boersma, Jack Rieder, Anthar Racca, Antoine Mermet, and Tom Seager shredded hard to earn a spot in the finals. Aron Rosslee opened the final by hammering out a huge backmobe, and Tom Seager retaliated by slamming down a massive, lit up heart attack — the bar was set. Antoine Mermet threw down a huge double hintermobe and heart attack. The heat was incredibly close and results will be announced at the prize giving ceremony on Thursday evening.
Media Day Tomorrow
Competition has been completed for the Hood River Junior Jam. The forecast is for even stronger wind tomorrow. Athletes will get most of the day off and will reconvene at the marina for a media session in the afternoon.
Contact World Class Academy Marketing Director Lindsay McClure at lindsay@worldclassacademy.com and +1 (541) 490-4225.
Featured in this Post
Comments