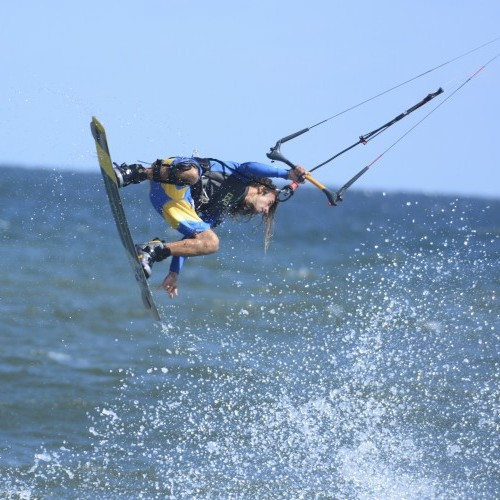 Why Visit?
Jupiter's Kite Beach is one of the most iconic spots in Florida.  Besides the diverse range of conditions, we have a quaint town that provides kiters with a wide array of entertainment in a small town surf vibe.  While we might not be famous for remarkably consistent conditions, most people visiting will find that we always have something fun going on whether it's foilboarding, surfing, paddleboarding, or just your everyday kitesurfing.  You'll see most locals prefer surfboards and smaller kites, but we have all types of riders in the area.  The locals are extremely friendly and helpful as long as you follow the common courtesies (i.e. safe launching and landing, no jumping on beach, and staying clear of other beachgoers).  I think besides the generally good riding conditions people fall in love with our warm, beautiful blue water which we have 90% of the year.
Wind and Weather
Here is a breakdown of our seasons:
Winter (November-March) - You can expect cold fronts and some Seabreeze ranging 10-25 knots. The air is typically mild (65-78 degrees) and the water a tad warmer. A 3/2 wetsuit is more than enough.  Waves are generally thigh to head high.
Spring (April- June) - Here we look for South East sea breeze at around 10-17 knots. The air is typically warm (78-85 degrees) and the water about the same. Waves are generally small but fun for everyone. A lot of good foiling days here!
Summer (June- July) - Hot and typically light afternoon sea breeze. If you like foiling in 8 knots, then this is heaven!  The air is generally hot (90 degrees) and the water about the same.  No waves to speak of.
Fall (August- October) - Our Fall is like a teenager at prom: knows very little about what will happen but is super excited for something unusual (like a hurricane).  Winds can be anywhere from light to a tropical storm. You can get just about anything, so you need to keep an eye on major weather systems!
Getting Around
Getting a car is the best option!  You need to drive just about everywhere, but it's all within 10 minutes of each other.
Getting There
The closest airport is PBI (Palm Beach International) which is about 25 minutes away.  There are plenty of other airports within a 2-hour drive including FLL, MIA, and MCO.
Food and Drink
We have incredible seafood and Caribbean influenced dishes. Some of my personal favourites include:
1.     2Vinez
2.     Guanabanas
3.     Food Shack
4.     U-Tiki
Nightlife
I'm personally not a partier, so I rarely go out. But on those rare occasions, I head right to Guanabanas or Square Grouper!
No Wind?
Paddleboarding is a major part of Jupiter Life.  If you need to stay out of the water, we have your typical tourist attractions (lighthouse, state parks…etc).  The one great thing we have is the Loggerhead Marine Life Center.  If you like turtles (who doesn't?), you need to stop by and see all the great things these folks do.
Internet
Why would you be on the Internet in Jupiter?  Go to the beach! But we understand people have got to work and stay in touch. The internet here is good, and you can get 6-9mb.
Accommodation
We have lots of small hotels in the area.  I would recommend you explore Air BnB for a great apartment rental closer to the beach.
USA
United States dollar (USD)
Featured


In Israel, there's the saying: "You go to Haifa to work, to Jerusalem to learn, and to Tel Aviv to play". So get ready to play when you visit this beautiful city, located on the coast of the Mediterranean Sea. The "White City" is famous for its white Bauhaus buildings and its great nightlife. If you walk through the quarter…


Ireland is a hidden gem for kitesurfing. There are amazing conditions for kiting in Ireland and unique spots. It's such a shame that it goes so unnoticed. Home to the 'Battle of the Lake' competition and Pure Magic Kite School; the small island offers both awesome wave riding on the beach and flat water 100 meters on the lake! In…


St Martin is mainly known for its consistently dry climate and sunny weather. However, not everyone knows that its wind conditions are also consistent year round and the crystal clear waters offer a wonderful playground for everybody. Half Dutch, half French, the island offers a multicultural  atmosphere. You will enjoy the French fine cuisine, duty-free shops on the French side…
I've been involved in the kiteboarding industry in numerous ways for over 13 years. I still compete occasionally but now I spend most of my time back in my home town (Jupiter, FL). I am a former schoolteacher that started an education software company, Nutmeg Education, that I sold last year. Now I consult schools/Universities in developing online courses and corporations looking to do online corporate training.
Been to Jupiter? What did you think?
Where are the Best Kitesurfing Beaches in Jupiter?
Jupiter Kite Beach is the main spot that is easily accessible to everyone.  It gets fun but usually has a small beach break and small chop. Occasionally, it does get big cold fronts or tropical systems that produce over head high waves, which are a treat for the strapless riders and produce great kickers for boosting. There is an excellent community of kiters all year long that are very friendly as long as you use common courtesies.
Wind: Mostly side-on (Front the right)
Waves: Small shorebreak
When is the Best Time to go Kitesurfing in Jupiter?
The windy months to go kitesurfing in Jupiter are January, February, March, April, May, June, July, August, September, October, November, December
Statistics
Kitesurfing Hotels and Accommodation in Jupiter
Do you know a good kitesurfing school here? Submit it below.