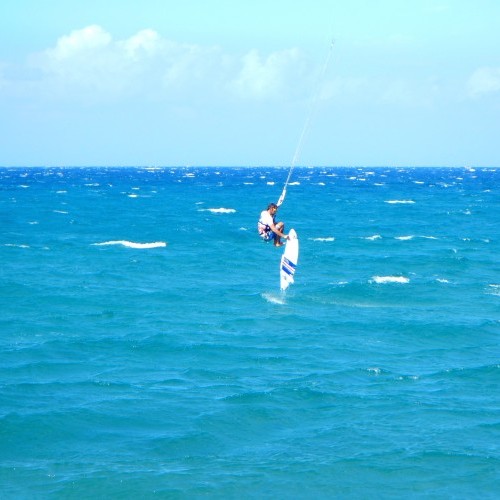 Why Visit?
Overall a fantastic place with some priceless unspoilt kiting spots. With great people and food and cheap beer (they even come with a plate of chips as well if you're lucky), you can't beat it. Northern Cyprus deserves attention but don't tell everyone; we don't want to spoil it with overcrowding like some of the more famous spots.
Wind and Weather
Cyprus is a hot and dry country, no doubt about that; it's flip-flop weather all year long. It also happens to be windy, which is a prerequisite to keeping your kite in the air. The wind is mostly dependent on thermals, so the windy season is from April-May to September-October. The day starts typically with no wind at all, so there is time to take the SUP out for a gentle paddle on flat water or ride a small wave if there is a swell. As the lands heat up mid-late morning, the wind builds up very quickly and can reach 20 knots within ½ hour. So 11 am 9m moving on to 7m before you had a chance to warm up. At 3 pm it could be time to get the 5m out, or keep on holding to the 7m and practice big air. Kiting continues well into the sunset. The water is warm!!! I was kiting in board shorts in October, and I was never cold. A shorty might be handy for those of a more sensitive nature in long sessions. The water is also very clear, which I found quite something being used to the murky waters of the UK east coast or even the Caribbean.
Getting Around
A car is needed, to get about with kites etc. A hire car (ford focus or equivalent) should be around £200 for ten days. A 4x4 is ideal but very difficult to obtain because they are very popular and need to be booked well in advance. Petrol there is cheap, I think I estimated it was about at £0.70/l at the time.
Getting There
Pegasus Airlines flight from Stansted to Lefkosa in Northern Cyprus costs £230 (October 2015) with 20kg baggage allowance, £30 for surfboard each way. Flight duration is 6hrs and include a stop in Istanbul but staying on the plane. This is because Northern Cyprus is an embargoed country and only flights from Turkey can land there. Transfer to the resort is 1hr-1.30hrs by car. It's not that far in mileage, but it's littered with speed cameras, so watch your speed.
Easyjet and Ryanair also provide routes between the UK and Larnaca and Paphos in Southern Cyprus (part of EU) and reduces the duration of the flight to about 3hrs. The big downside is that driving from the southern region to the northern part is not straight forward as any car that crosses the border needs special insurance, and most hire cars and taxi don't have it. It is, however, possible to get a bus from either city to Nicosia (also called Lefkosa in Northern Cyprus), get a taxi to take you to the actual border, cross on foot, and then find a hire car. A bit of a mission, but doable…..
Food and Drink
Food is cheap over there and varies from the traditional meat kebab to delicious seafood. The local beer is also very affordable at approximatively £1 for a 500ml bottle. It is made by EFES which seems to be a primary sponsor of the island seeing the name is everywhere you go. Loads of citrus fruits are produced on the island, and in April-May, the smell of orange flower is always around. Strawberries seem to be also growing well; there are many stands around where you can try before you buy a punnet. Oh, and of course there is lots of halloumi, olives, hummus and pitta bread. Overall very Mediterranean.
Nightlife
The Aphrodite Resort is perfect for families and therefore very quiet at night. For a bit of a party ambience, a 10-minute drive to the local town (Gamikonagi) is necessary. At the weekends it comes alive with bands, beer gardens, discos and lots of people having a good time!
No Wind?
Stand Up Paddleboarding is a good plan B or even surfing. The rest of the island is also worth visiting and has beautiful spots all around. The far north and its wild donkeys of the island (2-3hr drive) is worth a trip. The central city Nicosia is a haven of markets and cheap and cheerful clothes which are full of bargains, as well as cool bars and restaurants.
Internet
Wi-Fi is standard, and the coverage is reasonably good. At the Aphrodite Resort, reception can be weak from the apartments, but always excellent around the bar and swimming pool area.
Accommodation
Aphrodite beachfront resort where I was staying (see also http://www.aphroditebeachfront.com) is made of self-catering 1-3 bedrooms' apartments with fully equipped kitchen, bathroom, air con and everything you need. The cleaning service is optional and €15 a pop. Water and Electricity are charged separately, but I think the water was an extra £10 after ten days and electricity £30 I think for the apartment with two people staying in. Although in future these extra charges will be removed and replaced with a single payment. Other facilities on the resort include a 25m outdoor swimming pool which is fab to start the day with a few lengths. It is fresh water and free of chlorine so it won't hurt your eyes. Bear in mind that it is not heated and early in the season it is a tad "fresh". There is also a smaller indoor (and heated) swimming pool, a gym, Jacuzzi, sauna and yoga studio, conference room and ping-pong table. There are also a few bicycles that are free to borrow. Professional deep tissue massage is also available to relieve those sore muscle after a day on the water, and I've tested it for you, so I know it is good for about €40 for a full hour. There is also a cash machine which issues Euros, British Pounds and Turkish Liras (the official local combo).
Featured
Jeddah is located by the Red Sea in Saudi Arabia; which is one of the top destinations for Scuba Divers worldwide. As you may know, Jeddah is a 'commercial hub' and gateway for pilgrimages to Islamic holy cities like Mecca and Medina. Jeddah has consistent wind all year round. kitesurfing next to mangrove trees and super flat waters, it really is a dream come…
Rhodes is an island full of natural beauty and famous for its archaeological sites and museums. UNESCO proclaimed it's Medieval City; a monument of global cultural heritage. Today despite the 7000 years of turbulent history, the magnificent monuments are still standing with great antiquity. The island of Rhodes has endless options for entertainment, and it is particularly famous for its…
On the west coast of Lithuania lies Palanga, a popular spot on the Baltic Sea for kiteboarding, landboarding, SUPing and surfing. Eighteen kilometres long and up to 300 meters wide of sandy beaches, it is the busiest summer resort in Lithuania. The conditions can be pretty choppy and wavey, especially if the wind blows from the west, northwest or southwest…
Sophie is a marine ecologist based in Lowestoft UK, she is a member of the local club kiteboardinguk.com. She loves everything about the sea and therefore Kiteboarding seems the ideal hobby. Being a regular participant in the kite clinics organised by Kristian Harris and Karine Nativel helps to improve her kiting and travel around to windy and exotic places, as well as getting some fantastic holidays, hence killing many birds with one stone.
Been to Aphrodite Resort? What did you think?
Where are the Best Kitesurfing Beaches in Aphrodite Resort?
The wind usually is onshore, and the launching and landing happen on the lawn next to the pool. There is also lovely waves at times, and some long beaches but full of pebbles …. it makes British beaches look smooth. They have a sandy beach right in front of the hotel, but there is a little reef to pass when getting started. This couldn't work for beginners or someone not quite upwind yet.
Wind: Onshore
Waves: Yes, when the swell builds up
Shorebreak: No
About a 10-minute drive from the resort, it is the windiest spot as it is located right in the middle of a venturi effect between mountains. The Surf House is run by a local called Ugur Sayilir (you can check his facebook for windy posts as he is public). Ugur must be the coolest dude on the planet: lives in a caravan at the Surf House, where beer and various beverages are served, including food as well, and I'm told a wicked burger can be had here. Ugur also works as a paramedic and is the only person I ever met who kites to work, where he can land his kite on the lawn in front of the hospital. Parties are also organised at the Surf House with very loud music and sometimes live bands. The locals call this spot the "flat spot" and it is indeed quite flat. Wind at the Surf House is cross onshore, so perfect. Launching and landing are very dodgy: happens on a carpet in between caravans, then a little walk to the water trying not to sprain an ankle in those massive pebbles, however,  you get used to it! Kiting is great there with clear blue water and nice consistent wind. There is also a jet ski at the Surf House in case of emergency. Because the Surf House is only about 6 miles from the resort, it is possible to downwind back home. I've done it, it's great, with a lot of wildlife about flying fish and at the right time of the year turtles are lurking around too.
Wind: Cross onshore from the left
Waves: No
Shorebreak: No
Roughly a 45-minute drive from the resort, Caretta (Latin name for turtle) is a very long sandy beach and is where the turtles come to lay their eggs every year (July I think). Wind is onshore there, but once the waves have been passed, it is great. Actually load of flat water in between. It's also shallow (waist deep) so perfect to practice tricks.
Wind: Onshore or cross from the left a bit further from the main beach
Waves: yes
Shorebreak: No
When is the Best Time to go Kitesurfing in Aphrodite Resort?
The windy months to go kitesurfing in Aphrodite Resort are April, May, September, October
Statistics
Do you know a good kitesurfing school here?