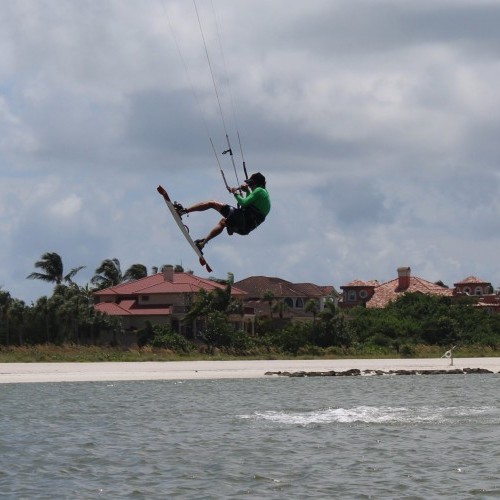 Tigertail Beach, Florida
USA
Why Visit?
Tigertail Beach is a beautiful, white-sand beach on Florida's Marco Island (on the Sunshine State's west coast). It's a unique spot, and you can kite its flat-water lagoon or easily walk across a thin strip of beach separating the lagoon from the gulf and kite the surf and chop in the Gulf of Mexico. However, it is a bit of a hike to get to the launch. If you cut through the lagoon (at low tide, it's knee-deep, at high tide, it's waist to chest deep), it's a little over a mile. If you decide to walk around the southern end of the lagoon, you're looking at almost two miles (a wheeled hand-cart to put some gear in would certainly help!). But it's definitely worth the trek, and while the lagoon can get crowded on the weekend, it's still big enough to have fun. Despite 16 kites being in the sky on a Saturday, I was able to find an empty cove that I had to myself for about fifteen minutes before others showed up. You can also kite from the launch to the far end of the lagoon, which is a little less than one mile.
Wind and Weather
Florida gets the most wind in the fall, winter and spring. Tigertail will have the best wind from October through May. It can be a little chilly from late fall through the winter, so you'll want a full wetsuit (a 3/2 should do it, and there will also be warmer days where a half-suit would work too). Whenever there's any west in the wind, Tigertail is great, although you'll be kiting in offshore conditions in the lagoon (but again, you can also walk across a thin strip of beach and kite onshore in the Gulf of Mexico).
Getting Around
The closest airport to Tigertail Beach is Fort Myers (RSW), about 48 miles to the north and a 55-minute car ride. You'll need a car to get to Marco Island and the county park Tigertail Beach.
Food and Drink
There are plenty of bars and restaurants on the main road, No. Collier Blvd., to get an after-sesh drink or dinner. The Marco Island Brewery and Tap House is highly recommended. Don't miss the duck wings appetizer and Mahi Hawaii entree, complete with a pineapple topping!
Nightlife
Marco Island is your typical, over-developed Florida beach town (Tigertail Beach was spared from too much development), and there are condos, bars and restaurants everywhere. Besides the Marco Island Brewery, there are also CJ's on the Bay, the Old Marco Pub and Restaurant, the Snook Inn, the SpeakEasy and plenty of other options.
No Wind?
When there's no wind, you can rent paddleboards and kayaks at Tigertail Beach Paddleboard, Kayak and Beach Rentals (right next to the parking lot), and they also offer eco-tours of the area. Naples is about 18 miles north of Tigertail, and you can do more paddling there, shop in the city's historic downtown area, check out art galleries, and cruise the calm waters of Naples Bay on the Naples Princess yacht and more.
Internet
While there's no WiFi on Tigertail Beach, there is good cellphone service. In addition, most of the bars and restaurants on Marco Island have WiFi.
Accommodation
There are several hotels on and around Marco Island. Airbnb is also an option.
USA
Error getting country data...
Featured
Saipan is the second largest island of the Northern Mariana Islands chain, a U.S. territory located 120 miles North of Guam. It has year-round tropical temperatures, good wind from November through April, and a large, flat water lagoon along its western shore. Wind and Weather Sitting just north of the equator between the Philippine Sea and the Pacific Ocean, Saipan…
On the west coast of Lithuania lies Palanga, a popular spot on the Baltic Sea for kiteboarding, landboarding, SUPing and surfing. Eighteen kilometres long and up to 300 meters wide of sandy beaches, it is the busiest summer resort in Lithuania. The conditions can be pretty choppy and wavey, especially if the wind blows from the west, northwest or southwest…
The Belgian coastline (North sea) is only 60km long and consists of sandy beaches - no cliffs, rocks, or reef. There are over 15 spots all spread out along the coastline, so no matter where you are, there's always a spot to kitesurf nearby. Even though the coastline is full of buildings, there are beautiful sandy beaches. Some of the…

Been to Tigertail Beach, Florida? What did you think?
Where are the Best Kitesurfing Beaches in Tigertail Beach, Florida?
Once you get to the launch you can kite the lagoon or the Gulf of Mexico. Kiting is prohibited in the first lagoon (the one closest to the parking lot) and where you see sticks in the water, those are protected areas.
Wind: N, NW, W, S, SW
Waves: On the Gulf of Mexico side
Shorebreak: Yes
When is the Best Time to go Kitesurfing in Tigertail Beach, Florida?
The windy months to go kitesurfing in Tigertail Beach, Florida are January, February, March, April, May, October, November, December
Statistics
Do you know a good kitesurfing school here?