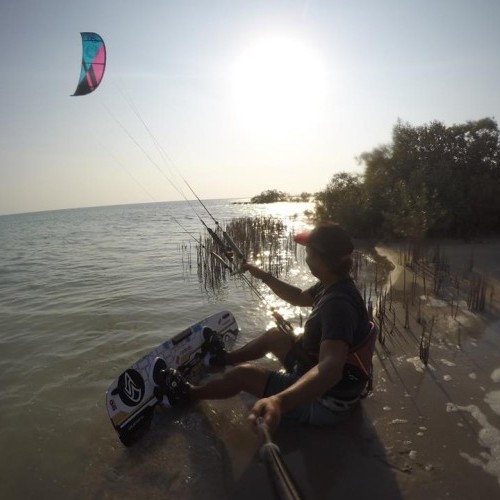 Why Visit?
Jeddah is located by the Red Sea in Saudi Arabia; which is one of the top destinations for Scuba Divers worldwide. As you may know, Jeddah is a 'commercial hub' and gateway for pilgrimages to Islamic holy cities like Mecca and Medina. Jeddah has consistent wind all year round. kitesurfing next to mangrove trees and super flat waters, it really is a dream come true! You don't even need a wetsuit because the temperature is so perfect. Jeddah has become quite popular for kitesurfing amongst locals and expats in the area and it's a perfect spot to learn and progress your riding. People are super nice and friendly with amazing hospitality. I've always felt safe here, it is super chilled.
Wind and Weather
Wind is consistent almost all year round. The no wind season begins in December, and by January it's back on again and stays throughout the year. Offering winds from 17-25knots and sunshine every day, Jeddah becomes an epic spot for kitesurfing! It usually rains once a year and during no wind season and there are new lagoons formed, so that's always a super exciting time to search for new kite spots!
Getting Around
Renting a car can cost as little as SR 70 (15€) a day and petrol here are so cheap you could fill up a full-size SUV for about SR 40 (9€). Taxis are also very affordable and Uber is very popular!
Food and Drink
Jeddah offers some of the best quality food in the world, ranging from traditional Arabian food to a common choice of incredible restaurants. If you get the chance to, make sure you try the shawarma sandwiches and the fresh juices!
Nightlife
As you may know, Saudi is quite a strict country and is currently going through a transition to become more modernised and open-minded. In Jeddah, with the right contacts, you can get into events and parties. As Saudi Arabia is a developing country, tourism is the top priority for the Saudi government. They are currently undergoing a lot of new projects. Their first aim is to start up with big beach resorts all along the Red Sea. It's still early days, but KSA (Kingdom of Saudi Arabia) is progressing fast and investing billions of their sovereign wealth into the country to modernise and embrace many changes.
No Wind?
There are plenty of activities in Jeddah; you should check out the newly opened is the 'Bounce Jeddah' indoor trampoline park - that is so much fun! Wakeboarding with 'Blue Wake' is also top of the 'to-do' list in Jeddah.
Internet
4G is excellent throughout the city, and even at the kite spot, we have a connection.
Accommodation
There are many affordable hotels and a choice of mega luxury hotels throughout the city. In my opinion, Airbnb is the most popular here and probably the best way to get to know the locals.
Featured
If you're looking for the perfect getaway vacation that involves water, beaches, water sports and a serene nightlife, you can't get any better than Boa Vista! It is the must-go-to-location for beach and water lovers. Boa Vista is located on the eastern side of the Cape Verde Islands and is the third largest island in the group. Boa Vista, which…
When thinking of ideal kiting locations, turquoise water, sunshine and consistent winds spring to mind and Great Britain can deliver these despite its poor reputation. Southend On Sea is just a 40-minute train ride from London and offers some of the best flat water spots, with spacious lagoons and flat butter water! There is also an awesome kite community with…
Vietnam is in southeast Asia and runs from north to south along the South China Sea.  This is a country steeped in history, so even for the non-kiter, there is plenty to see and do. Mui Ne, which means 'sheltered peninsular', is located 4 to 5 hours drive north of Ho Chi Minh City (formerly Saigon) and is blessed with…
I started kiteboarding in 2008, I practice kitelandboarding, kitesurfing and snowkiting. I run snowkite camps in the French Alps col du Lautaret and Kitesurf Camps in Egypt El Gouna. I love to bring people together and share super kite days with them. Teaching is a big passion of mine, I am a qualified BKSA senior instructor and trained in Southampton UK. I now live in Jeddah KSA and run my new kite school and it's been great here. I'm really excited about the future of kiteboarding in Jeddah and really look forward to helping the sport grow here. I am sponsored by Flysurfer Kiteboarding and a sales representative for ATBshop.co.uk I have a passion for filming and editing videos and have a big following on Youtube.
Been to Jeddah? What did you think?
Where are the Best Kitesurfing Beaches in Jeddah?
Shoiaba is a lagoon oasis in the desert, a wonderful place to kitesurf. It's 1 kilometre wide and 2.5 kilometres long with a small sea river filling the lagoon from the North West. Open to the public, with literally no hazards such as rocks or coral you can expect only mangrove trees to be the only obstruction on the beach and your car. Just be careful not to drive your car onto the sand at low tide as it's very soft sand. It's one of the safest places to ride, being a lagoon it can be used in all wind directions. Riding on the North East side of the lagoon is the best place as its all sand and also has a nice sandbar which creates a shallow section of super flat water. Some other corners of the lagoon can have a little rock sediment. But the whole lagoon is pretty much sand all over. Shoaiba is located 40min South of Jeddah city
Wind: Cross/onshore from North West most of the time
Waves: Very flat water throughout the lagoon, even flatter behind the mangrove trees.
Shorebreak: None
Obhor is the high-end beach resort area of Jeddah; there are many private beaches and resorts here. Kitesurfing here is only for advanced riders as it is a deep water spot and requires a boat or jetski to launch. We also launch and land in this semi shallow sandy area, but there are some corals/rocks around it's probably safer to do a deep water pack down. All the beaches are quite small in length so launching on the beach is not possible. Obhur Beach is located 25min Jeddah city.
Wind: Cross/onshore from North West most of the time
Waves: There are some waves on the edge of the reef, but it's hazardous at low tide with all the coral.
Shorebreak: None
When is the Best Time to go Kitesurfing in Jeddah?
The windy months to go kitesurfing in Jeddah are February, March, April, May, June, July, August, September, October, November
Statistics
Do you know a good kitesurfing school here?