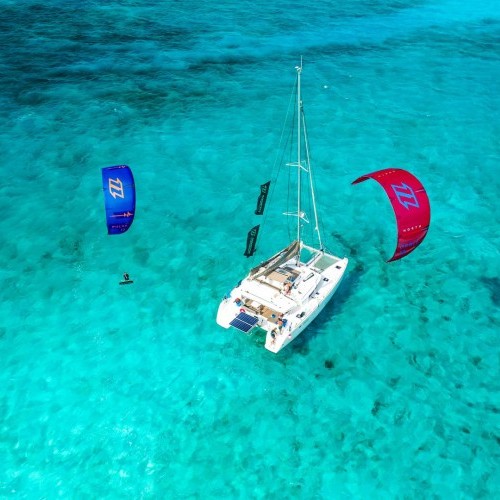 Why Visit?
Discover a new kiteboarding spot every day with a luxurious kiteboarding experience. You can ride in paradise, on private kite spots and even on private islands.
Many sailors in the Caribbean consider the Bahamas the most beautiful place to sail. Hundreds of islands and sandbanks are surrounded by shallow turquoise waters, making The Bahamas one of the world's largest shallow areas. The Bahamas' turquoise water is easily distinguished from space; astronauts refer to it as the bluest water on earth. Having so much sandy shallow water makes this archipelago perfect for kitesurfing!
In The Bahamas, we have great conditions for kitesurfing. In the winter, we have consistent winds, north swells, and an endless selection of private cays and beaches that set the stage for our sport. The conditions are great for learning kiteboarding or for mastering your existing skills. The sheltered shallow cays provide an expanse of shallow warm blue water that suits every level of rider.
We organise kitesurfing and wing-foiling charters with our fleet of boats: Lagoon 450 (6 guests) and Ipanema 58 (8 guests) catamarans. We do private cruises (all the boat) for one week, and we can also extend and do 2-week cruises to explore more isolated islands.
Our charters start on Saturday at 5 pm and finish next Saturday at 9 am. For the 2022-23 season, we also offer the possibility to start or finish in Staniel Cay; heard of the Exuma Cays.
A trip with Kite Boat Cruises offers so many experiences and opportunities. It's a chance to experience kiteboarding in an entirely new setting or even the perfect way to experience it for the first time! Where else can you access private beaches and top-of-the-line gear, eat chef-prepared meals all week, and all from the privacy of your cabin on a luxury sailing boat? We want to invite our guests into our lives to share these unforgettable moments.
Join us aboard our sailboats and with Kite Boat Cruises.
Wind and Weather
On average, the water temperature is around 22 - 27 degrees Celsius (71 - 80 Fahrenheit), and the wind usually blows from 14 to 20 knots; occasionally north wind can get up to 30 knots. Conditions are good for 9 - 12m kites and foiling (wing and kite).
While we can predict the prevailing wind patterns in the winter, the weather is not something we can control. A strong philosophy of Kite Boat Cruises is to adapt to the weather conditions and get the maximum fun out of whatever comes our way. We always plan the itinerary based on the forecast and the customer's desires.
The winds are the strongest between Dec- April. For stronger winds, we recommend Dec-Feb, but for hot weather, we recommend March and April.
Getting Around
After your charter with us, feel free to explore Nassau, Staniel Cay, or other islands in The Bahamas. Cat Island has great kitesurfing, and Harbor Island has beautiful beaches and a picturesque village with some of the best restaurants. We are happy to help our guests with recommendations of places to go.
The best way to get around the islands is by bus, which are large vans with routes. You need to ask people about the routes and bus numbers because very little information is posted. But it is cheap and efficient. It's hard to call a taxi. The best way to find a taxi is at a hotel or ask a restaurant to call one for you. You can rent a car from the airport with the major rental offices or rent one downtown near the cruise ships.
It's a fixed rate of about $40 USD from the airport to Atlantis Hotel and Yacht Haven Marina, where we are situated.
Food and Drink
Our chef customises each week's menu based on the guest's preferences. Using local and fresh ingredients and focusing on healthy but energizing food for our athletes, except for dessert. It's the best restaurant in town.
Nightlife
There are not many bars on the islands that we visit, sometimes none since we are on deserted islands. But we do enjoy sunset cocktails on the boat and on the shore.
No Wind?
Even on a windless day, you're aboard The winds are the strongest between Dec- April. For stronger winds, we recommend Dec-Feb, but for hot weather, we recommend March and April.
Luxury catamaran in paradise, and we have endless ways to enjoy the surroundings and the boat! Enjoy sailing and island hopping, wining and dining with our chef, relaxing on the decks, snorkelling and paddleboarding on the reefs, or simply swimming on the most beautiful beaches in the world.
Internet
WiFi is included but limited in some areas.
Accommodation
We have two catamarans in our fleet. A Lagoon 450 for up to 6 guests and Fountain Pagot- Ipanema 58 for up to 8 guests. All our boats come with a captain, private chef, and kite instructor/deckhand. Our charter fees cover the crew, 3 meals a day with drinks, Wifi, air conditioning, diesel and fuel for the catamaran and tender.
Extras are kite lessons and a custom video of your trip delivered at the end of the week.
Lagoon 450
The Lagoon 450 is a great option for a group of 6 friends or a small family. This 45 feet long catamaran can sleep 6 guests in 3 double cabins with private bathrooms. It has a full kitchen, salon and outdoor dining table. This Lagoon model has a flybridge and multiple places around the boat to sit, read a book and take in the sun as we sail to our next destination. The Lagoon 450 also has kitesurfing and wingfoil rentals, lessons, paddle boards, snorkel gear, and a fast rescue tender.
Ipanema 58
Our Ipanema has 4 cabins (8 people) with private bathrooms. This 58 feet catamaran sleeps a maximum of 8 guests in 4 double cabins. There is a full kitchen with a large and comfortable indoor salon for lounging during the evening. The beautiful and spacious flybridge has 2 tables and a kitchen sink/fridge island. It's packed with all the luxury elements with a High capacity water maker, salon fridge, ice maker, BBQ, fast tender and all the sports toys: kitesurfing, wing-foiling, scuba diving, paddle boards, snorkel gear and e-foil!
Bahamas
Error getting country data...
Featured
Frequented by some of the planets top kitesurfers and home to the scintillating Red Bull King of the Air, Blouberg in Cape Town cannot fail to express through action just what an incredible place it is. It is infamous for its strong & reliable wind from December through to February. The shoulder months of November and March are often also…
Saipan is the second largest island of the Northern Mariana Islands chain, a U.S. territory located 120 miles North of Guam. It has year-round tropical temperatures, good wind from November through April, and a large, flat water lagoon along its western shore. Wind and Weather Sitting just north of the equator between the Philippine Sea and the Pacific Ocean, Saipan…
The JT Pro Center kitesurfing spot of Union Island in the Grenadines is one of the top kitesurfing destinations of the moment from November to July winter season. The island has a lot of charm with the real deep Caribbean spirit far from all of the usual all-inclusive resorts. The trade winds blow between 15 to 25 knots 24/7 with…
Aritz lives for sailing and loves to share his passion for the sea with his guests. Born and raised in Spain, he spent his earlier years sailing and teaching kitesurfing around the world. After working as a kitesurfing instructor in Morocco, Egypt, Netherlands, and St. Vincent, Philippines and the Grenadines, he realized that the best destinations are accessible only by boat and shifted his focus to becoming a Captain. Aritz now has over 50,000 miles under his belt. With 10 Atlantic crossings, 6 as Captain, you could say he loves to sail. He has spent four charter seasons in Greece and four in The Bahamas. He loves to share adventures of sailing and kiting with people.
Been to Kite Boat Cruises? What did you think?
Where are the Best Kitesurfing Beaches in Kite Boat Cruises?
Pablo Escobar's famous airplane wreck is next to our anchorage spot and in a huge shallow area with sandbars at low tide. We set up the kites close to the boat and the wreck and explored the big bay next to the old, small airport of Pablo Escobar. The plane wreck is fun to cruise around for advanced kiters, but it is a must-see to go snorkelling and dive in this old legend, full of corals and coloured fishes. You may even discover a huge manta or a baby nurse shark with some luck!
Wind:  South and North Side on shore
Waves: Flat-water, shallow area
Wavebreak: None
This small island is very close to Nassau, with few palms and a beach to set up the kites. The spot is fun as the beach provides flat waters with offshore or side-offshore winds; that's why our dingy is ready anytime for rescues. We also love to downwind from here to Rose Island, which is just in from of Sandy Cay. The island is great for photo shoots with beautiful palms, as it is open to the sea. There is a small flat section; the rest is quite choppy but still fun, especially for foiling.
Flat & choppy, sandy beach
South and North
Wind: South and North, sideshore; onshore
Waves: flat choppy, sand beach
Shorebreak: no big waves/break
Close to Nassau and Rose island is a unique experience. It's a small sandy beach to start kitesurfing from and explore the large Rose island. It works with high and low tides. This spot is for advanced riders only. It's also perfect for hydro foiling. You can see turtles near the beach and swim up close to them in their natural habitat.
Wind:  East, South and West winds., Side on on-shore
Waves: Comfortably choppy, Beach, Turtles
Wavebreak: None
When is the Best Time to go Kitesurfing in Kite Boat Cruises?
The windy months to go kitesurfing in Kite Boat Cruises are January, February, March, April, December
Statistics
Do you know a good kitesurfing school here?
Kitesurfing Articles that Mention Kite Boat Cruises
Kitesurfing Videos and News in Kite Boat Cruises
8 months ago
Rou Chater spends some time on the incredible Windchaser 1 with the Kite Boat Cruises crew in the Bahamas. If you've ever wondered about spending…
9 months ago
Meet Windchaser I is the new addition to the Kite Boat Cruises fleet! This majestic Fountaine Pajot 58 catamaran has all the water sports gear…