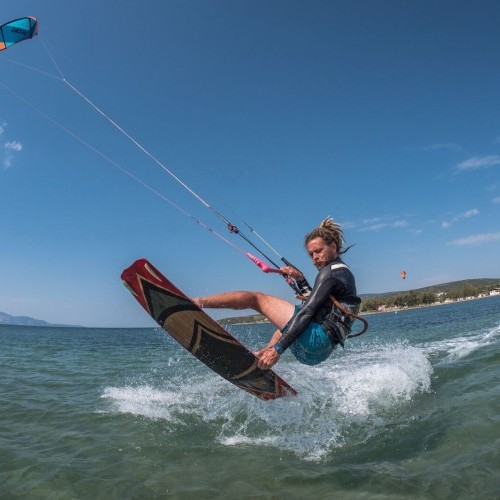 13 Things To-Do in Urla, Turkey
Features / Wed 12th Sep, 2018 @ 4:14 pm
Laci Kobulsky is no stranger to park riding, so when the word got out of a Kite Park in Urla, Turkey, without a doubt, he was on the next flight there. In this article, Laci shares '13 things to do in Urla', making park riding only one of the must-dos while you are are visiting, a quick interview with CORE kiteboarding rider, Louka Pitot about his experience in Urla as well as a few tips for booking your trip, check this out!
As a snowboard park rat, I was captivated by the possibility to ride on obstacles from the very early time of my kitesurfing life but that's not as easy as it seems! If you snowboard or wakeboard, it's easy to hit some rails by simply visiting your local resort but for kitesurfing, sliders are still a rarity.
These days, park riding is getting a more attention due to the new Kite Park League tour, but still, there are only two places in the world with free-to-ride everyday parks – Hood River in the USA and Urla Surf House in Turkey (plus seasonal parks in Outer Banks and the Philippines).
So my initial motive to visit Turkey was very simple – to ride me some sliders! But very soon (to my surprise) I discovered that this place offered so much more than just that.
I put together a list of activities that I would strongly advise you visit and do, just so you don't miss out on anything while you are in the area.
1. Sliders, sliders, and more sliders!
Unless you are natural born park rider straight from the Triple S, or you are a skilled carpenter and can build your own sliders at the spot, it is pretty hard to start with park riding in kiteboarding. Urla is one of the few places in the world and only place in Europe with a fixed park, available for everyone to use. The park is very accessible, no monster features, but enough to give a challenge, even to a seasoned rider. During my visit, there was one kicker, one easy box and one incline box in the water. It was easy to move the features around and try to hit them from different sides making it the perfect place where to start park riding, even if you have never tried it before.
2. Freestyle in front of the Urla Surf House
In the front of the Urla Surf House, there is a shallow, flat water lagoon. Personally, if there is a park, I'd rather kite there but if are into flat water freestyle, you're going to love this spot. The bottom of the lagoon is muddy, making crashes very soft and it's also a great spot for filming.
3. Get your friends kiting
A little further downwind from the freestyle zone is teaching area which is a huge shallow water area with consistent wind. If you have a friend tagging along on the trip who does not kite yet, this place will be ideal for him/her to pick up this amazing sport without the hassle of deep water. You can contact Urla Surf House for lessons and they can teach in English, French, Spanish, German and of course Turkish.
4. A trip to the Secret Spot
I wouldn't want you to miss out on the "Secret Spot" (it's not really a secret anymore!) Across from the lagoon, there is a gorgeous sandbank, creating the perfect flat spot. You can reach this place by car, but I strongly recommend venturing there by kite, it's just an unforgettable adventure and it only about a 15-minute upwind ride.
5. Chill around Urla Surf House
The Urla Surf House has their own accommodation and restaurant. It's a lovely complex of apartment's where each room has its own unique décor. There is a snowboard room with snowboard themed furniture, a skate room, a kite room or a Zanzibari, a Turkish and even a Brazilian themed room. There are many places to chill around, and you'll meet some very interesting people.
There is always something going on, so it's up to you if you want to just chill out or join the fun.
6. Skateboarding
On no wind days, the next best thing to do is skateboarding and honestly, I've never skated so much in my life. The Urla Surf House has a small mini pipe in the garden, and you can skate pretty much skate from restaurant to the reception, so be ready for some serious action on wheels, all levels are welcomed.
7. Party and BBQ nights
There is a different event going on in the garden every week, from BBQs, concerts to just social gatherings. The beer is cheap and the drinks are good, and the company is great, what's not to enjoy!
8. Natural Springs
Across Urla Surf House, there is a natural spring, known as the 'Roman Hammam' (however, there is no actual evidence that it is from Roman Age) but there were ruins found dated back to the Hellenistic Age. It is said that the water and the mud in the hammam have healing properties but for me, it's just a great place to relax.
9. Beaches
There are many beaches in the area to see, so if you rent a car, here are some recommendations I got: In Gulbahce, check out Ciko Beach and Burla Han Beach. Around Urla, make sure you check out Demircili Bay and Altinkoy Beach and around Cesme, check out Pirlanta Beach, Ilica Beach, Altinkum Beach, Ildiri and Aya Yorgi Bay.
10. Waterpark
Oasis Waterpark or Aqua City were highly recommended and are only an hours drive away. To my regret, I wasn't able to visit any of them, but it's top of my list for next time; after slider session, of course!
11. Vineyards
I'm not sure why, but when I initially thought about Turkey, I imagined it to be a traditional, Muslim country similar to Egypt with certain regulations, specifically when it comes to alcohol consumption (for the locals) But upon arrival, I was literally awe-struck – it looks like Europe!
Turkey is famous for its vineyards, which reminded me of sceneries I'd seen in Sicily. There are five local wine producers – Urlice Bagcilik ve Sarapcilik, Urla Sarapcilik, USCA, MMG, and ve Mozaik Sarapcilik. You can visit the wineries and wine tasting as well as a great dinner there; highly recommended.
12. Golf
If you want to play golf, Izmir Golf Club is just 10 km from the Urla Surf House and a great no wind activity. You can get lessons or participate in one of the tournaments they organize locally. Golfing is another point pending on my personal to-do list!
13. Trekking and Cycling
Turkey has a beautiful and has an abundance of diverse nature for you to explore. There are 709 km long historical trekking routes in İzmir with 49 different paths.
For cycling, you can take the vineyards route or cycle to small villages close by (Torosan, Ozbek, Balikliova etc.) around Gulbahce. If you want to try the historical route you can cycle to the ancient city of Ildiri, which is about 25 km far or to the ancient city of Lebedos, which is about 60 km far from Gulbahce.
Interview with Louka Pitot
During my visit, my good friend and Pro rider from Mauritius, Louka Pitot, came for a visit and I asked him a few questions about his experience here.
How did you learn first about Urla?
I first heard about Urla from the numerous kite video's I'd seen on Facebook and it is one of the rare places in the world where you can go park riding. I went to Turkey with expectations to ride the park only, because I did not know the spot was good for every type of riding.
In the end, the location of the Surf House is just ideal. We had shallow water for beginners, world-class flat water for freestylers and the park for those like me, who wants to try something new.
Well, how did it go on the sliders?
It's been loads of fun trying them. As it was my first time, I learned a lot and still have loads to learn, but it is just so much fun! The conditions were always good, no matter the wind conditions or the chop, the fun was guaranteed. It was easy to move them around, so if the wind changed you just move the anchor and have it set perfectly again.
Highlights of your trip?
I had the session of a lifetime at the flat water spot called the "Secret Spot" with the crew. We rode to the spot, we had Laci's drone and camera in the bag, and we shot there for several hours. It was the perfect day, we woke up early morning, had a park session, breakfast, big air, lunch and off for to the flat water spot for the afternoon, pretty much all the disciplines in one day; we slept well that night!
Another highlight was the numerous times I stood at the top at the halfpipe hoping to drop in with skate and still didn't, oh well, a reason to be back soon.
What else besides kiting have you done here?
We visited the town, chilled bt the pool, had a few beers with the crew and skated quite a lot. The vibe is so good, I got to meet great people that I hope to cross path with in the future.
Who should visit this place?
Everyone! Whether you want to learn how to kite, have a chilled break from work or working on a particular trick, this place has it all. The rooms are right at the spot, so even if you have friends that do not kite with you on your trip it is not a problem.
Additional Tips For Your Trip
Best wind season?
The kitesurfing center is open from May until October, but the high season, with the most constant wind, is mid-to-end June to mid-to-end September. During high season, expect 80 percent windy days with the wind all day long (average two days on, one day off)
During low season, you'll get 50 – 75 percent windy days and it can go from four to five days without wind, then a week with strong, consistent wind, so low season can be a bit of a gamble.
What to bring with you?
Twintip with short fins and a surfboard, if you like strapless freestyle on flat. For the kites, the usual 9m – 12m will serve you well, but if you are coming during the low season, pack a bigger kite like 15m if you have one. For the girls, a 7m will be handy too on stronger days. The wind is pretty similar to Greece if you look at the map spot is not far from the Greek islands with the typical Meltemi wind.
Where to fly to?
You should fly into Izmir International Airport, then it's about a 40 minutes drive from the airport to Urla Kite House. Turkish Airlines probably offers the most competitive rates from Europe and will usually transit via Istanbul. You'll be happy to know that Turkish offers free board bag for kitesurfing, so you can bring 30Kg bag plus a 30Kg board bag free of charge (make sure you mention that you know it's free, otherwise they will try to charge you for it)
Where to stay?
The best choice is without a doubt Urla Surf House. They have an amazing complex right at the beach with a different room options– standard, comfort, and hostel. Also, the vibe is just great!
Text and Photos by Laci Kobulsky
Wed 12th Sep, 2018 @ 4:14 pm
IKSURFMAG Web Editor, Jen Tyler, grew up in the chaos of Cairo, Egypt. It was on the beaches of the Red Sea where her love for the ocean, watersports and adventure grew.
Featured in this Post
Comments