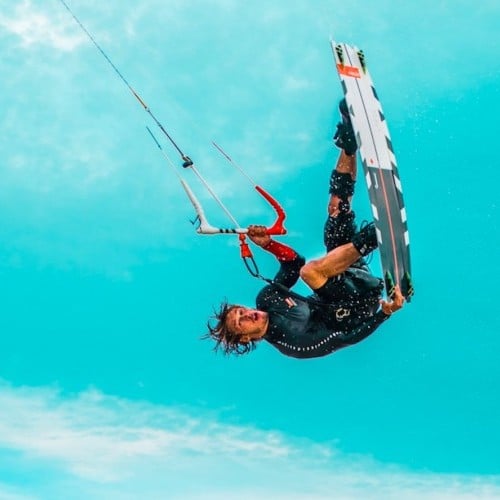 In Focus: RRD Year 24 Product Overview
Features / Thu 13th Sep, 2018 @ 1:30 pm
Year 24 is now online and it's looking very sharp! The RRD collection offers everything from watersports equipment to wetsuits, accessories, and fashion, check it out!
'We love making our products equally as much as riding them', Roberto Ricci
Y24 Kite Collection
Emotion MK4
Light Wind / Foiling
The Emotion MK4 continues as the most versatile one-strut kite developed for those who are looking for a lightweight kite that is specifically designed for freeriding, light wind performance, and hydrofoiling which also provides great turning speed, stability, and boosting power.
The new Emotion MK4 has a new leading edge arc which adds to its stability, improves the high-end wind range, turning speed, and increases rigidity to the overall shape. This lightweight, simple, clean, and easy to use design, with an exceptional relaunch, continues as the standard characteristics for the RRD Emotion MK4.
Developing such a stable profile for low winds, gusty winds, and even overpowered conditions was a real design challenge. But the decision to offer a new thrilling alternative for kiters that want to simplify their quiver and be able to be the first one on the water easily outweighed that challenge.
It is truly amazing how compact this kite is and how little wind is needed to fly and to get you riding. The MK4 is suited for all disciplines, from beginner freestyle to freeride, or from hydrofoiling to an introduction to the waves.
The Emotion MK4 is a faithful companion that will enhance your stoke for the sport without breaking the bank.
Features
One strut frame structure to secure easier water re-launch and keep the weight as low as a strutless kite.
Double Dacron reinforcements on the strut and a Kevlar reinforced end of the strut.
Quick Air Flow Valve for easier pumping and deflating, with special moulded protection cap.
Techno Force™ Double Ripstop.
Internal and external extra reinforcements on every leading edge panel, to secure a long lasting stitching and a rigid connection.
Radial reinforcements on the tips and leading edge with a 45°angle.
Bridle anti-tangle device.
For more information on RRD Y24 Emotion MK4, please click here.
Passion MK10
Freeride / Wave / Foiling
Reaching a major milestone, the Passion MKX marks the tenth version of this notorious high performance, 3 strut, Freeride, Wave, and Big Air kite that will continuously impress everyone from entry level riders to experts. The pure, predictable power, paired with improved stability, shapes the new MKX into a fantastic kite for all-round freeride, wave, big air, and freestyle progression that not only provides a perfect blend of turning speed and handling, but an impressive jumping ability as well.
For our tenth version of the Passion, we increased the maneuverability and stability of the kite through the window thus causing an increase to its overall performance by opening up the wingtips and adding a pulley near the leading edge. This improved performance increases the wind range, both low and high while adding to the boosting potential by adding more lift, turning radius for faster kite loops, and the Passion MKX's wave riding potential.
At RRD, we pride ourselves in providing the highest quality product without cutting corners. Every individual kite size has a customized leading edge diameter. For the smaller sizes, we accomplished maximum rigidity to handle extreme conditions whereas the larger sizes are focused on an LE diameter that has the perfect balance between weight, stiffness, and air penetration. If there is one kite that will transcend the boundaries from beginner to expert, this is our kite that fits all level of riders, keeping a perfectly achieved mix of performance & comfort, to be ridden as often as you want!
Features
Internal and external extra reinforcements on every leading edge panel
45-degree leading edge reinforcements panels
Leading edge seam protection
Bridle anti-tangle device
Radial reinforcements
3-strut construction with additional rounded Kevlar reinforcements
Double Dacron reinforcements on the middle strut
Techno Force™ Double Ripstop
Quick Airflow Valve for easier pumping and deflating with special moulded protection cap
For more information on RRD Y24 Passion MK10, please click here.
Obsession MK11
Freestyle / Wakestyle
Much has changed compared to the bold impact made by the Obsession MK10. We have continued forward and for our 11th version of this iconic kite, every part of the kite has been improved, even down to the smallest details such as the bridles, shape, leading edge, and trailing edge.
All these little changes have allowed us to create a performance freestyle kite superior to any 5 line C-kite on the market, with the simplicity of only 4 lines. This was achieved by our new revolutionary bridle and shape that allow this four line kite feel like a pure freestyle 5th line kite.
The bar pressure for the MK11 is lighter and the kite turns faster and provides more power throughout the turn. Because of this, it's also the ideal kite for kite loops. In addition to the increased speed and constant power, we have also increased the wind range on the new Obsession. And although the kite has such a closed shape, it does relaunch extremely well.
The new Obsession, thanks to a right combination of bow and shape, has achieved perfect performance for freestyle while also eliminating the need for a fifth line.
Features
Internal and external extra reinforcements on every leading edge panel
45-degree leading edge reinforcements panels
Leading edge seam protection
Bridle anti-tangle device
Radial reinforcements
Techno force™ double ripstop
Quick air flow valve for easier pumping and deflating with special moulded protection cap
Special Features
5-strut construction with additional rounded kevlar reinforcements
Double Dacron reinforcements on the middle strut
Pure c-kite unhooked performances
Five struts support structure
Mini front bridle configuration
4 lines setup
Easy relaunch
Multiple bar pressure setting
Explosive unhooked pop
For more information on RRD Y24 Obsession MK11, please click here.
Religion MK9
Wave / Strapless Freestyle / Foiling
The first thing that comes to mind when this kite is mentioned is SURF.
As the first kite manufacturer to make a kitesurf specific kite, RRD knows a thing or two about wave kites. There are not many kites out there that can drift like the new Religion MK9, allowing you to ride the wave instead of being pulled by your kite. The new Religion MK9 is the epitome of the perfect kitesurfing kite.
The MK9 has undergone only minute changes compared to our most successful wave kite, the Religion MK8. The large sizes, 9m up to 12m, remain virtually the same while the smaller sizes, 8m down to 4m, have a revised leading edge and again the addition of a pulley. These changes on the smaller sizes allow the kite to self-regulate in stronger conditions, which makes you hold on comfortable in stronger winds. Next to that, it increases the wind range, and provides more hang time for those who still like to send it!
If speed is what you need, the MK9 is our fastest version yet! This significant boost in speed and performance position this kite into a more specific and focused wave catching machine. Unlike most fast turning surf kites on the market, the Religion MK9 still maintains that signature pull and power which helps to get in a few extra turns down the line.
With a new deep and long leading edge in the small sizes, the Religion MK9 now has more range and control in strong, gusty winds, more depower, and has also increased the kites upwind ability. The new shape not only improves the speed and reaction time but also allows you to kill the harness pressure when bottom turning and lining up for a big vertical turn on the wave or for more control during your strapless freestyle maneuvers.
An additional, notable feature added to the new MK9, per the request of our top performers in the strapless freestyle kitesurfing discipline, is the front line trim settings that can be found on the bridle. We have added a wave setting and a freestyle wave setting. The freestyle wave setting pulls less on the harness, has a more direct bar feeling, de-powers the kite more when needed, and forces the kite to fly more towards the edge of the window which creates more lift! The wave setting is more suited towards purely riding in the surf with less bar pressure and a kite that sits deeper in the wind window, maximizing the drift for when riding down the line.
Since its first introduction, this kite has transformed together with the evolution of riding waves with a kite.
Special Features
Front-line trim setting with two options; wave / freestyle-wave
Quick Air Flow Valve, with special moulded protection cap and reduced dimensions
Bridle anti-tangle device
Wide tips for extra maneuverability
4m, 5m, 6m, 7m, and 8m have a pulley on the bridle, to handle the strong gusty conditions and improve the stability while 8m, 9m, 10.5m, and 12m have a higher aspect ratio to improve the speed, power and reaction time.
For more information on RRD Y24 Religion MK9, please click here.
Y24 Twintip Collection
Juice V5
Freestyle Pro / Wakestyle
The fifth version of the Juice board is the ultimate wakestyle/freestyle board of our range. Developed and approved by the top riders of our freestyle team; Julien Leleu, Adeuri Corniel, Jerrie van de Kop, Alex Neto and Chris Bobryk. All of them have their own unique style, from Wakestyle to Big Air and from Freestyle to Grinding, but they all agree that the V5 is the best Juice ever made!
For 2019, a larger biaxial carbon strip has been added on the deck of the board; giving it more rigidity and reducing reverse flex to almost none. What does that mean? This is the stiffest Juice, with the most pop, ever made and it will still provide those smooth, buttery landings. The V5 will keep the characteristic outline of the previous version with the addition of a revised, more narrow, stance option. In case you need to throw doubles like Neto & Corniel, speed is as important as pop! In order to achieve this, we have increased the progressive scoop rocker line which now offers the perfect match between controlled landings and glide speed.
Undoubtedly, you'll love the Juice V5. Especially if you want an explosive freestyle board that will shred flat water, eat-up chop, and withstand regular abuse from, sliders, kickers, and rails behind the kite or cable, like Chris Bobryk.
Witness the stiffness and find out why this Juice is worth the squeeze!
Features
Additional Biaxial Carbon strip has been added to the deck; giving it more rigidity and reducing the reverse flex to almost none
Increased progressive scoop rocker line which now offers more controlled landings and forward speed
Narrower stance settings for ninja spins and smaller riders.
Constant outline shape, this gives you a more rounded pop and smoother curves
Hull channels on the nose, tips, and mid outline, that propels water across the board and gives it incredible speed, grip, and tracking capabilities
HD biaxial fibers lay-up
The lamination technology that results in less negative flex and a more rigid bottom combined with slightly more flex from the top. This results in a perfect weapon of choice for your wake style tricks through a more explosive pop increased speed control and reduced vibration
Torsion box; more strength and reduced torsion. The unidirectional carbon reinforcements layers make the board stronger and stiffer which allows you to pop like a boss as well as providing you more stability and control on landings
Upgraded Slick Base for sliding and grinding obstacles or using it as a great cross-over board to the cable park
The aggressive curve on the rocker line that gives you a smoother landing and better performance on choppy water
Different size breakdown, to cater for every size of the rider
Reinforced symmetrical inserts, instead of asymmetrical rails, for simple boots adjustments combined with 30% more pull strength and 10% weight reduction
More rounded tips for maximum control on choppy water.
For more information on RRD Y24 Juice V5, please click here.
Poison V6 (LTD + Wood)
Freestyle Pro / Big Air
The most wanted freestyle board in our range since its introduction. The legendary Poison has always been on top of the game due to its ridiculous grip, light feel, and silly "pop". Once you use the Poison you immediately fall in love with it. There is something about it that makes it feel just right.
For 2019 The Outline has been slightly re-tuned in a more progressive curved rail shape, creating a wider surface in the center of the board, improving upwind performances and glide capacity in a wide range of conditions.
The lamination technology combined with the unidirectional carbon stringers, result in less negative flex and more rigidity. This new lay-up, combined with slightly more flex from the top, will result in a more explosive pop, easier speed control, and reduced vibration feel.
The squared/swallow tips provide more surface area for grip and increased pop. This tip shape creates a higher angle of attack on the water surface making it easier to hold in over-powered conditions, making the Poison V6 the ultimate weapon for big air. This version has a carbon reinforced track system that, in combination with our Rad Pads or boots, enable the rider to make the smallest adjustments needed to perfect their stance for maximum performance.
The Poison is an amazing freestyle board. This version has reinforced channels that in combination with the RRD Rad Pads or boots enable the rider to make the smallest adjustments needed to perfect their stance for maximum performance.
Get ready for the takeoff, but for this flight, seatbelts are not required!
New features
Anti-torsion box tip design
Unidirectional carbon stringers
Deep concave in the middle of the board
5mm ABS sidewalls
Carbon reinforced ABS track channels for pads
LTD version (20% lighter)
CNC shaped mix of Paulownia lighter wood core
Deck and bottom Biaxial Carbon 450 grams
For more information on RRD Y24 Poison V6, please click here.
Bliss V6 (LTD + Wood)
Freeride / Freestyle
Coming up with the name for this board was easy. Since day one, riding this board has always been an experience of pure "bliss" This progressive freeride/freestyle board provides a fantastic sensation of security while riding in an assortment of conditions. When the board is pushed further into the freestyle realm, it allows this incredible kiteboard to show its true nature. The Bliss has a great amount of speed, comfort, and pop that comes from the mix of medium flex coupled with easy landings.
The deep bottom channels and the thin, slightly rounded, ABS sidewalls allow this board to carve aggressively through the chop. The V6 is a light and reliable board, perfect for those choppy spots where going upwind can be a tough task. The tip design and the bottom channels aid the Bliss' fantastic upwind performance while the track systems for the Rad Pads will allow you to fine tune the stance just the way you like it to achieve maximum comfort.
Strap in, load up the lines and fill your session with true Bliss.
Special Features
Deep bottom channels
Thin and slightly rounded ABS sidewall
Carbon reinforced ABS track channels for pads
CNC shaped mix of Paulownia wood
Unidirectional carbon stringers
20% Lighter in LTD version
For more information on RRD Y24 Bliss V6, please click here.
Placebo V7 + Placebo Grom
Freeride / Tandem
With nearly a decade in the lineup, the Placebo continues to represent accessibility, consistency, and comfort. Freeriding can be defined as having fun and the Placebo V7 is the freeride machine! We haven't only lowered the barrier to entry into the sport but we actually made kiteboarding easier and more fun with the new V7!
Talking about more fun: we added an extra double set of strap inserts on the 142×45 sized board, so you can enjoy a tandem ride!
Due to its generous width, length, rocker line, and outline that is expertly paired with the correct flex and feet response dynamics, the Placebo V7's forgiving nature creates the perfect mix of comfort, fun, and support on the water. With the new 3D top sheet and thinner rails, this board is now lighter than its previous predecessors, cuts through chop like warm butter, and carves through turns as smooth as silk under your feet. The new Placebo V7 will enable its riders to put in the long hours necessary to accelerate their progress to the next level with comfort and ease. There is no need to hold back when pushing yourself to the next level. The new Placebo has firmly solidified its position as a true progression machine.
Don't be surprised if you mistake yourself for an expert after the first time on the new Placebo V7.
Features
Biaxial fibers layup
Tip outline with a slight concave and rounded swallow tip design
Generous width and length
Correct flex and feet response dynamics
On the 142 x 45: extra set of strap inserts so you can enjoy a 'Tandem Ride'!
Tandem
The name says it all. Bring a friend and share the experience of kiteboarding with those that want a taste of the thrill!
For more information on RRD Y24 Placebo V7 + Placebo Grom, please click here.
10 Knots LTD V4
Light Wind Pro
"As soon as a breeze comes up I want to be the first one on a twin-tip out there!"
The 10 Knots features the 'Light Wind Special Layup', one of the most technologically advanced constructions out there. This is the only board featuring a superlight Airex core, instead of the classic Paulownia wood core, reducing the weight to the minimum possible. Not only making this board the lightest in our collection but possibly the lightest production twintip on the market.
The new premium twintip light wind machine represents the spirit of free riding.
The very flat scoop-rocker line of the board and the new tips design allow incredible ease of kiting and an amazing grip while going upwind in the lightest breezes. The 10 Knots LTD V4 is on a planet of its own.
Special Feature
Completely built and assembled in Europe with a new exclusive lightweight technology
CNC PVC Core + reduced weight ABS sidewalls
Laminated with pre-preg Biaxial Carbon 220 grams. deck and bottom
Pre-Preg Biaxial carbon
Pvc superlight core
For more information on RRD Y24 10 Knots LTD V4, please click here.
BS 45 V6
Freeride Lightwind
The BS 45 V6 fits in a class of its own. It's the perfect board to use when the wind is light and the conditions are marginal. Unlike the other lightwind boards on the market, as soon as the wind comes up, there is no need to change the board. The BS45 V6 is made with a constant curve rocker line that keeps the tips of the board high enough on the water to avoid spraying into your eyes and to ensure fantastic maneuverability which is what this board is all about.
Because the BS 45 was designed with light wind in mind, it has a flatter scoop rocker line and bottom shape. The flatter bottom aids to this board's incredible upwind performance as well as its early planning. Less is more with this fantastic free move lightwind board. The sixth version of this board has a torsional box on the tips that aids in the pop potential and chop management. Additionally, the new BS45 has razor sharp rails that will propel you upwind while maneuvering through rough waters with ease.
For larger riders and those who need a lightwind board that absolutely rips, there is only one choice, the BS 45 V6.
Features
Flat scoop, constant curve rocker line
Big Surface
Concave Outline
The torsional box on the tips
For more information on RRD Y24 BS 45 V6, please click here.
Y24 Surfboard Collection
Ace V1
Light wind / Strapless Freestyle Surf
Never worry about getting dealt a bad hand by mother nature when you are holding an Ace! The RRD Ace 5'2" is a freeride, flatwater board, that is fast and planes early, designed to make the most out of the least favorable conditions. Have a blast on small, mushy surf with this new, radical, retro style shape. Need a board for light winds and mostly flat water but also shreds on waves? This is it! The wide outline and moderate volume allow this board to float you through the lulls or pump through a section to squeeze out an extra turn on that knee-high monster.
Compared to its predecessor, the Pop V2, the new and improved Ace 5'2" has a reduced thickness and thinner rails to really focus on increased maneuverability on the wave. Punch through waves better, gain more stability in whitewater, hold it together after a late entry off the lip, or sneak into the pocket when everyone is watching with the new ACE 5'2".
In addition, the swallowtail and thinner rails will also improve this boards' pop potential. If learning strapless tricks is on the agenda, then this board will aid in your progression. The added maneuverability gained with this new shape, mixed with the lightweight, will allow you to quickly pop off the water while providing a wide surface area to catch the wind and to land those strapless airs!
If the waves are small, the wind is light, or an easy to use, the all-around ripper is needed in the quiver, then this is your ace in the hole!
Features
Lots of curve in the outline from nose to tail to create better maneuvers and wave riding potential
Mono-concave hull from nose to tail with slight tail kick release to improve control over choppy water and maximize pop
Straighter rocker and nose lift to improve planning potential and top speed creating great pop
Reduced thickness and thinner rails to focus on increased maneuverability.
For more information on RRD Y24 Ace V1, please click here.
The Varial V1
Pro Strapless Freestyle
Our dedicated, pure freestyle strapless kitesurf shape. The brand new RRD Varial was born out of a necessity for a board that is suited for those dedicated to the strapless freestyle discipline.
RRD is no stranger to the C.O.T.A.N. (cut off nose and tail) shape. And now with the Varial, will have one of the most bad-ass boards on the market. You can expect this board to be extremely light and thin, the thinnest in our range, with a very low profile. This razor sharp design enhances handling, control, and sets the foundation for the highest level strapless freestyle riding.
Going huge on a strapless board? The channels running down the deck allow for that hands-on approach to adding stylish grabs. Turn it over to realize that the bottom shape of this board is in a league of its own. The steep, deep, bottom channels running from tip to tail increase air and water flow underneath the Varial which not only improves the tracking capacity for an impressive amount of speed and control but also increases it's upwind ability, which is crucial during competitions!
These aggressive channels also disperse the water when landing, while also driving the board forward, making stomping those tricks much easier and more consistently. The Varials' construction provides an essential balance of strength and weight. The top-level strapless riders need a board that is light enough to glue to the feet and also has the strength to withstand some hard and fast landings.
Because this board is for the dedicated strapless rider, we dedicated it as a strapless board. No inserts will be found on the deck of the Varial. You may ride with only the rear pad and wax the deck for the pure strapless feel or with both the tail pad and the deck pad, the choice is yours, the board comes with the deck pad unglued. We also decided on the Thruster set up to improve sliding and control when landing or riding in reverse.
If riding strapless is your passion, then you will 'flip' once you get on board the new RRD Varial!
Features
Extremely lightweight and thin so it grips the water, sticks to the feet, and is easy to grab on the water or in the air.
Deep bottom channels running from tip to tail to increase air- and water flow for tracking and control at high speeds.
Thin rails from nose to tail
Super thin profile throughout
Deep concave throughout the entire board with a flat, kicked tail, released by a progressive rocker
Strictly thruster fin setup for sliding control and better for riding in reverse.
Insertless = no inserts on this dedicated strapless freestyle board.
For more information on RRD Y24 Varial V1, please click here.
C.O.T.A.N v3
Strapless Surf / Freeride
The C.O.T.A.N. (cut off tail and nose) V3 has only undergone minor changes compared to the previous versions. For those who don't know, the Cotan is a high-performance board that carries less length and momentum in comparison with a traditional board shape. This shape allows you to feel exceptionally free and fast in everything you do. The reason this shape is magic is simple, it rips!
The V3 has a newly redesigned tail shape with wingers and rounded fishtail ends. The reduction of area in the last section of the tail, behind the wingers, has allowed improved turning at high speeds, when riding waves, or when pushing to get the maximum pop out of your freestyle strapless sessions. The new Cotan is also slightly thinner, only in the tail area, to really boost the pop effect when jumping on flat water. It's now possible to really sink that tail and "stop" the board before you send the kite!
Features
Redesigned tail shape with wingers and rounded fishtail ends, offers precise control, improved turning, and increased pop potential.
Deep concave throughout the whole board with a flat tail released by a progressive rocker with tail kick
Thin rails from nose to tail, super thin profile throughout
Five fin boxes, so you can choose between thruster or quad
For more information on RRD Y24 Cotan v3, please click here.
Barracuda V3
Innovative Surf Style
Designed, tested, and developed by Ralf Bachschuster, The Barracuda V3 was created to be used for strapped-in riding but is also loved by many strapless riders. These phenomenal sticks are very fast, securely grip the water, and deliver an abundance of hold in the most extreme conditions
The third version of this powerhouse has an entirely redesigned outline. Our goal was to take this radical shape and make it more well rounded for all to enjoy its high-end performance. The maximum width has been moved forward to allow more parallel lines towards the tail while the nose has been slightly widened to create a better balance and improved control and comfort. The new Barracuda V3 is easier to ride and more comfortable both in light winds and strong winds and now fits within a true "one board that does it all" program.
In addition, the new pintail winger tail was introduced with the idea to slightly increase tail width for better upwind performance when the back foot is moved forward, in front of the strap, and then drastically reducing the tail width right after the winger for an incredibly quick response and insane turns! The full mono-concave hull with heaps of rocker on the tail makes planing fast and holding control on choppy waters a breeze.
Developed and tested in Cape Town by one of the most influential and radical kiteboarders in the South African kite scene, the Barracudas are not only fast boards that were born to handle full power but can now be revered as the one and only board you need in your quiver!
Features
Slightly wider outline towards the nose with a pintail winger tail to increase control and comfort while allowing great turning potential with plenty grip.
Full mono-concave hull with heaps of rocker on the tail. Planing fast and holding control on choppy waters.
Thicker volume midsection in between your feet to allow floatation and keeping momentum at a lower speed.
Thin rail profile on nose and tail to allow the best grip at high speed and lower the volume to keep the weight down.
For more information on RRD Y24 Barracuda V3, please click here.
Maquina V4
Innovative Surf Style
The Maquina V4 is here! This is our classic thruster and it is the one you want to be riding when you need to have a totally reliable shape. With such a pure surfboard feel, this board becomes an extension of your mind and allows your eyes to draw lines on the waves.
The newest version, the Maquina V4, has a newly redesigned outline. The nose is now slightly wider making this board more well rounded and lively in lighter winds and smaller surf. Now with a soft winger design, the tail of the board is slightly wider; 20 cm from the tip of the tail. This combination helps to plane and catch waves because of the progressive hold when getting powered up and riding fast down the face of a huge wave!
Charge the biggest swells with this grippy stick while maintaining precise control over the direction of the board in any situation due to the new outline, reduced volume, and slightly thinner rails.
Find out for yourself why this is our international team rider's favorite stick when the situation boils down to a pure kitesurfing board that allows them to fully commit and ride as hard as they can.
Blink if you dare! You may just miss an unforgettable moment of joy with the new Maquina V4.
Features
Redesigned outline with a slightly wider nose allowing the Maquina a wider range of use
Soft winger design to increase planning and control at high speeds
Thin rails from nose to tail
Super thin profile throughout
Deep concave throughout the entire board with a flat, kicked tail, released by a progressive rocker
Strictly thruster fin setup for pure, essential, radical turns in any wave size.
For more information on RRD Y24 Maquina V4, please click here.
For more information on RRD products, please click here.
Jen Tyler grew up in the chaos of Cairo, Egypt. It was on the beaches of the Red Sea where her love for the ocean, water sports and adventure grew.
Featured in this Post
Comments