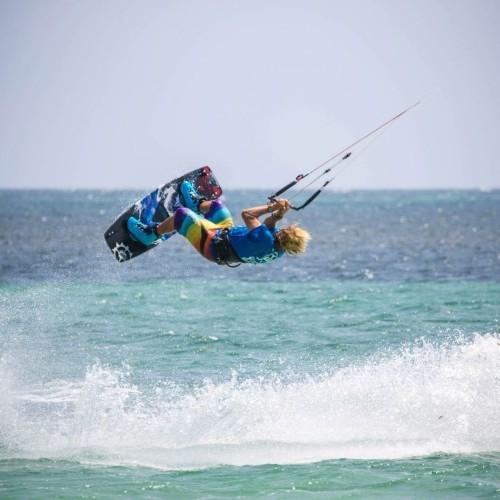 Why Visit?
Constant trade winds, a choice of sandbars, five kilometres of powder white sand beaches and large summer swells make Watamu a wonderful playground for kiters of all levels. A world heritage site, Watamu is also a protected area of outstanding natural beauty with safari game reserves as well as a stack of other activities and sights close by.
Wind and Weather
There are two trade wind seasons in Watamu: The Kaskazi blows December to April from the north east, averaging around 20 - 25 knots. Generally picking up from about 11am, it gives you time to get a paddle board session in beforehand. During the Kaskazi season, you'll use your 9m a lot and your 12 well into the evening. The Kuzi blows June to September from the south-east and this is the windiest time of year with winds averaging 25 knots, occasionally increasing to 30+ knots, so pop your 7m in your bag if coming out at this time. Being equatorial winds, both these systems are extremely constant and both blow cross and cross-onshore, providing safe riding conditions. The best swells come during the Kuzi season. Watamu has its fair share of great breaks to enjoy as the large Indian Ocean swells meet with the reef and the sand bars. The air temperature can reach 36°C / 97°F during the Kaskazi season. Kuzi time the air temperature is sometimes a little cooler but not by much. Water temperatures range from 25-30°C / 77-86°F throughout the year, so it's boardies/bikinis all year round!
Getting Around
No need to hire a car as there are loads of tuk-tuks that will take you to the different kitesurfing spots along the bay, for around 250KSH from anywhere in town. Bodabodas are motor bike taxis and they charge just around 50KSH. But be cautious of these – they have been known to be a bit reckless with their driving, and no helmets are provided. If you do want to hire a car for trips further afield, then you are looking at $20 - $30 per day.
Currency: Kenyan Shilling (KSH): £1 = 145KSH / €1 = 110KSH / $1 = 95KSH Dollars are accepted at hotels and restaurants, but for local bars and supermarkets you will want Kenyan Shillings. There are some cash points locally that accept foreign cards.
Getting There
There are some ways to reach us in Watamu. To fly to Malindi (our nearest airport), you will need to transit though Nairobi. Lots of major airlines such as Kenya Airways, British Airways, Turkish Airlines, Etihad & Qatar Airways all offer flights to Nairobi. Kenya Airways offer flights through to Malindi or you can use one of the other internal airlines such as Jambojet, Fly 540 or AirKenya. Taxis and collection from Malindi airport can then easily be arranged. Alternatively, and often cheaper, you can fly to Mombasa. This is then around a 2-hour scenic drive to us in Watamu.
Food and Drink
Watamu itself is a quirky fishing village with everything you need on your door step. There are two main supermarkets for your groceries and, as a fishing village, it's especially easy to get hold of fresh fish, lobster and crab at very little cost. Lots of options for eating out and, with a large Italian influence in the area, the pizza restaurants are excellent! There are some bars both local and expat and a tusker can be purchased for as little at 170 KSH!
Nightlife
Watamu is often described as a quaint little fishing village with a drinking problem! There are some bars to keep you entertained as well as two nightclubs where you can dance until the early hours. A few nights not to be missed are Fridays at Ocean Sports, Saturday cocktail happy hour at Pili Pan and Wednesday at Papa Remo, where a beach party goes all night until sunrise. There are also some quieter spots where you can enjoy cocktails and catch the sunset.
No Wind?
World famous day or weekend safari trips leave Watamu daily, Tsavo National Park (Kenya's largest game reserve) is only a 2-hour drive away. The Araboke Sakoke forest has a watering hole within a 15-minute drive from the centre of town where elephants regularly drink. Also, you'll find incredible diving and deep sea fishing, or you can visit local historical ruins — additional trips to the local turtle rehabilitation centre, snake park or sundowner dhow cruises on Mida creek. Tribe Watersports also provide SUP lessons and rental, so there is always something to keep you busy on a windless day.
Internet
All internet runs on 3g and 4g connections. Dongles for your laptop can be easily purchased and are approx. $10, you then top up on a pay as you go basis. A mobile sim card can be purchased for $1, and the mobile networks (Orange and Safaricom) are quick and the most effective way of using the Internet in Watamu. All hotels have WiFi and many of the private rental properties also.
Accommodation
There is a wide range of accommodation options in Watamu from budget to luxury. Ocean Sports is a relaxed beach bar with affordable, comfortable rooms. Turtle Bay Resort based right on the beach offer a great all inclusive holiday experience. If you are looking for luxury then Medina Palms is the right option offering self-contained apartments, penthouses and beach villas. Not to be missed is Watamu Treehouse; a stunning yoga retreat house with incredible views – a truly unique option. There are also a number of stunning private houses that can be rented through Watamu Property Services and a number of smaller properties that are perfectly located for kitesurfers.
Featured
Why Visit C Mauritius Hotel? On the preserved eastern coast of Mauritius, C Mauritius' first hotel under the C Resorts brand boasts one of the most beautiful beaches on the island. Get a glimpse of the idyllic lagoon of Palmar as you take in the stunning sunrise view at C Mauritius. Experience the perfect island lifestyle at C Mauritius and…
Essaouira provides the ultimate location for your kitesurfing holiday. It's easy to travel to as there are many daily flights from Europe, it's relatively cheap and there are a variety of conditions on your doorstep from a flat water lagoon to world class waves. There is everything on hand without the need of a car. You'll find no shortage of…
Geraldton is a port city about 6 hours north of Perth; it's long been a favourite with windsurfers due to the consistent wind conditions during the summer season. Now kiters are starting to venture North and enjoy the strong winds and amazing waves that grace this stretch of coastline. With plenty of places to kite in the area you'll never…
Having grown up and learnt to kitesurf in Kenya at a young age Ben has been kiting for 17 years. He was heavily involved in the BKSA training team through his late teens to his mid-20s reaching examiner status, until moving back home to Kenya to launch Tribe Watersports. Tribe takes the important core values of the BKSA focusing on safety and professionalism ensuring you receive the best possible service when you visit Watamu and Kenya.
Been to Watamu? What did you think?
Where are the Best Kitesurfing Beaches in Watamu?
Kite beach is the most popular spot and enjoys a good mix of flatter water and waves on the reef. This part of the beach has the biggest expanse of clear waters with only a few patches of coral visible at the lowest tides that are easily avoidable. There is plenty of space for everyone and with 5km of beach you will never find it crowded. This location works on all tide states.
Wind: Cross on from the NE (Kaskazi – Dec - Mar)\Cross on from the SE (Kuzi - Jun - Sept
Waves: Out on the reef (1km from beach)
Shorebreak: During Kaskazi no, during Kuzi yes at spring high tides
This is a seasonal spot, working best from December to March. Great sandbar exposed at low tide, which provides flat water perfect for freestyle riding. The spot also has the Watamu landmark Turtle Rock which works great as a backdrop for photography purposes. This spot works best three hours either side of low tide on both springs and neaps
Wind: Cross on from the NE (Kaskazi – Dec - Mar)\Cross on from the SE (Kuzi - Jun – Sept)
Waves: Out on the reef (primarily only in Kuzi season)
Shorebreak: No
Another ideal flat water riding location suitable for all levels of riders. However at some busier points throughout the year this spot can get very busy with sunbathers and swimmers so take into consideration other beach users safety. The location works best three hours either side of low tide on both neaps and springs.
Wind: Cross on from the NE (Kaskazi – Dec - Mar)\Cross on from the SE (Kuzi - Jun – Sept)
Waves: Out on the reef and occasionally breaking on the back of the sandbar (best during Kuzi season)
Shorebreak: No
A bold claim but this location is up there with the world's best flat water riding spots. Clean wind, good water depth for throwing down your favourite tricks and space for hundreds of kite surfers. Good news is a busy day would be three people on the water.  The location only works on a neap tide three hours either side of low tide.
Wind: Cross on from the NE (Kaskazi – Dec - Mar)\Cross on from the SE (Kuzi - Jun – Sept)
Waves: Yes on the reef (2km out from the beach)
Shorebreak: No
This location only works well in the Kuzi season, it is a 20 min drive from Watamu so is bit more of an excursion. However for those wave riders out there this location delivers long clean lines of waves. The wind is slightly cross off shore and makes for a world class wave riding spot. The location works best in a SE swell. If the swell is coming from the South the waves get blocked by a headland and don't form. Good news is the prevailing swell direction is SE during the months of May through to September. This location only works three hours either side of high tide.
Wind: Slight cross offshore
Waves: Yes, great waves
Shorebreak: No
When is the Best Time to go Kitesurfing in Watamu?
The windy months to go kitesurfing in Watamu are January, February, March, April, June, July, August, September, December
Statistics
Do you know a good kitesurfing school here?
Kitesurfing Articles that Mention Watamu
Issue 60
Charlotte Consorti heads to Kenya thinking she might get to do a bit of kiting and see a bunch of animals. Sadly due to the amazing kite conditions she spent the entire trip shredding and only saw a couple of donkeys!
Kitesurfing Videos and News in Watamu
7 years ago
Simply stunning is a great way to describe this film, Crag Cunningham and Colleen Carroll head to Watamu in Kenya and discover a paradise for…
7 years ago
WOW! This gets my vote for the kite video of the year award... Join Colleen Carroll and Craig Cunningham as they head to Watamu in…