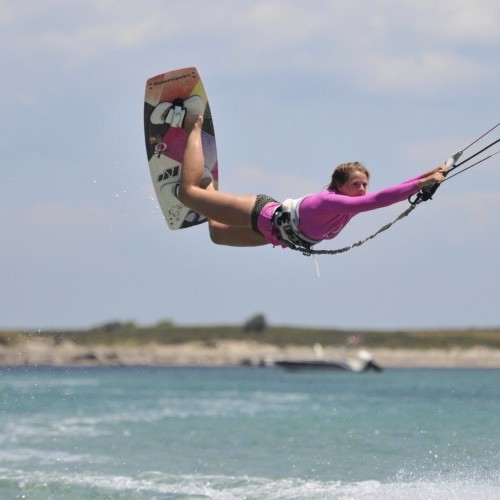 Why Visit?
With the island's nickname being 'wind-ridden one', it is no surprise that Keros bay is an idyllic kitesurfing destination during the European summer season. Boasting postcard-worthy beaches, crystal-clear waters, ancient archaeological sites and home to some fantastic wildlife, Limnos Island is a pearl of the Aegean Sea! The island vibes are so chilled here that they are, in fact, artic. But the water isn't! Keros Bay has warm, waist-deep water, 3km of beach to play with and an awesome beach crew. Keros Bay boasts 'three spots in one' - flat water, small chop and a wave spot. Surf Club Keros have a great set up at their IKO-affiliated surf station there, stocked with all the latest Cabrinha gear and a super friendly, non-judgmental team of riders and instructors. The Surf Camp itself is in a pretty special location, with dunes, wetlands and salt flats all nearby. The windy conditions along with the camp's safari tents, delicious food and laidback atmosphere offer the ultimate kite retreat.
Wind and Weather
The summer season runs from the middle of May to September. The Meltemi wind from the North is expected during this time. It goes in cycles, so you tend to get four days of wind per week, but you can get 7 out of 7 if you're lucky (and only 1 or 2 if you're not)! Things quiet down by October, and although colder and less reliable wind-wise, the winter season can make for some great kiting too.
Getting Around
Cars are available to hire if you want to explore the whole island, but they are not a necessity. Surf Camp Keros can organise a transfer from the airport to the camp. Once you are there, you can get to the local village Kalliopi and - most importantly - the beach, by foot. There is motorbike hire if you want to go further afield, or bicycle hires for those who don't mind a bit of thigh-burn on the sandy tracks.
Food and Drink
The island's harbours deserve a visit for their seafood. You can sit by the water's edge and order a couple of huge fish to share between everyone and watch the sun go down – Giannakaros' restaurant at Kotsinas is particularly cool for this. Limnos is a wine-producing island, so you can wash that down with the local wine or if you prefer, some Ouzo. The food at the Surf Camp is great; it's buffet style, super fresh, healthy and varied. A special mention must go the breakfasts, with Greek yoghurt, fruit, granola or something savoury if you fancy; it is the best way to fuel up before a day on the water.
Nightlife
The opposite side of the island from Keros Bay is Myrina, where the larger parties happen, but Keros has a great, friendly community of kiters to wile away the evenings with. You can head into nearby Kondupouli for an evening meal, but there is not a clubbing scene as such!
No Wind?
No wind? No Problem. There is a whole host of things to do on the island - boredom does not seem to appear in the Limnos dictionary. It is super easy to hire bikes and embark on an expedition in search of the flamingos on the nearby salt flats or head to some of the countless ancient archaeological sites. See if you can locate the mythical cave of Philoctetes or talk a walk around the ancient theatre at Hephaestus. There is also heaps of stuff on at Surf Club Keros. Whether you fancy a bit of volleyball on the beach, a SUP around the bay or yoga, the camp always has activities on. Talk to Bruno for surf lessons; these can be super fun on the friendly waves and a chance to get the basics dialled.
Internet
You are probably having too much fun to need Wifi, but there is Internet access up at the Surf Camp. Should you wish to connect, you can catch up on your email while lounging in the chill out area or check Facebook while swinging in a hammock.
Accommodation
Surf Camp Keros has an incredible setup. Based amidst a nature reserve, the camp itself is eco-friendly and pretty easy on the eye. The core of the camp is a series of wooden structures, which make up reception, the chill out area and the restaurant. Sleeping-wise, you can either opt for a mini safari tent; which is a simple white bell tent, well-equipped with raised mattresses, electricity and decking for you to dry your swimming costume. Alternatively, you can treat yourself to the aptly named, 'luxury' safari tents. These comfortable tents are more akin to little houses than tents. They have their bathroom, some extremely comfy beds and your veranda.
For families with young children, Surf Camp Keros, runs the coolest kids camp that involves surfing and kiddy yoga. Yup. Seriously.
A typical day at Surf Camp Keros: limber up for your session at one of the camp's morning yoga sessions, head down the sandy track through the nature reserve to the beach, greet Ellie, Ricky and all your new kite friends, kite to your heart's content, refuel on fresh fish and local wine, and then head to bed under the Greek night sky in your charming safari tent.
Surf Club Keros is fully accessibly and friendly for individuals with physical disabilities - with a range of cata kites, sit kite boards, kite buggies and modified boards.
Others drive here in campers from mainland Europe (with the help of the ferry) and park up towards the southern end of Keros bay.
Greece
Error getting country data...
Featured
Barbados offers conditions ideal for all water sports lovers. Consistently howling trade winds with beautiful, warm turquoise water and clean waves make it a playground for kitesurfers, stand-up paddle boarders, surfers, sailors, scuba divers and freedivers. Regardless of your kiteboarding style, Barbados offers conditions for all, from freestyle, freeriding and wave riding. Many visitors get hooked on the island because…
With exceptional wind conditions daily, kiters of all skill levels fall in love with El Cuyo quickly. An Uncrowded, shallow water beach that offers students the safest, most reliable, and fun learning experience possible. El Cuyo promotes an accelerated learning progression in a laid-back island atmosphere. On the picturesque emerald coast of the Yucatan and full of authentic Mexican culture…
Camber is easily accessible from London and boasts a huge sandy beach, three kite schools and various bars in the town. It is also a good place to learn with shallow shelving beaches and small waves. You can enjoy onshore winds in every direction (aside from NW) within a 15-minute drive. Wind and Weather The prevailing wind direction is SW…
I have freestyle competition experience in the UK, Europe and Asia but at the moment adventure kitesurfing is what gets me out of bed. I am pretty lucky because my whole family loves kiting. I get the most thrills kiting on water that hasn't been kited before!
Been to Limnos? What did you think?
Where are the Best Kitesurfing Beaches in Limnos?
This is the main bay for kitesurfing. Its range of conditions means it caters for everybody. At the top of the bay, although a little gusty at times, the offshore winds provide a good training ground with butter flat water. It's fun to start here at the beginning of the day and do a downwinder to the surf station for lunch.
The middle of the bay is an excellent spot for freeriders and beginners alike. The water stays waist deep for quite a way out, and the sandy bottom means peace of mind for all the riders. There is some chop here, and downwind, things get a little wavier.
Pre-breakfast session anybody? You can do a lovely downwinder to the wavespot for golden hour. Afterwards, you can either do the leg-work back upwind or if you're lucky, get a friend to pick you up. Be warned, there is no rescue boat operating at this hour (but, because of the shape of the bay, you will always end up on the shore… at some point).
At the southern end of the bay is the mini-wave spot, it is well worth a visit to escape the water traffic in the middle of the bay and is magical in the early hours. With the epic mountainous backdrop, complete with white church, it's a cool spot for advanced riders.
Wind: Cross Off Shore
Waves: Small ones at the Southern end of the bay
Shorebreak: No
When is the Best Time to go Kitesurfing in Limnos?
The windy months to go kitesurfing in Limnos are May, June, July, August, September
Statistics
Do you know a good kitesurfing school here?
Kitesurfing Videos and News in Limnos
6 years ago
Miriam quit her daily grind job and is now living the dream! Find out how she did it here! Almost a year ago I threw…
6 years ago
Jibbing on rocks, jumping over them and squeezing through tiny gaps! This looks like a super fun session and Keros Beach in Limnos, Greece is…
9 years ago
Check out the Crathorne sisters at thier newly discovered kitsurfing paradise of Limnos! Polly, Jemima and Lucy stayed with the crew from Surf Club Keros…