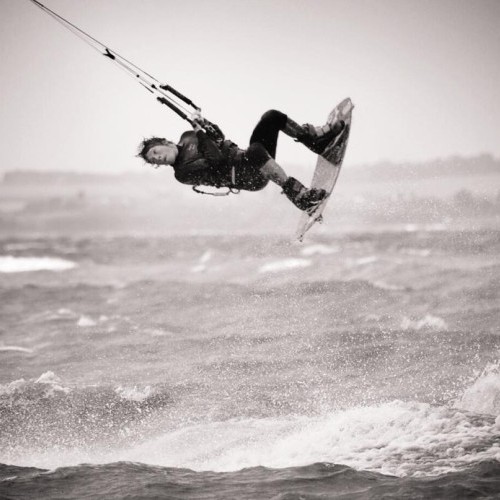 Why Visit?
Whitstable is a small town in Kent, England on the South East coast. The town is renowned for its oysters! Over the last couple of years, Whitstable has become a very popular kitesurfing destination, and the kitesurfing community has grown bigger and bigger. Once you arrive, you should pop into Boardworx (Beach Walk) and have a chat with Mark, Karen or Olly for any tips regarding the kitesurfing spots; they're always happy to help!
Wind and Weather
During the summer months (June - September) when the wind does come through, the weather and spot can be incredible! The wind direction can change here dramatically from one week to the next, once the prevailing wind direction of south-west switches a little more westerly it is then that you will see the locals start to surface.  The air temperature can be in the 20s, and the water temperature will be about 14-16c. So a 4/3 wetsuit is usually recommended for the summer. During the Autumn and winter months (October to March) it can get a little colder, and as with the typical UK conditions one day it could be mild and the next unusually cold and likewise with the wind. The wind during these months can be anything from light to super strong especially when the storms come in. Autumn in the UK gives more days of wind but can also be a little colder, but that doesn't stop us! A 5/4 wetsuits and maybe some added gloves, boots, beanie and wind stopper when the winter kicks in - and you'll be fine - kind of!
Getting Around
Access to the kitesurfing spots in Whitstable is easily achieved on foot if you are travelling by public transport, but 99% of kitesurfing visitors travel by car. Whitstable train station is just a 12-minute walk from 'The Street', and there is a bus stop 2 minutes away. The train station has a direct link to London Victoria every half hour while the closest bus stop is usually used for people travelling a little more locally (Canterbury, Herne Bay).
If travelling by car to 'The Street' there is a pay and display car park on the seafront at Beach walk, this is just outside the Hotel Continental. However, if it is full, parking can be found along the entire length of Tankerton seafront which is a short walk down to the beach and offers a great view of the spot as well as the Kentish Flats offshore wind farm.
'The point' is a little further and it's about an extra 20-minute walk from the Street, so it's probably better to drive instead of carrying your kite equipment.
Food and Drink
I would go to Whitstable Harbour for some Oysters or fish & chips! If you're not too keen on seafood, you can walk down the high street, and there are several little restaurants and cafés with their own quirky 'Whitstable' style.
Nightlife
During the week, the bars in the high street close around 10:30 pm and on the weekend around 11:00 pm except for 'The Rock Lodge' which will often be packed until around 1:00 am. The Old Neptune is one of the most popular bars in Whitstable with live bands every weekend and a pub garden which is the beach.  If you are looking for an apres session beer than don't miss out on 'The Waterfront' bars massive balcony which makes a great platform to view others on the water at the street' or the gorgeous Whitstable sunset. 'The Duke' will also have live music on Sundays. If you are looking to go to the club, then Canterbury is your best bet.
No Wind?
No Wind activities in Whitstable include paddleboarding, wakeboarding, and cycling. You can rent paddle boards from Oyster Coast Watersports which is located on the Beach by Boardworx. It is not unheard of to spot seals while paddle boarding in the Whitstable area with higher chances of a sighting the further you head up 'The Swale' which is the stretch of water between Whitstable and the Isle of Sheppey. If you want a day off the water, we recommend you try the 'Crab and Winkle' bike trail through 'Clowes Wood' between Whitstable and Canterbury. It's stunning, and you will be rewarded with some great views of the Cathedral on arrival to Canterbury.
Internet
You'll find a decent internet connection in most restaurants. You can also go upstairs to 'The Waterfront' restaurant, just behind Boardworx.
Accommodation
Hotel Continental, The Marine Hotel, and Premier Inn Whitstable are all hotels you should check out very close to the kiting spots. There are also heaps of Air BnB hosts available in Whitstable area. I would check Air BnB out first before you check the hotels. The homes will have much more character and the best way to get to know a town is by staying with the locals, they'll usually have the best advice!
Featured


Camber is easily accessible from London and boasts a huge sandy beach, three kite schools and various bars in the town. It is also a good place to learn with shallow shelving beaches and small waves. You can enjoy onshore winds in every direction (aside from NW) within a 15-minute drive. Wind and Weather The prevailing wind direction is SW…


With the island's nickname being 'wind-ridden one', it is no surprise that Keros bay is an idyllic kitesurfing destination during the European summer season. Boasting postcard-worthy beaches, crystal-clear waters, ancient archaeological sites and home to some fantastic wildlife, Limnos Island is a pearl of the Aegean Sea! The island vibes are so chilled here that they are, in fact, artic.…


Fuerteventura might sound already familiar to you. It has been home of the World Kiteboarding Freestyle World Tour for many years and place for many brands of the industry to test their gear or make their annual meetings. Fuerte is one of the 7 Canary Islands, geographically part of the African continent, this Spanish island is located in the middle…
Jen Tyler grew up in the chaos of Cairo, Egypt. It was on the beaches of the Red Sea where her love for the ocean, water sports and adventure grew.
Been to Whitstable? What did you think?
Where are the Best Kitesurfing Beaches in Whitstable?
At low tide, 'the street' is visible and you get epic flat water. Most kitesurfers will flock here as opposed to 'The Point' and it is rideable around 2.5 hours either side of low tide. The community is small and everyone knows or has seen each other before. Everyone is normally very helpful on the beach and will assist each other in launching and landing their kites. You will set up your kite on the pebbly beach so make sure there is nothing on the beach that might damage your kite. One thing to note is not to set up your kite directly in front of 'The Street' as this area is heavily trafficked by beach lovers and dog walkers alike!
Wind: Whitstable works in any direction from westerly through north to easterly.
Waves: Can be choppy at high tide, flat water at low when the wind blows cross shore from the east or west
Shorebreak: NONE
At 'the point', You can park your car on the side of theroad next to a big patch of grass and beach huts at the end of Marine Crescent, you'll get a good view and idea of conditions by walking down onto the beach from here. Once you walk down there is a big chance that there will be other kiters that will assist you in launching or landing your kite on the pebble beach. The beachfront promenade can get very busy and the locals work hard to maintain a good impression with the council by keeping clear of walkers and pedestrians on the promenade.
Wind: Whitstable works in any direction from westerly through north to easterly.
Waves: Choppy on all directions but Easterly. Small rollers for wave riders on west
Shorebreak: NONE
When is the Best Time to go Kitesurfing in Whitstable?
The windy months to go kitesurfing in Whitstable are January, February, August, September, October, November, December
Statistics
Kitesurfing Hotels and Accommodation in Whitstable
Do you know a good kitesurfing school here? Submit it below.