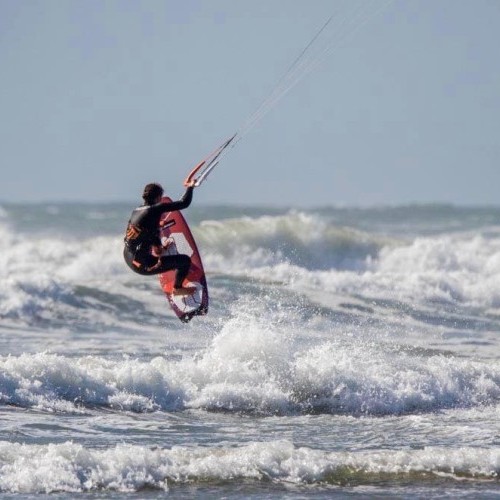 Westward Ho!
United Kingdom
Why Visit?
Westward Ho! is a picturesque seaside village near Bideford on the North Devon coast in England. The name Westward Ho! derives from the Victorian novel by Charles Kingsley, and is unique as its the only place in Britain with an exclamation mark is in its name. Renowned for its miles of golden sandy beach and backed by a pebble ridge, Westward Ho! offers a great venue for many water users and beachgoers, including surfing, land buggying, SUP, and kayaks.
Westward Ho! is an up and coming tourist spot with many new developments in the tourist trade happening as we speak. This goes to show that people flock back to Westward Ho! year after year. Kitesurfing is vastly growing at Westward Ho! this is from the great friendly hardcore year-round local crew and traveling kitesurfers. It has now also become a yearly stop for the BKSA Freestyle Championships.
Wind and Weather
Westward Ho! is a very shallow sandy shelving beach and faces West North West into Bideford Bay, the beach extends for two miles north of the Village. During the summer season (May to September) the beach is lifeguarded by the RNLI and there is a designated kitesurfing area 200m north of the Sandymere lifeguard hut. Please check out the signage or ask if you're unsure where to ride.
It is one of the most exposed beaches so it can pick up a lot of swells and when the wind blows in any westerly direction the ocean comes alive with kitesurfers, both twin tip riders, and surfboard riders. A southerly wind (cross-shore) is usually gusty due to the headland that the wind has to pass over, and rain usually comes with the SW weather fronts, which is the predominant direction.
The beach is very tidal and does push up to the pebble ridge, so a rule is in force that you need to be 50 meters from the ridge when launching and landing and no riding during high tide. Keep in mind that during low tide, it can be a very long walk to the water's edge and can turn into a leg muscle burner, especially in howling winds.
Depending on the size of the swell the waves can be very large and can break a long way out, perfect for surfboard riders. For the twin tip riders, flat areas between waves, ramps, and kickers are formed in the shallows for those freestyle tricks and airs!
To the north, there is the river mouth to the estuary so there can be a lot of water movement in this area, best avoided unless you are confident of tides and water flow.
Throughout the summer months, the water temperatures can reach 18c-19c and the air temperature over 20c, so a 4/3 wetsuit is adequate or even a knee-length shorty wetsuit.
In the morning the winds can start off easterly so great for the surfers, but as the sea breezes kick in and the wind starts to turn onshore the surfers leave with grumpy faces and the kiters start to pump up their kites. Autumn can still be very mild, so 4/3 wetsuit is fine or if you do feel the chill then a 5/4 is adequate.
Throughout the winter months (especially throughout February) it certainly can get very cold with the water and air temperatures dropping to single figures and with this brings challenging conditions with squalls and gale force winds. On the other hand, winter brings some of the best winds and swell. A 5/4 or 6/5/4 winter wetsuit, hood, boots, and gloves are recommended.
There is also a webcam looking over the bay that runs through Surfline if you want a sneak peek before you arrive! (Good for checking if the tide is of the pebble ridge)
Getting around
Westward Ho! is just off the A39 Atlantic Coast Highway. The easiest way to get to Westward Ho! and its kitesurfing beach is by car. There are two entrances to the beach, one at the village end of Westward Ho! and one from Northam (the adjoining village) both entrances lead to the main car park. During the summer season, a small fee is to be paid at the entrances.
If you are traveling by air, Bristol is the nearest International Airport, which also has links to Exeter and Newquay, but then car hire is recommended for the easiest and most convenient way to Westward Ho! The nearest train station is at Barnstaple, which is the other side of the estuary. Public transport is available but car travel is easiest especially as you will have a lot of equipment. There are frequent public bus services from Barnstaple too, and Westward Ho! also has a National Express stop.
Nightlife
If nightclubs are what you're after than Westward Ho! isn't really the answer!
Food and Drink
The village boasts some great restaurants, pubs, cafes, and takeaways with stunning sea views. A great place to grab a coffee if your waiting for the tide to drop or the wind to pick up. Or if you want to grab something to eat and a drink after your epic kite session. Also, there are small convenience stores dotted around the village.
Throughout the summer months, the village community comes alive along with it so does its seasonal stores and amusements, not forgetting the famous Hocking ice cream vans! (you know then that summer has arrived)
Accommodation
If its campsites your after these are found locally, but not in Westward Ho! On the other hand Westward Ho! does offer various self-catering chalets, apartments, static caravans and BnB's.
No wind?
If there is no wind don't panic, there is plenty to see and do! The beach car park at Westward Ho! is part of the Northam Burrows Country Park, which is a site of Special Scientific Interest. The pebble ridge shields a rare wildlife site of grassy coastal plains, salt marsh and sand dunes at the mouth of the Taw/Torridge estuary. It is a haven for all kinds of wildlife, there is also a visitor center with public conveniences.
There are coastal walks which look out towards Lundy Island. Lundy Island is definitely worth a visit if you have time and is accessible by the MS Oldenburg ferry.
Grab your surfboard and go and catch some waves, or on flat water, days go for a paddle on a SUP. There is a surf school in the village too. The beach itself is lovely to walk along and to explore the rock pools and there is an outside swimming pool too. Or just kick back and relax and take in the village atmosphere at one of the amenities and keep a look out for dolphins and porpoise!
Internet
You will find Internet connections at most pubs and restaurants.
Featured
Nirvana Blue is a spectacularly remote off-grid boutique villa on a private 10-mile beach with world-class kitesurfing. Catch some of the best thermal winds of the Gulf of Mexico without having to share the breeze. Shallow waters, gentle waves, and high winds make for ideal conditions for experts and beginners alike. Nestled deep within the lush and vibrant Biosphere Reserve…
You might wonder what's so special about Brandon Bay; all I can say is it's magical, and the views are absolutely stunning. Get this on your bucket list, especially if you're into wave kiting or surfing. The area offers a plethora of places to visit within a really small area. The bay itself is located near Castlegregory, a quaint village…
Lake Silvaplana is located at the high altitude of 1800m, in the beautiful Engadin Valley. The landscape is stunning, and there are just a handful of places in the world where you can kite among incredible scenery like this! It's a perfect spot for sporty, active people coming here (but not only) for kiting, but the mountains will also surely…
National Team Rider for RRD
Been to Westward Ho!? What did you think?
Where are the Best Kitesurfing Beaches in Westward Ho!?
Westward Ho! Beach is located on the North Devon coast in the southwest of England; the beach faces WNW. It is one of the most exposed beaches in the southwest and therefore draws in the Atlantic swell and winds all year round. With its miles of golden sand, this beach is a mecca spot for local and travelling kitesurfers and suits all abilities and disciplines. Every session does not disappoint, and you will get drawn back time and time again. A small fee is paid at either of the two entrances to the beach, and during peak season the beach is lifeguarded by the RNLI. The kitesurfing zone information can be found at the lifeguard hut at the Sandymere car park. The beach is shallow shelving and is backed by a pebble ridge, the tidal range can be large, so it is important that you know the tide times.
Wind: SW, W, N, NW. Southerly becomes gusty due to the headland the wind has to pass over.
Waves: Yes
Shorebreak: Yes (in big winds and waves)
Saunton Sands is located North of Westward Ho! on the opposite side of the Estuary. Saunton has a pay and displays car park, cafe, and public toilets. It is another long golden sandy beach and very popular through local and travelling kiters. Make sure you set up, ride, launch and land further down the beach from the surfing area, which is straight in front of the slipway next to the headland.
Wind: Can become sheltered/gusty in a Northerly direction so best avoided in this direction, is the chosen location on a southerly as Westward Ho! gets gusty.
Waves: Slow long breaking waves, another spot for waveboard riders and equally popular with twin tip riders.
Shorebreak: Yes
Instow is located within the estuary. Small sandy, flat beach, works on high tide. Be aware of other beach users when launching and landing your kite.
Wind: west or northwest wind, anything with south tends to get gusty as it has to pass over the village of Appledore. It can be a haven for teaching or flat water riding when waves are big at Saunton/Westward Ho!
Waves: None, but can get a little choppy
Shorebreak: None
When is the Best Time to go Kitesurfing in Westward Ho!?
The windy months to go kitesurfing in Westward Ho! are January, February, October, November, December
Statistics
Do you know a good kitesurfing school here?