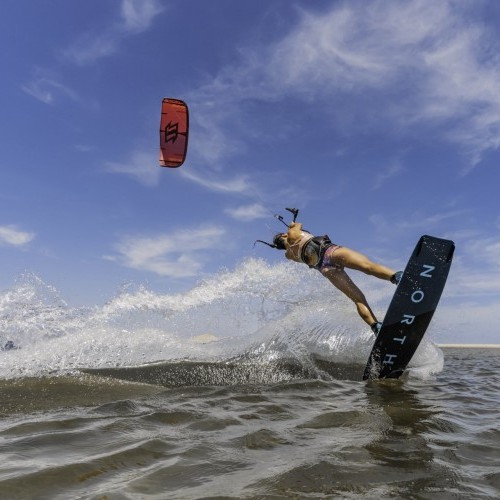 North 2022 Freestyle Product Overview
Features / Fri 25th Mar, 2022 @ 9:00 am
Win a Lieuwe Shotgun Paradise Series Board this issue in our FREE subscriber prize draw.
North Kiteboarding just launched its new season Freestyle collection including the 2022 Pulse, Focus, Flare and Fix boots – and we've got it all right here for you!
THIS IS FREESTYLE
Where there's smoke, there's fire
Let it burn, ever brighter. Introducing our 2022 Freestyle collection, forged in the fire. It Calls.
"The Freestyle discipline is such an important part of how kiteboarding has evolved – and while this core category may not be as popular as it has been in the past, we firmly believe in continuing to refine these products for the future generations of talent who continue to evolve freestyle. Forged in the fire, our 2022 Freestyle collection ignites a passion for this critical discipline of our sport. You'll see the refinements in the boots, the boards and the kite. We're stoked with the direction we're going." – Brand Director Mike Raper.
New Pulse
Freestyle / Wakestyle Kite – Set the air on fire
The Pulse is Tom Bridge and Bruna Kajiya's kite of choice. It's a modern, progressive freestyle kite that's fully loopable, with loads of pop and slack. But it's not just a hardcore freestyle kite – while freestyle-optimised, it's also surprisingly fun for freeriding. The 2022 Pulse features lighter bladders in sizes 10m and up. Reducing the weight in the larger sizes means better performance in lightwind conditions. The Pulse also has excellent high-end power. Available in sizes 6m through to 14m, the Pulse has the lightest bar pressure out of all our kites. Overall it's a very playful, fast-flying, fast-steering kite with a light steering impulse and an amazing amount of depower.
Win a Lieuwe Shotgun Paradise Series Board this issue in our FREE subscriber prize draw.
For more information on North Kiteboarding's 2o22 Pulse, please click here.
New Focus
Freestyle / Freeride TwinTip – Free your style
In Hybrid Carbon construction, we've engineered the new 2022 Focus to push the boundaries of performance freestyle riding. With quad-concave channels running into the tips, a progressive rocker and a squarer flatter outline, the Focus delivers exceptional traction, allowing you to hold the rail and edge harder to load up the board for an explosive release. Carbon UD tapes running from tip to tip on both sides, both on top and bottom of the board, help deliver a well-balanced, more forgiving flex, letting you stomp your landings.
"The first trick I did was a 313 Handlepass – I couldn't believe how easy it felt, how high I went, how much pop the board has. I'm in love with the new Pulse. I can't wait for it to be launched so I can put it on the water!" – Bruna Kajiya
For more information on North Kiteboarding's 2o22 Focus, please click here.
New Flare
Wakestyle / Park TwinTip – Blind confidence
It's Tom Bridge's freestyle stick of choice and quite possibly the most durable board in the park. For 2022 we've placed the strap inserts down the centreline, ensuring you can mount your boots in either direction for rail longevity – effectively doubling the lifespan of your board. The Flare's high wakestyle rocker helps to soften your impact on landings, while the PressFlex tips enable smooth, controlled presses. Slide between ocean and park with steeze.
For more information on North Kiteboarding's 2022 Flare, please click here.
New Fix Boots
Lock in your Fix
Extremely Lightweight and flexible, our 2022 Fix boots have an unrestrictive lower-cut design that allows you to lean back and drive comfortably upwind, bone out that grab and relax your stance. We've also extended the neoprene flex zone in the mid boot for a greater range of movement while providing stability and support for your ankles and knees. In addition, the Fix boots feature a strong, hollow baseplate engineered for a direct feel, massive shock absorption, and a soft, smooth KnitFlex lining. For 2022, we've modified the panel layout for enhanced durability and new streamlined dual-sided eyelets on all straps for faster one-handed adjustment.
"Without a doubt, the 2022 Fix is Hugh's best boot yet. It's really stepped up a level – just wait till you try it!" – Mike Raper
For more information on North Kiteboarding's 2o22 Fix Boots, please click here.
To view all North Kiteboarding products, please click here.
IKSURFMAG Web Editor, Jen Tyler, grew up in the chaos of Cairo, Egypt. It was on the beaches of the Red Sea where her love for the ocean, watersports and adventure grew.
Featured in this Post
Comments