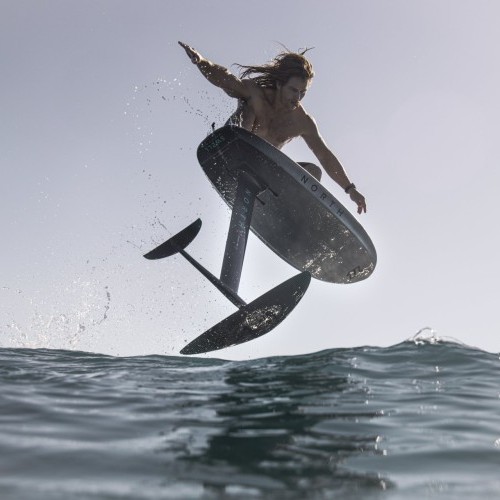 2022 North Foils Collection
Features / Wed 30th Mar, 2022 @ 8:15 am
Run. Fly. Be. | North Kiteboarding release their 2022 North Foils new season Wing, Surf and Kite Foil Collection.
As humans, we're drawn to foiling because it gives us back a direct connection to nature, to freedom. Foiling opens up a whole new world. It's a sport and a technology that sets us free. The North Foils rally cry "Run, Fly Be", inspired by philosopher Bruce Lee, reminds us that we can be as powerful, ever-changing, unstoppable, wild, and free as water itself. "Run, Fly, Be" inspires us to create a lifestyle based on your own rules, not that of anyone else.
Brand Director Mike Raper is enthusiastic about the launch and growth of the North offering, in line with the rise of foiling worldwide.
"North is inspired by nature – Engineered, Refined, Intuitive – and the North design process begins and ends on the water. But we live by the philosophy of less is more. Keeping our gear simple and easy to use, but still high-performance and built to last," says Mike.
Several exciting new technological developments across the 2022 range help deliver a more effortless experience to the rider. The new Nova Freeride Wing has an entirely different outline, a big sweet spot between the bottom and top end, and improved power delivery:
"When you're riding the wing it has a much lighter feeling, the tacks, gybes and transitions feel really easy. We've focussed attention to the performance of the wing, but also to the user interface, with the introduction of rigid griplock handles. Rigid handles give you so much more control over the wing and the ability to initiate a turn with a flick of the wrist. You're able to make micro-adjustments, and control the wing with one hand," says Mike. "Plus the handles reduce fatigue."

Product Manager Uli Sommerlatt says: "We spend a lot of time tacking upwind then riding rolling swells downwind. You're literally surfing, carving, hacking these ocean waves. With the rigid handles our riding levels have improved so much – you nail manoeuvres straight away, first time."
Refined for 2022, the Sonar Modular Foil System has been upgraded to include the longer 700mm fuselage and a new, higher aspect carbon stabilizer. In addition, the new MA Series of hydrofoil wings that has been added takes your foiling to a whole new level.
"The Sonar Carbon is one of the stiffest and highest performing systems on the market," says Uli. "Combined with the new S-Series high speed, low drag, super-efficient stabilizers, the new Sonar takes your foiling to a whole new level.

"We're also stoked on how much fun the new MA-Series Front Wings are across every foil discipline – wing, prone and kite. Agile and fast-turning, with incredible speed range and manoeuvrability, the MA hydrofoil is a complete game-changer."
Attaching the Sonar Foil System to your foilboard is fast and straightforward. You never have to lose a bolt or screw, and you can easily adjust your mast position. The DropBox fast foil-mounting system allows you to leave the screws and nuts attached to the foil mast. Drop them into the slots on your board, slide them back, tighten and go. For 2022 North has made the DropBox track longer on the Seek and Swell for a greater adjustment range.
The new SEEK Wingfoil Board has a radically different design for 2022, making it easier to use.
Board shaper Jaimie Scott says: "The biggest challenge for most riders is getting up on foil. For 2022 we've updated the rocker profile and added more curves between the feet – this increases the waterline length and allows the board to get up and going a lot sooner. You'll find the new boards are a lot more forgiving and allow you to stay in the same position on the board when you're starting out and when you're up foiling, using straps, or strapless."
The new Swell Foil Surf Board is designed to fit the waves:
"We've put more rocker in the board, which allows you to foil closer to the surface of the water and you can touch down a lot better without tracking. This gives you the ability to push harder through your turns and even attempt to bounce off white washes. Concave in the bevelled rails on the underside of the board improves your grip when duck-diving, and when you're popping up. We've kept the wedge cut in the tail, so you basically don't feel the drag when you hit the water, just bounce up and carry on."
In addition, the new 2022 North Foil collection is now available to purchase at your local retailer or directly here, so you can now configure your set-up online and have it delivered straight to your door.
North Foils 2022 Product Collection
NOVA Performance Freeride Wing
1.9 | 2.5 | 2.9 | 3.5 | 4.2 | 5 | 6 | 7 m
Power up in a wider wind range
Exceptionally smooth, balanced wing with powerful forward drive, massive wind range and light, intuitive handling. The new Nova has a compact outline with a shorter wingspan. This improves the power delivery, makes the wing easier to handle and reduces tip-strike. In addition, new rigid GripLock control handles with comfort grip enable more intuitive hand positioning, micro-trimming, and more immediate control.
For more information on North Kiteboarding NOVA Performance Freeride Wing, please click here.
New Sonar CF Carbon Edition
CF72 | CF85
Crafted to perfection
Insane response. Incredible performance. The CF Edition is engineered with exceptional stiffness for all disciplines; the CF Edition is made from lightweight and durable carbon pre-preg components. It has a reduced swing weight for an agile, dynamic and direct feel and great pumpability. In addition, the new CF Edition has a longer C700 Fuselage and a new S270 Stabilizer for added stability, performance, and efficiency assembled from our fully modular Sonar system components.
For more information on North Kiteboarding New Sonar CF Carbon Edition, please click here.
New Sonar AF Foil Edition
AF72 | AF85
Future proof your foiling
Start building your modular foil quiver here. The AF Edition is engineered to last, with exceptional strength to weight and our unique GeoLock system for a clean direct feel with minimum resistance. The new AF Edition kite, wing, surf and tow-in foils with added stability, performance and efficiency.
For more information on North Kiteboarding New Sonar AF Foil Edition, please click here.
New Sonar Mid-Aspect (MA) Front Wing
MA1050 | MA1200 | MA1350
Up your game
Agile, fast-turning wings with incredible speed range, manoeuvrability, insane glide, and pumpability. The easy-to-use MA is your go-to front wing for Kite, Wing, Surf and Tow Foiling. A must-have for every foil quiver.
For more information on North Kiteboarding New Sonar Mid-Aspect (MA) Front Wing, please click here.
New Sonar Stabilizers
S210 | S270 | S320
Performance, efficiency and exceptional glide across all disciplines
Our new thinner profile and higher aspect ratio carbon stabilizers offer reduced resistance and a more efficient outline. The S270 is your go-to for all-round kite, wing and surf performance, offering optimal balance, speed, efficiency and control. Pair the S210 with a smaller front wing for high-speed performance and a more agile feel. Pair the S320 with a larger front wing for early planning, greater balance and stability.
For more information on North Kiteboarding New Sonar Stabilizers, please click here.
New Sonar Stablizer Shim Kit
Finetune your ride
Use our stackable custom shims to make the smallest tweak in the Angle of Attack and control the amount of downforce the stabilizer creates. Shimming can improve comfort, reduce fatigue, change the cadence of your pump or the turning radius of your carve and let you increase/decrease your front and rear foot pressure without changing your foot position.
For more information on North Kiteboarding New Sonar Stabilizer Shim Kit, please click here.
Seek Wing Foil Board
4'4 | 4'6 | 4'8 | 4'10 | 5'1 | 5'5 | 5'11
Rise up
Early takeoffs. Effortless touchdown recovery. Easy gybes and tacks. Engineered for an intuitive and direct connection to your hydrofoil, the Seek has a stiff and responsive, lightweight and durable Hybrid Carbon construction with a PVC-reinforced EPS core. In addition, you can now ride a full-size shorter with updated volumes for each board length.
For more information on North Kiteboarding Seek Wing Foil Board, please click here.
Swell Surf Foil Board
3'10 | 4'1 | 4'4 | 4'7 | 4'10
Catch every wave
Pocket frother. Foam chaser. The Swell's short, compact outline is shaped for efficient energy transfer across endless lumps and bumps. Its lightweight yet durable hybrid carbon construction is stiff, responsive and manoeuvrable. The 2022 Swell delivers a more forgiving ride with improved wave-fit, crisper release, exceptional pumpability and efficient paddling with a redefined rocker and redistributed volume. New easy to grab concaved forward rails. Wedged tail shape for faster takeoffs and improved pumpability.
For more information on North Kiteboarding Swell Surf Foil Board, please click here.
Scoop Performance Kite / Tow-In Foil Board
120×46 | 135×49 cm
Ride like the wind
A versatile, direct and responsive performance foilboard with instant touchdown recovery. The Hybrid Carbon Scoop features an intuitive concaved deck for smooth transitions and easy steering. The shape is refined for 2022 with steeper bevelled rails and an increased tail rocker to help the board release off the water and improve pumpability. We've also introduced a new 135cm size for riders who prefer more length forward of their front foot.
For more information on North Kiteboarding Scoop Performance Kite / Tow-In Foil Board, please click here.
New Scoop Mini Performance Freeride Foilboard
110×45 cm
The Minimalist
When we set out to design the Scoop Mini, we wanted to craft a board that would perform a single task to the highest standard possible. So instead of trying to do it all, we've focused on the essential. Introducing the Scoop Mini, a direct and responsive high-performance kite foilboard for more advanced riders, featuring a compact, ultralight hybrid carbon construction with a durable, high-density foam core. Less, but better.
For more information on North Kiteboarding New Scoop Mini Performance Freeride Foilboard, please click here.
Sense Kite/Wake Foil Board
135×47 cm
Another dimension
Step up your foiling game with roll to ride water starts, magic glide, fast set up and fuss-free travelling. The Sense delivers strength and performance in a lightweight and durable wood core construction. This board is your gateway to new adventures, even on the lightest wind days.
For more information on North Kiteboarding New Scoop Mini Performance Freeride Foilboard, please click here.
To view all North Kiteboarding products, please click here.
Jen Tyler grew up in the chaos of Cairo, Egypt. It was on the beaches of the Red Sea where her love for the ocean, water sports and adventure grew.
Featured in this Post
Comments