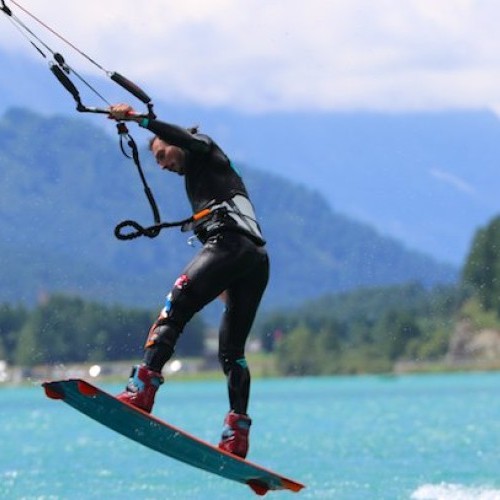 Lake Silvaplana
Switzerland
Why Visit?
Lake Silvaplana is located at the high altitude of 1800m, in the beautiful Engadin Valley. The landscape is stunning, and there are just a handful of places in the world where you can kite among incredible scenery like this! It's a perfect spot for sporty, active people coming here (but not only) for kiting, but the mountains will also surely tempt you to go for a hike or bike trip as well.
Life here is super laid back, especially for kiters, because of the famous "Maloja" thermal wind will usually only start blowing in the afternoons between 11 am and 2 pm, depending on the time of year.
Here on Lake Silvaplana, you can start your morning with a delicious breakfast in front of your camper van on the campsite located directly at the lake and kite spot and take your time to pump your kite; there is no rush!
Tip for the winter season: The lake freezes during the winter, making Lake Silvaplana a snowkite paradise!
Wind and Weather
Switzerland is not known as one of the windiest countries in the world, but Lake Silvaplana can be considered one of the windiest places in Switzerland! During the summertime (June to September) it's windy about 80% of the time and from October to May, about 50% of the time.
The lake is located in a narrow valley, so thermal winds and an additional venturi create the "Maloja wind". The wind usually starts to be kite-able (Twintip) at around 1 pm. From July and August, the wind kicks in around 11 pm, giving us some more time on the water! Generally, the wind starts slowly and pick up during the day, peaking from 3-5pm with about 20-25 knots before it drops around 6-7pm. The foilers can get in much longer days on the water, starting half an hour earlier and staying on much longer in the evening with 5-8 knots till late.
Keep in mind that we are at high altitude, so the air is thinner than at sea level, so even if it's 20 knots, it still means you will need 9-12m, depending on your weight and this also means you should bring your wetsuit! The water is 18°C at its peak around the beginning of August. Wind temperature will rarely be above 27-28°C during the day and drops at night, so a hoodie for the evening is recommended.
Getting Around
Getting around on public transport is always a little unreliable, even though on the weekends you get pretty good connections (depending on the season) until about 3 am. During the off-season, their timing is a little off for some reason!
If you have a car or a van here, getting around is pretty easy. Getting a bicycle is also highly recommend as the bike-ways are excellent.
Food and Drink
There are loads of Italian and local restaurants around Lake Silvaplana; you will also come across some Asian cuisine. You will not find any fast food chains around Silvaplana, that's for sure!
There are also some restaurants and a small bar directly at the kite spot, so you don't have to worry about food, drinks, and snacks for between your kite sessions. You should check out the pizza in Camping Maloja; it is a tiny restaurant with about 20 seats, so make sure you make a reservation beforehand.
Nightlife
There isn't much 'Nightlife' around Silvaplana as it doesn't fit into the lifestyle, it's more about sports and cosy evenings with bonfires and barbecues, but if you want to go for clubbing, you will find some bars and parties nearby in St. Moritz (5km).
No Wind?
There is rarely wind in the morning, but that's no problem. The glassy lake will encourage you to go for a SUP session in the morning and this scenery, you will enjoy peaceful and magical moments in the middle of the lake!
Besides being at the lake, there is a lot more to do! You can go biking, hiking and check out the beautiful climbing walls and go cliff jumping, all within a 10km range of the kite spot. Plaun da Lej is one of our favourite spots to be for those activities.
Internet
Internet connection in the Engadin valley is not the fastest among Switzerland, but still really good compared to the rest of Europe. But trust us, you won't be desperately searching for wifi while you are here - you'll be too busy enjoying yourself too much!
Accommodation
There is a beautiful camping site just next to the kite spot, directly at the lake. At the camping site, there loads of kitesurfers and windsurfer, making it relaxed and chilled vibes!
There are youth hostels in St. Moritz (5km away) and Pontresina (10km away). Besides the youth hostels you can find a lot of hotels, but keep in mind; they are not the cheapest!
Featured
Lake Puclaro is a windsurfing and kitesurfing paradise with guaranteed wind. In the summer season its beautifully warm and sunny, and the atmosphere down at the beach is amazing. People come from all over the world to spend the day on the lake, meet the resident locals and explore into the valleys of the Andes mountains. Gualliguaica is part of…
Barbados offers conditions ideal for all water sports lovers. Consistently howling trade winds with beautiful, warm turquoise water and clean waves make it a playground for kitesurfers, stand-up paddle boarders, surfers, sailors, scuba divers and freedivers. Regardless of your kiteboarding style, Barbados offers conditions for all, from freestyle, freeriding and wave riding. Many visitors get hooked on the island because…
Haven't you ever heard of Roatan! No wonder... the Islands of Honduras are in the far western part of the Caribbean and often overlooked. Well lucky us, the Eastern side is well preserved as well as its authentic charm and unspoiled nature. The Island's lush green hills, white beaches, and crystal clear warm waters are surrounded by the world's second…
Yannick runs the Kitesurf school. You will see him on the foil after work is done!
Been to Lake Silvaplana? What did you think?
Where are the Best Kitesurfing Beaches in Lake Silvaplana?
The lake is 3.4 km long and 1.4km wide with only one designated entry point, but you are allowed to kite around the whole lake (50m from land)
Wind: Cross on from the right
Waves: No real waves, only chops
Shorebreak: No
When is the Best Time to go Kitesurfing in Lake Silvaplana?
The windy months to go kitesurfing in Lake Silvaplana are June, July, August, September
Statistics
Do you know a good kitesurfing school here?
Kitesurfing Articles that Mention Lake Silvaplana
Kitesurfing Videos and News in Lake Silvaplana