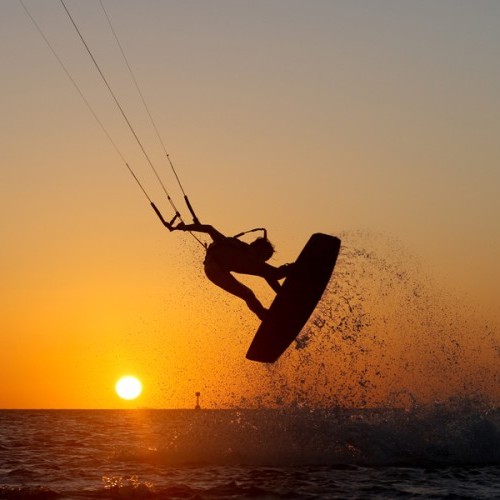 Why Visit?
Cuyo Island is supposed to be one of the windiest places in The Philippines, and it is one of those places you need to visit. The small island and the fantastic, privileged location makes it a unique place in the world. If you are looking to get away from it all, avoid the usual parties that can be found elsewhere in the Philippines and fancy some time to reconnect with yourself and the wind, Cuyo Island is the place to be!
Wind and Weather
The windy season and the best for kiting is called Amihan. The Amihan season is from November until April; there are a full six months of the year when the spot works. Cuyo island has typically very strong winds, between 20-35 knots, perfect for kites between 7 and 9m  but you can also go and find yourself on a 13m. Like everywhere, there are also random days without any wind but on this island is unusual.
The Philippines is a hot place, even though November to April is considered the "coolest" months of the year, January being the coolest, you'll still be hot as "cool" is usually around 30º. These months are also known as the dry season, although don't be surprised if all of a sudden the heavens open. In Cuyo, you get much less rain than on some of the other islands, and it's mostly sunny and warm. Luckily there's a breeze almost all the time that helps to battle the warm weather. Unless you feel the cold though, leave the long pants at home.
The water is also warm so you shouldn't need a wetsuit. A bikini or boardshorts should be more than ok, some people wear wetsuits to offer protection from the coral, especially on some of the other islands, but on Cuyo, there isn't too much coral to worry about.
Getting There
Cuyo is a small island, and while it does have an airport, there are limited scheduled flights to it with airline Air Juan. The planes are small, and you can only take one 20kg bag of luggage so if you plan to come here with kite gear then get a flight to Puerto Princesa or Manila and jump on the ferry with your gear to the island. The ferry from Puerto Princesa runs about four times a week, and the ferry from Manila is only once a week with a stop at Coron.
Getting Around
The island is very small, approximately 13km long by 7km wide and only around 20,000 people live there. The easiest way to move around is to rent a motorbike even though you normally won't need a bike since the beach is very close.
Food and Drink
The food is kind of limited when we speak about places you can go to. At Cuyo you will find a small avenue by the beach will small stands with "pinchos", sticks of chicken, meat and some other local delicatessen. If not, you always have the food of the place you're staying at. Drinks you have the same as everywhere else, drinking water is not on tap so you will have to buy it.
Nightlife
Cuyo Island is not the place for nightlife. Sometimes people organise karaoke nights, but that is probably the most nightlife you will be able to find here. Cuyo is the island of meditation and relaxation.
No Wind?
If there's no wind, you can take the bike and explore around, go to the beach and sunbathe, do some snorkelling or organise safaris to the other islands around.
Internet
This is maybe the worst part of Cuyo. If you need a fast connection, or, just an internet connection, this is not your place. Cuyo got the Internet a few years ago, but the line is very slow. We discovered that the best internet time is between 1 am and 5 am (when everyone is sleeping).
Accommodation
You can find two places to stay:
Nikki's Pension (best place since it's in front of the spot). The crew there is very nice, helpful and friendly. Your room will be 5 minutes walking from the spot and is directly on the beach only separated by the boardwalk. Is not a hotel but a pension, so the rooms are nothing fancy but cosy.
Anino's Retreat. Is on the other side of the island, there you'll find another spot at Victoria´s Beach.
Featured
In Israel, there's the saying: "You go to Haifa to work, to Jerusalem to learn, and to Tel Aviv to play". So get ready to play when you visit this beautiful city, located on the coast of the Mediterranean Sea. The "White City" is famous for its white Bauhaus buildings and its great nightlife. If you walk through the quarter…
St Martin is mainly known for its consistently dry climate and sunny weather. However, not everyone knows that its wind conditions are also consistent year round and the crystal clear waters offer a wonderful playground for everybody. Half Dutch, half French, the island offers a multicultural  atmosphere. You will enjoy the French fine cuisine, duty-free shops on the French side…
Lo Stagnone of Marsala in Sicily is known all over Europe as the "gym" for kitesurfers. Ultra flat and shallow waters make it a unique place in Italy for beginners to quickly learn and for freestylers to make the most of the flat waters. With more than 300 windy days a year, you'll be surfing through windmills and white mountains of…
Julia is a kitesurfer from Fuerteventura riding for North Kiteboarding. After her shoulder injury she decided to spend her winter in The Philippines and she visited some amazing spots she decided to share with us. Her best result was Vice European Junior Champion in 2013 and she also did some world tour stops where she got 9th place.
Been to Cuyo Island? What did you think?
Where are the Best Kitesurfing Beaches in Cuyo Island?
This is the spot you want to visit. It's separated by a sand bar. If you're looking to the sea with the island on your back, you can find:
On your right: spot that works with tides, the water covers until the hip (depending of the place) so it's perfect for beginners and the water is super flat with a bit of small chop. On the bottom you can find a mix between sea grass and coral. I have never touched the coral but better careful than sorry.
Wind: Cross on from the right
Waves: No waves
Shorebreak: No
On your left: the most flat water you have ever seen in your life. The wind is off shore so you will probably need some skills to relaunch your kite before you end up with your kite against a boat. The bottom of the spot is sand and it quickly becomes deep. Perfect spot for freestyle.
Wind: Off shore, a bit gusty
Waves: No waves, completely flat
Shorebreak: No
It is a bit tricky to get to the spot but if you stay at Anino you've got the spot just in front. On shore winds, the cons of this spots is that it works with tides.
Wind: On shore
Waves: No waves
Shorebreak: No
When is the Best Time to go Kitesurfing in Cuyo Island?
The windy months to go kitesurfing in Cuyo Island are January, February, March, April, November, December
Statistics
Do you know a good kitesurfing school here?