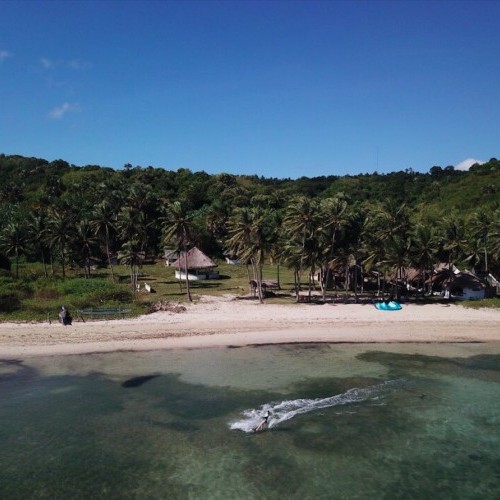 Why Visit?
Consistent wind, turquoise blue waters, friendly locals, and plenty of authentic experiences are a few reasons Mindoro should be on your kitesurfing holiday bucket list. Mindoro is an unspoilt slice of kiting paradise should you take a less travelled path. One of over 7000 islands in the Philippines, its proximity to the Northern point of the Philippines means it experiences strong wind between November to March, arguably more so than the infamous Boracay.
Wind and Weather
There are two windy seasons in the Philippines; Amihan (northeastern monsoon), which runs from November to March and Hagabat (southwestern monsoon), which runs between May to October. Kitesurfing travel is recommended between November to March as the former is known to be inconsistent. In Mindoro, you can find wind from October to March, averaging 18-20 knots, with some days pushing 25 knots. November to March is also the dry season in the Philippines, so warm sunny days are at an all-time high. If you're prone to complaining about the heat, avoid travelling from March to May as the temperatures reach 34 °C
Getting Around
Mindoro is a short 40-minute plane ride from the hustle and bustle of Manila. From the quaint San Jose terminal, a one-hour, 30-minute drive will lead you to kitesurfing paradise, Bislig Beach. There are plenty of beaches and sandbars suitable for kitesurfing, but Bislig Beach is a great place to base yourself.
There is also a slow boat option from Manila; the total trip time can end up over 12 hours. Hence, this is not recommended if you're here for a short holiday.
Food and drink
If you're after kitesurfing accommodation, the only real place to stay is Amansinaya Resort. All meals are included in your board, making it a cost-effective stay. They understand kitesurfing makes for hungry bellies, so the meals are buffet-style. If you want to try local food, venture into town where markets and shops are abundant.
Nightlife
What's that?! One thing you won't find in Southern Mindoro is nightlife, plus you'll be too kited out anyway! So grab a San Miguel, put your feet up, and make the most of those early nights.
No Wind?
No wind, no worries! Mindoro has a range of activities for the adventurous folk. Snorkelling and diving are hot contenders for no-wind days. A variety of marine parks surrounds Mindoro, making these activities truly special. In addition, there are many infatuating waterfalls to be chased - free from crowds. There is also a range of mountain hikes, including; Mount Baco, Mount Halcon and Mount Calavite.
Internet
You'll be able to use the line "sorry boss; the wifi isn't strong enough" with actual conviction this time! The internet here isn't supersonic; a great excuse to ditch the work laptop and go kiting! This could have changed by now, but don't bank on it.
Accommodation
The best place to stay if you want to kite Bislig Beach is Amansinaya Resort. There are other local homestays in town, but the trek to the kite spot is lengthy. Staying at Amansinaya means like-minded kitesurfers surround you on the beach - what more could you want? The prices currently range from 20 euro - 70 euro per night with all meals included.
Philippines
Error getting country data...
Featured
Jupiter's Kite Beach is one of the most iconic spots in Florida.  Besides the diverse range of conditions, we have a quaint town that provides kiters with a wide array of entertainment in a small town surf vibe.  While we might not be famous for remarkably consistent conditions, most people visiting will find that we always have something fun going…
Tarifa is the most southern point in Europe, world widely known for having insane winds! If you are hoping to get very consistent wind, this is the place to go. There are loads of different spots that work depending on the wind direction. In Tarifa, you have a Levante that blows from the east and the Poniente that blows from…
Camber is easily accessible from London and boasts a huge sandy beach, three kite schools and various bars in the town. It is also a good place to learn with shallow shelving beaches and small waves. You can enjoy onshore winds in every direction (aside from NW) within a 15-minute drive. Wind and Weather The prevailing wind direction is SW…
Georgia is a kitesurfer based in New Zealand. Her ocean, sun, and beach addiction has led her to an array of tropical infused kitesurfing destinations in New Zealand and around the world.
Been to Mindoro? What did you think?
Where are the Best Kitesurfing Beaches in Mindoro?
Bislig Beach is the main beach set up for kitesurfing. It isn't very big, but the resort can only hold so many visitors, so it will never be overcrowded. The water is a piercing crystal blue, not butter flat, but its charm makes up for this. Rows of palm trees line the edge of the beach, making a picturesque backdrop or kite-eating-monster material; however, you should choose to look at them. Just be careful when you launch. The spot becomes too shallow at low unless you want a sea urchin encounter - mid to high is best.
Wind: Onshore
Waves: Small on the outer reef
Shorebreak: No
Aslom Island is a small sandbar located a 10-minute boat away from a local fishing town. This is one of many hidden gems in the Philippines. A sand spit protrudes out of land lathered with palm trees. The most heavenly gradient of blues colour the water around the island – not a single other tourists in sight. In rewards for your efforts getting here, butter flat water hides behind the sand spit, making it an offshore kiting spot.
Wind: Onshore and offshore (sandbar)
Waves: No
Shorebreak: No
The resort offers the chance to complete downwinders and check out other neighbouring islands to kite. There is so much unchartered kite territory in the Philippines, check out google maps to see what I mean. The resort is happy to go exploring and take you to some of these spots, including overnight stays. We completed one short downwinder from Suguicay Island back to Bislig Beach when the wind was on the lighter side.
When is the Best Time to go Kitesurfing in Mindoro?
The windy months to go kitesurfing in Mindoro are January, February, March, November, December
Statistics
Do you know a good kitesurfing school here?