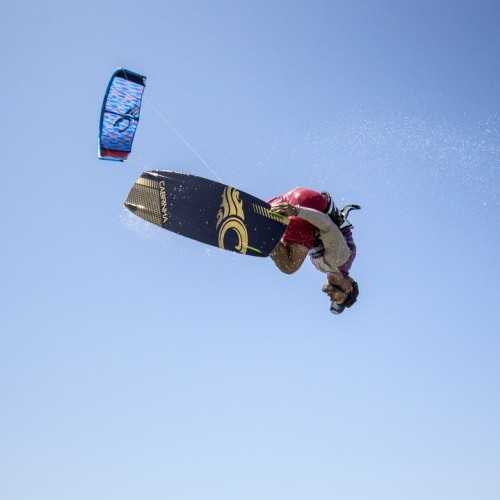 Why Visit?
With exceptional wind conditions daily, kiters of all skill levels fall in love with El Cuyo quickly. An Uncrowded, shallow water beach that offers students the safest, most reliable, and fun learning experience possible. El Cuyo promotes an accelerated learning progression in a laid-back island atmosphere.
On the picturesque emerald coast of the Yucatan and full of authentic Mexican culture and adventures around every corner, El Cuyo is easily one of the best kiteboarding locations, whether you want to ride hard or to learn kiteboarding.
Wind
El Cuyo has a large number of windy days almost every month of the year. With its location and micro-thermal effects, El Cuyo offers more wind in every way, and this results in more days of kiteboarding. That being said, the prime kiteboarding season has consistent and steady 18-23 knots of wind from February until June (that's five months for kiteboarding!) Add to that, waist to chest deep warm water, and empty white sandy beaches, we've pretty much got it all. El Cuyo quite literally "blows away" the competition with its wind statistics for the number of rideable, windy days per month.
During the season, mornings often start with lighter winds, but by 1 pm the wind pick up and keep getting stronger until after sunset.
The best months for learning are February through May for warm water and smooth thermal winds daily. The secondary season from November to January can also offer great wind statistics but tend to be more low pressure colder weather systems. June, July, and August also tend to be windy, although some days may be more suitable for a foil board.
Weather
From February to May, El Cuyo is warm (25-30C) all day and night. No wetsuit is needed, as the water is warm as well. June to August can be very hot, with only the evening thermal winds to cool you down.
November to January are the only two months that can bring colder nights, stormier winds, and chilly water temperatures that may require a shorty wetsuit, or thermal top and shorts. In the evenings you will need a sweatshirt and jeans.
Getting Around
Everything in El Cuyo is within walking distance of each other. Having a rental car helps to explore all that the Yucatan has to offer, but not needed within El Cuyo.
Beware that taxis from the Cancun airport to El Cuyo can be costly, therefore working a ride out with the hotel or owners of the Airbnb rental is preferable and much less expensive.
Food and Drink
El Cuyo is a fishing village, and it shows pride in serving the daily catch to its visitors. Pork and chicken are also widely available at the restaurants. Beer is plentiful here. However, there is no hard liquor available, so be sure to stock up on any needed tequila while in Cancun before making the trek to El Cuyo. A cold beer costs 20-25 pesos at a bar/restaurant (USD 1.25), and your average meal will cost between $5-$10.
Nightlife
El Cuyo is a quiet fishing village with not much happening after 10 pm. Kiteboarding Stations often have a BBQ and drinks until the late evening, so be sure to ask around and create your nightlife fun. From February to June there are monthly events at Casa del Ritmo.
No Wind?
El Cuyo is home, or close to, a wide variety of fun activities for non-wind days. You can fish some of the best fishing waters found anywhere or spend the day paddling around on a SUP, often with giant manta rays swimming lazily by. A common activity is to watch dolphins from the pier during morning or sunset or ride fat wheel bikes around the game reserve checking out a wide variety of birds that inhabit the area.
El Cuyo and the rio behind it, are home to thousands of flamingos that come to nest each year. Within just a short drive you can visit pink lagoons, climb Mayan Ruins, swim in cenotes, or have dinner in a Spanish colonial town. And of course, a white sandy beach with emerald green, warm water ocean is the perfect place to swim, relax, and catch some R&R.
Internet
El Cuyo does get 3G cell phone service from most providers. Additionally, the town does have wifi provided at most accommodations. That being said, while coverage is excellent, speed and bandwidth can be a problem. Getting emails answered or sent, or even a quick skype meeting shouldn't be a problem, but don't expect to keep up with your favourite Netflix series while staying in El Cuyo.
Accommodation
There is everything in El Cuyo from small casitas and bungalows to larger private houses that can accommodate groups, to the Casa Morph boutique hotel that specialises in catering to kiteboarders with air compressors, board racks, pool, hot tub, and palapa bar/restaurant, delivering a 5-star experience.
Economical houses and casitas (airbnb.com) USD 40 - USD 120 per night.
Luxury Kite-centric Accommodations at Casa Morph USD 150 per night.
Featured
In 2015 Craig Cunningham named Atins as his #4 favourite flatwater spot in the world. Located 600km west of Fortaleza, Atkins serves as an endpoint for many legendary downwinders. Set in the Delta of the River Preguiças the meandering river mouth creates ever-changing sandbanks and knee-deep lagoons. Along with its consistent strong winds, typical for these shores, kiters encounter perfect…
Tarifa is the most southern point in Europe, world widely known for having insane winds! If you are hoping to get very consistent wind, this is the place to go. There are loads of different spots that work depending on the wind direction. In Tarifa, you have a Levante that blows from the east and the Poniente that blows from…
Jeddah is located by the Red Sea in Saudi Arabia; which is one of the top destinations for Scuba Divers worldwide. As you may know, Jeddah is a 'commercial hub' and gateway for pilgrimages to Islamic holy cities like Mecca and Medina. Jeddah has consistent wind all year round. kitesurfing next to mangrove trees and super flat waters, it really is a dream come…
John and Ryan run ComeKiteWithUs in El Cuyo from January until June, and in Hood River from July until October. They love sharing the stoked and teaching people to learn kiteboarding. They also love to SUP, fish, and entertain friends with a BBQ and drinks in El Cuyo.
Been to El Cuyo? What did you think?
Where are the Best Kitesurfing Beaches in El Cuyo?
Kite Beach El Cuyo greets kiteboarders with long, empty, white sandy beaches. The water is shallow, still, chest deep at 50-70m from shore. It is typically small wind chop and small, easy to ride waves.
There are fantastic opportunities for 10 to 23 miles long downwinders that serve up small, clean waves and even flat water with the chance to see some dolphins, manta rays, or sea turtles, and end at pink lagoons for a sunset picture, and you easily have one of the most unforgettable downwind opportunities that shouldn't be missed.
Wind: The wind is most often side-onshore (NE, E), but can be known to be side-shore at times.  December and January can bring on-shore El Norte storm winds that crank and offer larger swell (less beginner friendly conditions, but lots of fun!).
Waves: Small 1 meter waves break cleanly on a downwinder from El Cuyo to Las Coloradas.
Shorebreak: None
When is the Best Time to go Kitesurfing in El Cuyo?
The windy months to go kitesurfing in El Cuyo are February, March, April, May, June
Statistics
Do you know a good kitesurfing school here?
Kitesurfing Videos and News in El Cuyo
6 years ago
Join Sensi Graves for an empowering week of kiteboarding, yoga, and good times in El Cuyo, Mexico from April 7-14th, 2018. Clear your calendar! Sensi…