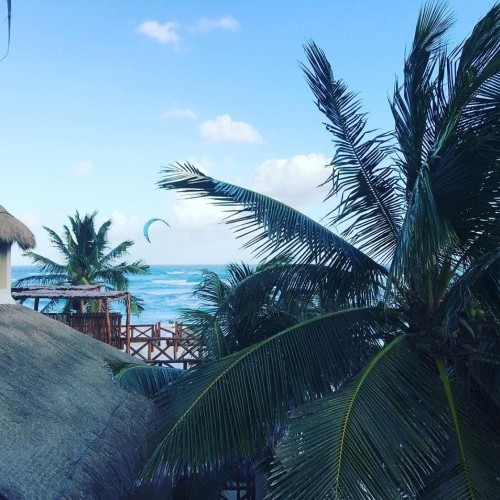 Why Visit?
Tulum has become one of the main hotspots around the world for kitesurfing. Home to incredible beaches, turquoise waters, and lazy palm trees; you'll never have felt this good!
Tulum is not only about kiteboarding; it's a place you'll get to spend quality time with your friends and family as well, there are so many activities to do together. In the evenings, you'll be surprised by the amount of fine cuisine you'll find almost everywhere.
Wind and Weather
The most consistent winds in the Yucatán Peninsula are from November to May. During those months, you'll usually see 9m kites on the water when the northern winds hit the peninsula. The weather is super pleasant from November to April; generally on a cold front day "El Norte", it's advisable to bring your wetsuit and have a smaller kite as winds could blow between 20-30+ knots, but other than that, we're in board-shorts and a rash vest all the time! We recommend you bring all your kites with you, but if you can easily rent equipment as well if the wind drops or picks up.
From June to September the weather gets warmer, and winds are lighter, but it's still enough wind to teach, run lessons and go foiling! During those months, a 12m kite is mostly used kite you'll see on the water! Tulum generally has good conditions for learning all the basics you need to know to become a kiteboarder as well as foiling, which is getting very popular at the moment.
Getting Around
The cheapest way of getting around is by bus, and they run all day and night! Taxis are easily found everywhere and at any time as well but are a little more expensive. You can also rent a car, and that probably the best options so you can move around freely.
Food and Drink
The Riviera Maya and especially Tulum, are famous for their delicious and large variety of cuisine from all over the world! From Italian restaurants to a Taquerias, we guarantee you will be not disappointed
Nightlife
Tulum offers fantastic nightlife with many restaurants and bars with live music. You'll love your nights out in Tulum!
No Wind?
There is plenty to do on no wind days in Tulum; from exploring on paddleboards, scuba diving; which is big here with the best cavern diving in the world, the famous "Cenotes" and a lot of yoga and meditations are offered everywhere!
Many people visit the area to enjoy the beauty of the region with the Mayan Ruins and the numerous tour available. Playa del Carmen is only 50 min away from Tulum, Bacalar lagoon and Chichen Itza are also just a couple of hours away plus loads more!
Internet
You'll find wifi everywhere on the beaches, restaurants, and accommodation.
Accommodation
There are many accommodation options around Tulum, from boutique hotels right on the beach to luxurious condos, hotels, cheap hostels and rooms. If you are planning a more extended trip to Tulum, we recommend you find a place in town as it will be more convenient and everything a lot more reasonably priced!
Featured


In Israel, there's the saying: "You go to Haifa to work, to Jerusalem to learn, and to Tel Aviv to play". So get ready to play when you visit this beautiful city, located on the coast of the Mediterranean Sea. The "White City" is famous for its white Bauhaus buildings and its great nightlife. If you walk through the quarter…


Essaouira provides the ultimate location for your kitesurfing holiday. It's easy to travel to as there are many daily flights from Europe, it's relatively cheap and there are a variety of conditions on your doorstep from a flat water lagoon to world class waves. There is everything on hand without the need of a car. You'll find no shortage of…


You'll be able to find wind, waves, and an epic adventure in Kaliantan. It's a spot that's likely to go boom on the tourist radar in the next few years so get in quick while it's still uncrowded. Kaliantan is located in southern Lombok; an enchanting coastal region that is prosperous with white sand beaches, palm trees, and local culture.…
Marco Cristofanelli was raised in Rome, Italy, and came to The Riviera Maya in 2000 to teach Scuba Diving at the Akumal Beach Resort. Marco is a bit of an adrenaline junkie and started kiteboarding in 2003 in Tulum. He knew it was time to make a career change when he would be in the dive boat taking a group out to dive, and all he could think about was how many knots the wind was blowing. So he knew he had to leave diving for now and plunge into the world of kiteboarding completely! Today after many years Marco is running Extreme Control in Tulum, organising trips in Brazil and in other windy place, offering accommodations in 2 beautiful apartments in Tulum town paddle-boarding tours and lesson and for sure, still Scuba Diving!
Been to Tulum? What did you think?
Where are the Best Kitesurfing Beaches in Tulum?
Kite beach is the most popular spot and has a good mix of flatter water and waves. When it's windy, it can get choppy on the inside, and during peak times it can get busy.
Hold off for an evening session or get out during lunchtime to avoid the masses.
•    Wind: Cross on from the right
•    Waves: Out on the reef
•    Shorebreak: No
When is the Best Time to go Kitesurfing in Tulum?
The windy months to go kitesurfing in Tulum are January, February, March, April, May, November, December
Statistics
Kitesurfing Hotels and Accommodation in Tulum
Do you know a good kitesurfing school here? Submit it below.