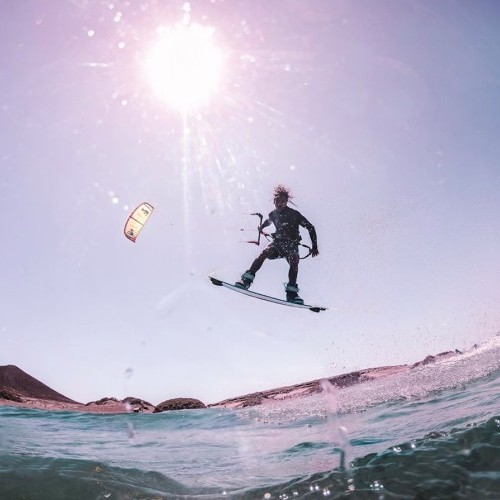 Why Visit?
If you're looking for somewhere to kite all year round in Europe, it's undoubtedly the Canary Islands. A group of Spanish archipelago located in front of the Moroccan coast. Spring throughout the year attracts millions of tourist from all over Europe, especially those from colder climates.
Tenerife, one of the islands, is one of the most popular tourist destinations in the world, specifically for its spectacular volcanic scenery. As far as kitesurfing is concerned, it offers light wind condition and little waves or radical days with over 40 knots and two metres waves.
Strapless or twintip share a broad area that can be divided into three main sectors such as "el Muelle" suitable for wave-hunters, "la Bahia" for freeride and "el Rincon" at the bottom of the bay where you can go big as well as train unhooked.
Wind and Weather
The Canary Islands enjoy an exceptionally mild climate. Located on the Atlantic, just north of the tropic of cancer, a short distance from the African coasts of Morocco and Western Sahara, it is below the "trade-winds" called Aliseos, which are constant winds from the north-east around 25 knots.
Winter temperatures are around 19 degrees, and summer temperatures are around 25-30 degrees. In July and August, there is a higher chance of finding oneself immersed in a wave of desert heat from Africa called "Calima", but also strong winds over 35 knots. Rarely will it rain in the south of Tenerife while it will often rain in the northern part of the islands; odd.
Getting Around
The island of Tenerife is very well connected with the rest of Europe through its two airports and multiple seaports, giving the possibility of being reached from almost all of Europe with direct flights.
Once on the island, the central spot for kitesurfing, El Medano, is just 5 minutes away from the Tenerife south airports.
A rental car is the best solution if you want to get around and visit the island, but even buses and taxi are easily accessible. It's also possible to move between the islands with internal flights and ferries.
Food and Drink
El Medano has a variety of restaurants in town that offer tapas and beers for the majority of the day, and at night you can choose between Italian, Spanish, Canary and many others. Our locals fishing town has the best fresh fish ever!
Nightlife
El Medano is pretty active during the daytime and less at night, but there are a few pubs where you can spend the night listening to live music or having some drink somewhere! If you are looking for a proper party, you can reach the close town of Las Americas which hosts some of the best parties and nightlife
No Wind?
If you're unlucky and do not to find wind during your holidays in Tenerife, do not despair, you can explore the whole islands other adventures on quads, trekking routes, climbing, mountain biking or surfing.
Several surf spots are depending on the direction of the swell or at calm sea; you can go diving and explore Tenerife marine life!
An island with 15 different microclimates, just waiting to be discovered!
Internet
All the islands have an adequate internet connection
Accommodation
El Medano has been a destination for watersports lovers for decades. From hotels to hostels to independents apartments, depending on the season you choose, prices can vary, but more or less will always remain affordable for most people.
I recommend organising some time in advance to secure an apartment in the small town of El Medano or sea view just behind the kiteboarding spot.
Featured


Tulum has become one of the main hotspots around the world for kitesurfing. Home to incredible beaches, turquoise waters, and lazy palm trees; you'll never have felt this good! Tulum is not only about kiteboarding; it's a place you'll get to spend quality time with your friends and family as well, there are so many activities to do together. In…


Vietnam is in southeast Asia and runs from north to south along the South China Sea.  This is a country steeped in history, so even for the non-kiter, there is plenty to see and do. Mui Ne, which means 'sheltered peninsular', is located 4 to 5 hours drive north of Ho Chi Minh City (formerly Saigon) and is blessed with…


There are a million reasons to visit Dakhla, Morocco. This place has been in the spotlight over the last couple of years due to hosting the previous VKWC world cup and upcoming WKC, and for a good reason. Forty-five kilometres of the endless lagoon, warm temperatures throughout the year, constant wind, and friendly and welcoming people. Not to mention that…
Nik moved to El Medano in Tenerife 5 years ago searching for wind! He's been kitesurfing since 2013. Nik works at a local shop Wet Watersports and is always up for a session!
Been to Tenerife? What did you think?
Where are the Best Kitesurfing Beaches in Tenerife?
Playa Sur is the most popular spot and enjoys a good mix of flatter water and waves. When it gets windy, it can get choppy on the inside.
Wind: Cross on from the left
Waves: little or choppy
Shorebreak: Small
When is the Best Time to go Kitesurfing in Tenerife?
The windy months to go kitesurfing in Tenerife are January, February, March, June, July, August, September, November, December
Statistics
Kitesurfing Hotels and Accommodation in Tenerife
Do you know a good kitesurfing school here? Submit it below.
Kitesurfing Articles that Mention Tenerife