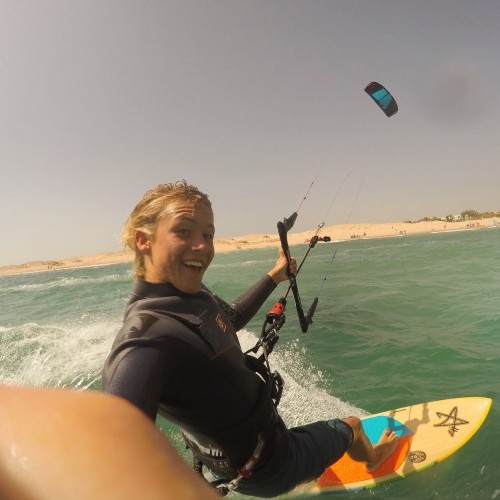 Why Visit?
Tarifa is the most southern point in Europe, world widely known for having insane winds! If you are hoping to get very consistent wind, this is the place to go. There are loads of different spots that work depending on the wind direction. In Tarifa, you have a Levante that blows from the east and the Poniente that blows from the west. Between these two winds, you can get up to 340 days of wind in Tarifa each year! I spent two weeks here and was on the water every day apart from two days!
Wind and Weather
There are two types of wind in Tarifa, the famous Levante wind and the less well known Poniente. Levante is a beast. It blows at times for 24h a day for weeks at a time. If you are staying in Tarifa, it is pretty brutal. It is a very gusty wind blowing up to 45kn! It is a very warm wind though. This means you can roam around in just board shorts/bikini all day. Poniente is much more gentle. A more humid sea-breeze that blows on average around 20kn. However, it is a lot colder. At times it can be ten degrees cooler! A jumper will be needed from September up to May...
Getting Around
There are many different spots along the coast both to the east and west of Tarifa. This means that a car is a definite MUST HAVE. Unless you are a local and can cope with the crazy Levante, you're going to have to go to drive away from the super strong winds often found here. Tarifa is the windiest spot, but as you drive further east and west the wind decreases. This is because of the funnelling effect between the mountains behind Tarifa and the mountains in Africa. Often it can be 45knots in Tarifa, but maybe a nice gentle 20knots further along the coast. If you don't have a car when you come here, you'll miss out on a lot of the amazing spots that are on offer.
Getting There
There are two main airports near-by, Gibraltar is the closest, which is about 40 minutes drive from main town Tarifa. You then have Malaga airport which is around a 2-hour drive. Both you can fly to from London for only a two-and-a-half-hour flight. There are many rental car options at the airports or try rentalcars.com.
Food and Drink
The one great thing about Tarifa is the old town. There are hundreds of little tapas bars, Italian restaurants and steak houses. My personal favourite was a steak house called Vaca Loca. It is found down a little alley way to the right of the main road in the Old Town. They serve you a pint of beer and an (optional yet highly recommended) 600 oz chunk of steak, perfect for an after kite session feast! Also, there is a sweet little juice bar found in Valdevaqueros beach run by Danni, the girlfriend of the legendary Aaron Hadlow! She will freshly make the juice right in front of you which is great to chug down before a session! There are many other fantastic restaurants and cafes found in the town too. Just before you reach the main town, there are two big kite shops (OZU and WET). Both make an insane lunch/brunch to take away if you are going on a journey for a session!
Nightlife
Like a lot of typical European places, the nightlife runs all night! Us being typical brits would head out around 9-ish, yet that is freakishly early. Most of the locals would head out around 11 for dinner and then hit the clubs around 3-4 am, fortunately, the wind usually kicks in during the afternoon, so you'll often shift into a slightly different time zone here. Sleeping all morning, kite all afternoon and party all night! There are some great DJ's playing, and in recent years the town has become popular with the stag and hen do's from Spain so expect things to get a little crazy! Cafe Del Mar is a great place to head to finish the night/morning off in style, and it stays open till 8 am for the dedicated party goer!
No Wind?
If there is no wind, there are loads to do! We went with the Vivida Lifestyle crew up to the Cable Park in Marbella which is only an hour away. For 30 euros, you can have 4h of great wakeboarding. There is a nice restaurant there too if you get hungry! There are also some great mountain biking trails behind Tarifa, but we didn't get time to check it out. You can also go Whale watching, head to Africa on a day trip, rent quad bikes and go surfing if there is any swell...
Internet
You are in mainland Europe, so there is a decent mobile internet signal, and plenty of places have high-speed broadband, as ever you get what you pay for here! Lots of cafes have wifi too.
Accommodation
This is very much a student's town. There are around 20 hostels found all around Tarifa and are many camping grounds too found all around. I recommend staying near the town just because it's easier to base yourself in all winds. We stayed at the Hotel Dos Mares which is about 2 minutes from Tarifa. Perfect location for Poniente wind as it is the emptiest part with the best wind on the beach! Whatever your budget there will be something that suits, from sleeping in your car to living it up in a luxury villa!
Featured
Just 2 hours north of Perth you will find one of the best spots to kitesurf on the West Coast of Australia. Lancelin is a popular place with kiters and at the weekends, many riders from Perth make the trip up and spend a couple of days enjoying the perfect conditions on offer. With waves and butter flat water there…
There are many locations for kiteboarding in Brazil, but some of the best kiting conditions in the world are found along Brazil's north-eastern coast! This region offers incredible conditions, perfect for kiters who: Want to practice long distance kiting and test their endurance Are interested in progression and improving their kiting abilities Are looking for a new adventure and to…
Kalpitiya is the new best kite destination in Asia, both in winter and summer. Kalpitiya offers a variety of huge flat spots with strong and consistent wind. The main spot is perfect for learning with flat shallow water and safety boats ensuring the best conditions to become an independent rider. As kitesurfing is very new in Kalpitiya, the area is…
My name is Joe Fulton and I am a young kiter originally from the UK. I have spent around 10 years going backwards and forwards to Cabarete which is where I learned. I am currently on the Team for Tona Boards and Team Vivida Lifestyle and I am a brand ambassador for Ozone Kites and Andy Haitz Custom Surfboards. I am into all types of riding but my main two are riding in the waves on my surfboard and also in flat water on my Tona board. The water has always been my passion and to be able to share my experiences has always been a wonderful opportunity. This trip would not have been possible without help for Dave HB and Ollie Z from Vivida Lifestyle.
Been to Tarifa? What did you think?
Where are the Best Kitesurfing Beaches in Tarifa?
Los Lances is the main beach in Tarifa. It is HUGE! You can find the well-known lagoon about half way along but be careful; you can end up with a hefty fine if you're caught! Usually, Los Lances is flat with a shore break but not too bad. It can be hectic at times and is offshore in Levante. Don't worry though; there are rescue boats to get you if it all turns sour! Poniente is onshore and recommended here!
Wind direction: Levante - offshore from the left. Poniente - onshore from the right.
Waves: Only with a swell
Shore break: Yes
Balneario is a strictly advanced riders beach. During peak times, you can only ride there after 8 pm and it is here where Levante blows the strongest. You may recognise it being where Len10 jumped the bridge! Well if you're looking for a beautiful beach to watch riders hit well over 50ft in the directly offshore area while the sun is kissing the sea, here is your spot! Expect to catch a sight of the local professionals in the area!
Wind direction: Levante only - directly offshore
Waves: Only with a swell
Shore break: No
Valdevaqueros is found around 5 minutes from Los Lances and is probably the best spot for all wind directions. In Poniente, it is the windiest spot. The beach there is huge with many kite schools and bars found up and down. We went to the first kite school found which is the ION centre there. There is a great juice bar found which is recommended! Also, there is a nice chill out area on a grass lawn with complimentary bean bags!! It gets busier the further right you go as that is where all the other kite schools are. However, in Levante, I recommend that if you have a car, make use of it and drive to the spot below or further up the coast. Unless you are brave and advanced- you will be praying for your life on a 4m kite with wind gusts of up to 40kn!!
Wind direction: Levante - side offshore from the left and very gusty. Poniente - onshore from the right.
Waves: No
Shore break: No
This is a great place to head to on a very strong Levante day. It blows much less here, and it is a nice beach. With a swell, you can find some nice waves showing up and if not, some nice flat water. It has a recognisable lighthouse on the right side on the beach and but don't get too close as there is a very shallow reef!
Wind direction: Levante only - side onshore from the left
Waves: Yes
Shorebreak: Yes
When is the Best Time to go Kitesurfing in Tarifa?
The windy months to go kitesurfing in Tarifa are March, April, May, June, July, August, September
Statistics
Do you know a good kitesurfing school here?
Kitesurfing Articles that Mention Tarifa
Kitesurfing Videos and News in Tarifa