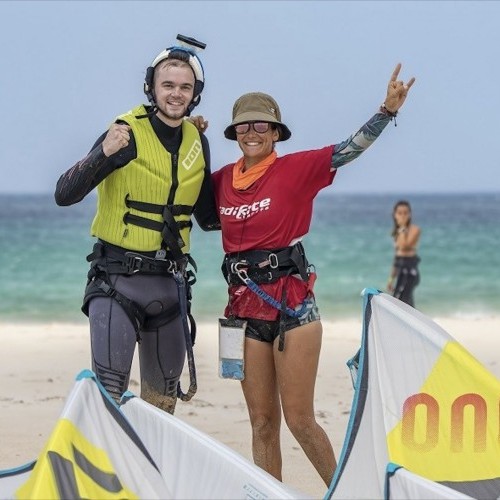 Radikite | Kiteboarding School in Tarifa
Features / Tue 19th Apr, 2022 @ 9:37 am
Win a Lieuwe Shotgun Paradise Series Board this issue in our FREE subscriber prize draw.
Located at the southernmost end of the Iberian Peninsula, Tarifa is known for its Poniente (coming from the West, cooler air from the sea and the dominating wind in Tarifa) and Levante (strong winds coming from the East) and the world's most popular kiteboarding and partying spots! So if you've been eager to learn to kite, progress your kiteboarding, learn some freestyle tricks or learn how to ride waves, then Radikite should be on your radar! But, first, we got to know Javi (owner and founder of Radikite), and he told us all about their centre.
About RadiKite
With over ten years of experience, Javi and his team are confident that they can give you the best kiteboarding experience Tarifa can offer! Radikite is the ONLY kiteboarding school in Tarifa with floor beach facilities and an exclusive area for beginners. On-site, the school, has parking, a beach bar, lockers rooms, equipment rentals, a rescue service, a compressor and more. If the wind conditions don't come through once you've paid for your lesson, you will get a refund on your remaining hours.
The Center
All Radikite facilities are directly on the beach, making suiting up and going out for a session as effortless as possible, and the area is exclusive to Radikite guests. Once you've been out for a couple of sessions, the sun is setting, and it's time for an 'apréskite'. So grab a Mojito and experience guaranteed one of the most magical, unforgettable sunsets!
Safety First!
When teaching, the instructors at RadiKite integrate a walkie talkie into their student's helmets, so there is uninterrupted continuous communication throughout the lesson. Additionally, there is a support boat on watch in case of any students face difficulties once they are riding or unforeseen weather changes occur; the rescue boat can safely bring the students back to shore.
Refunds Guaranteed
In case the wind isn't suitable for your lesson or if for any reason, you are unhappy with your lesson, Radikite commits to giving back a full refund on any hours that were not used.
Duotone Equipment
At Radikite, they update their equipment yearly so kites, lines, and boards are in excellent condition and safe to use.
Highlights
The ONLY kitesurfing school at the beach!
It is located at Los Lances beach – Only 3 km from the town centre (which is considered the best spot to practice kitesurf because of a long beach and specific area just for kitesurfers)
The Beach area is 2 km long and 300 meters wide, exclusive for kiteboarding.
Open from June to October
All amenities all available to the centre, including free parking, beach bars, toilets, showers, changing rooms rescue service "Sea Angels", and more!
Courses Offered
Have group, semi-private or private courses; Radkite has it! Their courses are designed to help you learn quickly and safely. Additionally, they adapt the course outline to suit your needs. For more information, please click here.
Group Courses
Four students per group (arriving together)
Two complete sets of equipment to share
Prices range from 70€/1 day, 140€/2 days and 210€/ 3 days per person.
Semi-Private Courses 2.1
One complete set of equipment to share
Undivided attention from your coach
Radiohelmet included
Prices range from 90€/3hrs, 180€/6hrs and 270€/9hrs per person
Semi-Private Courses 2.2
Two complete sets of equipment – this usually depends on the wind conditions and the student's kiteboarding level.
Undivided attention from your coach
Prices range from 120€/3hrs, 2 0€/6hrs, and 360€/9hrs per person
Private Lessons 1.1
For 60€/hr, you'll have your instructor's undivided attention! (Includes radio helmets)
Ideal for those who want to progress their riding skills, land a new trick or feel anxious in larger groups
Minimum 2 hours/day
Courses for Children Ages 7+
We love teaching and sharing our passion and knowledge of kiteboarding with the younger generation and future pro riders! When teaching kids, we take great precautions that the conditions are perfect for them.
Other Activities
Hydrofoiling
Hydrofoiling has become extremely popular in recent years, and at Radikite, they are now offering courses! Hydrofoiling doesn't need much wind, and it's the closest to levitating that you'll ever get! The courses at Radikite are specifically designed for those who want to progress quickly in a safe and easy environment.
"We have adapted equipment and a progressive scheme to avoid the frustration that is usually common due to its difficulty."
For more information on Hydrofoiling courses at Radikite, please click here.
Surfing
If you've always wanted to learn to surf, you've come to the right place. Radikite offers group and private courses ranging from 25€-35€/hour. Please click here for more information.
Testimonials
David A – Just like it should be

The guys at Radikite are awesome! Starting from the professional part, good material, good organization, all insurances you should have, monitors, they know what they are doing. They are honest people and won't rip you off. I wasn't fortunate with the wind conditions while I was there, and they allowed me only to pay for the hours I did. Other kite schools wouldn't have done that! Above that, I laughed a lot, had a good time and will always go to see them when i come to return to Tarifa. Thank you, Javier, Iñaki and Norberto, for a perfect time!

Maxime – Loved it!

Javier and his team are great teachers and super nice people to hang out with. The Kites and boards' qualities are exceptional (in good shape and the best brands), and Radikite is located on the main spot; this is super practical. Communication was easy; I strongly recommend Radikite for courses or simply renting!

Foucauld Peuchot

The first time I arrived on the beach, I was terrified by the wind, the size of the waves and the brightness of the sun… I never had a single kite surf class in my life; I was a white page. Then I met Xavi, the manager at Radikite. He set me up with quality equipment, called one of his best instructors (Gabri) and before you know it, I was riding like it was 1969. After a record 3 hours of class, I was in the water. Thanks to Gabri, thanks to Xavi, and thanks to Radikite. You're the best guys, see you next year!
Radikite promises trust and transparency:
The team at Radikite guarantees honesty and professionalism.
"We comply with, and in many aspects, exceed all our legal obligations to carry out our activity. We put ourselves in your place and evaluate what is best for you, always advising you as best as possible. We are flexible and adapt to your needs.
For more information on RadiKite, please visit the Radikite website, Facebook and Instagram!
Tue 19th Apr, 2022 @ 9:37 am
IKSURFMAG Web Editor, Jen Tyler, grew up in the chaos of Cairo, Egypt. It was on the beaches of the Red Sea where her love for the ocean, watersports and adventure grew.
Featured in this Post
Comments