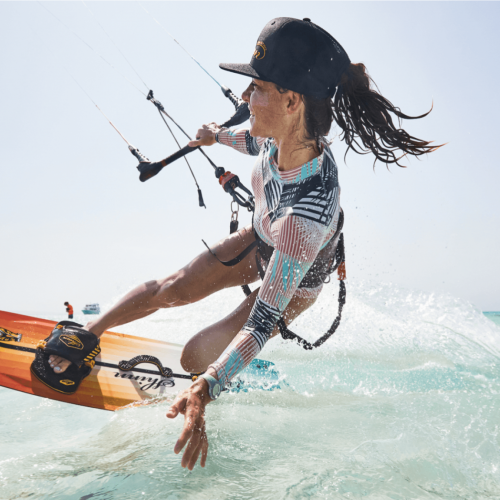 In Focus: Shinnworld 2022 Prismatic Collection Product Overview
Features / Sat 23rd Apr, 2022 @ 9:00 am
Shinn is a high-quality kiteboard brand with a fresh outlook, creating a ride for everyone with one of the most extensive ranges of kiteboards. Their 2022 Prismatic lineup has released +10 new boards, and we've got all the details right here!
Win a Lieuwe Shotgun Paradise Series Board this issue in our FREE subscriber prize draw.
Since the birth of Shinn everyone involved has had one unwavering goal – to produce the best performing and best-looking products on the market for EVERY rider no matter your level or style. Built using only the finest materials, most skilled construction specialists and of course tested diligently on the water we take extraordinary steps to ensure your chosen board performs extra-ordinarily for you.

There can be no greater award than being voted the Best Kiteboards by the riders themselves and for this validation of our philosophy we can only thank you, we accept your mandate and vow to only improve in the future. – Shinnworld's Philosophy
Superking 2022
Dedicated to performing in lighter winds and for heavier riders. However, not every spot is deep enough to foil, nor is every rider willing to lose time on the water to learn again.
Maximum fun in minimum winds with a board that won't hold you back if the wind increases a few knots. New for this year is an extra 146 x 46 option. TT riding is not a crime; the Superking is unashamedly directed towards those previously frustrating days where your regular freestyle model just won't come to life.
Using an adaptation of our split concave base, this range provides exceptionally early planning, a smooth and comfortable upwind ride, all combined with a performance that will surprise and delight.
By combining a naturally efficient rocker with bilateral flex tips, the Superking provides carving, edging, and pop normally associated with a higher wind range dedicated design. More kiteboarding is better than less kiteboarding.
Features
Comfort-Fit 160 for Extreme LW
Classic Fit 146 and 150 for maximum wind range
Ideal for XL riders
For more information on Shinn's Superking 2022, please click here.
Vilion Prismatic 2022
Welcome to Vilion, the latest board in the Shinn range!
Designed with progression in mind, the Vilion might be the easiest kiteboard we've ever created whilst retaining enough performance to keep even the most experienced riders entertained.
The secret is in the balance of features – our legendary constant curve rocker provides both even, and reliable water contact whilst the progressive "boxy" outline delivers consistent rail grip even when the rider's input is vague or clumsy.
The Elliptical concave base gives proven comfort and efficiency. The high flex bi-lateral tip design works for you through the chop and gusts, ensuring smooth power delivery and effortless riding. Fast to plane, effortless to ride upwind, and buttery smooth no matter how rough and tough the conditions become, the Vilion delivers a secure platform not only for beginners but perfect for anyone that wants to make fast progress with as little work as possible.
Features
Unbeatable control and ease
Amazing range and stability
Improved Grip & Efficiency
Win a Lieuwe Shotgun Paradise Series Board this issue in our FREE subscriber prize draw.
For more information on Shinn's Vilion Prismatic 2022, please click here.
Shinnster 2022
What is the Shinnster? It's not a wave board, and it's not a skimboard. Instead, the Shinnster is a kiteboard designed for strapless riding.
Flatwater skate style, small onshore wave playing, no fins, 53 mm fins, 80 mm fins… There are no rules; grab it and do whatever comes to mind. Maintaining the rocker and flex pattern from the original, the Shinnster Chromatic is compact and "trickable" without influencing the critical rail length needed to achieve the powerful upwind and drive it's famous for.
Our Jet Stream tail channels increase the tail grip whilst using smaller fins to balance better sliding skate style moves and a more aggressive aerial style. Supplied with 53 mm fins and a 3D shaped deck pad, add 80 mm fins to tune your ride how you like it.
The Shinnster Chromatic is fun to ride and surprisingly easy to get the best out of. Don't confuse this board with other similar looking concepts; this is a high-performance ride that works in a huge array of conditions.
Features
Jump Proof Strapless Technology
2/3 coverage 3D Deck pad
Skim, Surf or Skate Style
For more information on Shinn's Shinnster 2022, please click here.
Ronson Prismatic 2022
Ronson Prismatic is our multi-faceted Enduro performance board designed for riders that refuse to be categorised by one discipline or style and need a deck that can do it all. A constant curve rocker delivers constant rail grip no matter the board's angle in the water, cleanly passing through the chop with no loss of control or speed -edging, carving, and delivering both kite high or kite low pop with ease.
Developed through 3 generations of the Ronson, our double-stepped tip channels reduce drag and allow a clean exit of water from the board whilst increasing the rocker in the centre of the tail – great for both heavy landings and aggressive takeoffs. Our dedicated finger grab is carefully aligned on both the deck and base, providing a firm grip whether mastering board-offs without a handle or simply carrying the board on the beach. In addition, the Ronson Prismatic features increased lengths per width, generating even more grip and comfort -especially in the chop. The latest in a long line of favourites – the Ronson Prismatic delivers beyond expectations no matter the conditions or style you aspire to.
Features
Outstanding control in all conditions
Limitless grip and speed
Win a Lieuwe Shotgun Paradise Series Board this issue in our FREE subscriber prize draw.
For more information on Shinn's Ronson Prismatic 2022, please click here.
Monkette Prismatic 2022
The board in our range is dedicated to ladies – the Monkette Prismatic is lightweight with a finely controlled flex profile perfect for lighter riders.
Unashamedly sharing many features with the Monk X, female riders will benefit from the slightly softer global flex (which is geared towards lighter, less aggressive riders) and smaller sizes, particularly in terms of width. The high torsion bilateral tip flex provides a near "active suspension" level of control. Our legendary constant curve rocker delivers continuous contact with the water no matter how demanding the conditions become.
The multi ridge and concave base design encourage water to flow more efficiently (enhancing the grip and upwind ease and keeping that loose and lively feeling that is so much fun to ride), unlike regular channels that redirect the flow more radically, noticeably increasing drag. Massive grip, good upwind efficiency, and insane chop handling have made the Monkette a stand out choice for all levels of female rider over the past seasons. The Monkette Prismatic is set to deliver yet more of the same.
Features
Insane chop handling and ease of use
Massive grip and upwind efficiency
Crisp and sharp feeling, amazing carving ability
Win a Lieuwe Shotgun Paradise Series Board this issue in our FREE subscriber prize draw.
For more information on Shinn's Monkette Prismatic 2022, please click here.
Jackson 2022
Already into its 2nd year of production, the Jackson sunburner is still lighter, stiffer, and more agile than any other abs technology foil board on the market whilst maintaining the legendary durability and ease of use.
For this year, we added a pocket-sized 112cm that is sure to be popular with foiling aficionados. Achieving a robust snowboard style construction that's stiff (a critical feature for control on a foil board) and light is no easy task. Still, our innovative v-tech mould combined with uni-directional carbon makes significant gains in both areas.
A one-piece pad provides the perfect blend of comfort and sensitivity with the ideal balance between grip and durability. The Sunburner also features our unique trim track foil connection allowing you to tune your ride and achieve the preferred foil position on the board.
Available in 3 lengths, 140cm, perfect for foil beginners or heavier riders, 128cm for intermediate to advanced riders, either strapped or strapless and 112cm for the more experienced riders looking for a minimalist deck with perfect travel-ability.
Features
Trim Track Equipped
Light, Stiff and Durable
For more information on Shinn's Jackson 2022, please click here.
ADHD Prismatic 2022
If high-performance kiteboarding is your game, the ADHD Prismatic is the deck you've been waiting for
Explosive grip and tones of pop are generated by the hard channels running through the centre of the board and into the tail's often forgotten tip transition area. By overlapping the rail and tip channels, the ADHD Prismatic reduces the energy-sapping flex area just behind the rider's rear foot, ensuring it can easily handle high power levels.
The central tail concave helps to lift the nose ideal when landing with commitment or when things don't go quite as planned. This Prismatic also features an increase in stiffness between your feet, a critical factor in control when landing a little hot and preventing rocker inversion and the subsequent tip strikes. A true high-performance ride for both wakestyle or mega-loop riders, the ADHD Prismatic retains the ease of use so vital in allowing you to unlock your full potential no matter the wind and water conditions you perform in.
Features
High-performance Freestyle or Big Air
Amazing range and stability
Explosive Grip and POP
Rock-Steady Landing Platform
Win a Lieuwe Shotgun Paradise Series Board this issue in our FREE subscriber prize draw.
For more information on Shinn's ADHD Prismatic 2022, please click here.
Absinthe Prismatic 2022
New for 2022, the Absinthe sets a new level for high-end performance to freeride boards.
Engineered from the core outwards, every element from the light paulownia wood blank to the high modulus spread-tow carbon laminate has been selected for optimum weight and performance relevant to real-world conditions. This is more than a cosmetic update; this is a fundamentally new approach to the same goal of maximising performance and comfort whilst minimising weight.
Building on the shaping lessons learned through the development of the Slicer Split TT, we combined the Double Step tip channels with the all-new Dual-Track base to create an unrestricted water flow throughout the board's length. Supremely fast to "unstick" in light winds, and knife-like upwind ability don't detract from what is undoubtedly the plushest and most engaging ride in the whole Prismatic range.
With the ability to adapt to your riding, mood, or simply the conditions on hand, the Absinthe redefines our high standards for lightweight performance, comfort, and control.
Features
Fast to plane, quick upwind
Unrivalled PLUSH comfort
Next Generation lightweight Construction
Win a Lieuwe Shotgun Paradise Series Board this issue in our FREE subscriber prize draw.
For more information on Shinn's Absinthe Prismatic 2022, please click here.
Slicer Split Prismatic 2022
A first for Shinn the Slicer is a complete reinvention of the split board concept.
Our goal is to produce a split board that's performance, quality, and style are worthy to carry the Shinn name in a package that's easy and convenient to travel with. Our innovative 3-piece split features both board and PU connector; all engineered to fit seamlessly together in a way that's secure and strong yet at the same time doesn't inhibit the board's flex profile. Traditional split designs produce double or triple laminate layers through the connection area, making smooth and consistent flex control impossible.
The unique Shinn S connection reduces the dangerous perpendicular stresses that heavy landings incur and allows a rail-to-well-aligned connector pin –a critical feature enabling the board to flex around the retention pin rather than bending it as a tip to tip alignment would encourage. Suitable for riders from intermediate to advanced freeride, the Slicer is the seamless blend of practicality, performance, and technology.
Features
Next Generation Split board
X-over/ Enduro Performance
Perfect Solution for Travellers
Win a Lieuwe Shotgun Paradise Series Board this issue in our FREE subscriber prize draw.
For more information on Shinn's Slicer Split Prismatic 2022, please click here.
Monk X Prismatic
Here it is…. the Monk X is the 10th Generation of one of the world's most popular kiteboards.
Crisp and sharp performance in an industry-leading package combines unbelievable chop handling, amazing carving, and an easy, comfortable ride.
With the Monk X, we bring you a board that can grip, rip and slash without causing your knees and back to pay the price for it. Utilising our unique multi-ridge/concave base design and exclusive Fan tail Exhaust tips, every feature of the Monk has been designed to redirect the water flow as smoothly and efficiently as possible, creating a deck where the dynamic flex pattern can function with the hydro-dynamics –not against.
Here in Shinn, we don't view freeride as a poor relation to freestyle – the Monk X features all of our cutting-edge technology, putting into your hands (or feet) more grip, drive, and POP than ever before, all the while wrapped up in a package of chop eating, plush comfort. How much more fun can you have?
Features
Crisp and sharp feeling, amazing carving ability
Insane Chop Handling & Ease of Use
Improved Grip & Efficiency
Win a Lieuwe Shotgun Paradise Series Board this issue in our FREE subscriber prize draw.
For more information on Shinn's Monk X Prismatic, please click here.
To view all Shinnworld products, please click here.
IKSURFMAG Web Editor, Jen Tyler, grew up in the chaos of Cairo, Egypt. It was on the beaches of the Red Sea where her love for the ocean, watersports and adventure grew.
Featured in this Post
Comments