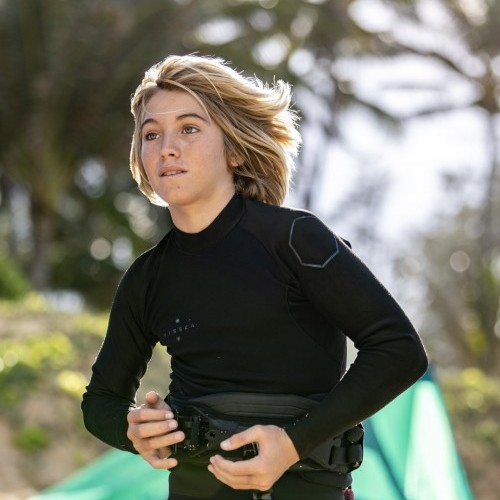 Marley Franco: Living the Grom Dream
Features / Wed 8th Jun, 2022 @ 3:00 pm
At only 12 years old, Marley Franco is already a pro kiter and valued member of the North Kiteboarding International Team! We are blown away by this kid's talent, not just in kitesurfing but in all water, wind, and board sports. We catch up with Marley Franco to find out what it's like living the grom dream!
Marley, it is crazy to see how much talent you have shown at such a young age and how your watersports career has progressed. You are, without a doubt, living the grom dream! So, tell us how it all began! What watersport did you start with, and what made you want to get into kiting?
The first water sport I started with was surfing and bodyboarding in the shore break at Sugar Cove. Before I can remember, my parents took me out on a bodyboard, then on their surf and SUP boards in the little waves. I have seen lots of pictures. I don't remember how old I was, but I think I was around one year old when they first took me out.
I was around six when I first started flying using a trainer kite. My dad used to take me out on his kiteboard, and we would ride, where I would stand between his legs, and we would do jumps. It was super fun! My parents didn't rush me into kiting; they took their time with me, and we went when the winds were not so crazy. We did a lot more surfing and stand up paddling. It was definitely my parents that got me into kiting; they both taught me.
Did you find kiting easy or challenging? You were pretty small when you got into it – what kite sizes were you riding??
At first, kiting was pretty tough for me because the winds are always nuking on Maui. My parents wanted me to weigh more before flying a real kite, and the smaller kites just weren't the best yet for safety. It was also hard to find something smaller than a 5m that was stable. My parents made me a smaller bar, and we used shorter lines to start. I didn't really understand much, but then I got the hang of it the more I did it. I was pretty small and didn't weigh much when I started kiting. I'm still pretty small now. I was mostly riding 3m and 4m kites. Now I am riding the North Reach 4m and 5m a lot.
How did you get the nickname Gnarly Marley?!
I got the nickname Gnarly Marley from my two cousins, Kesia and Nina. I guess whenever I was doing something crazy, they would always call me Gnarly Marley. They also started up my original Instagram account when I was seven as @Gnarly.Marley. Unfortunately, I lost that account and had to start a new one a few years ago during covid. Kim Ball, the owner of Hi-Tech Surf Sports here on Maui, used to call me that as well. So it's just stuck.
Your family has been a major inspiration for you and so supportive of your growth in kitesurfing. What does a Franco family session look like?
My parents are a big inspiration for me because they taught me how to kite, and they show me all these cool old pictures of them kiting. Mostly when we go to the beach as a family, we will all be winging or kiting together. My dad will jump over us if we are winging while he's kiting, and we goof around a lot, towing each other on foil boards or surfboards or trying fun different things. So it's pretty cool how I can do wind sports with my parents!
Win a Commander Twin Tip by Eleveight, CORE's all-new Link harness, or an ultra-light board bag from Prolimit this issue in our FREE subscriber prize draw.
Tell us about how you got linked up with North Kiteboarding!
I first got linked up with North Kiteboarding through Jesse Richman on the Next GEN program. I was super lucky he chose me as his grom to mentor. From there, I made it onto the international team for wingfoiling and began doing photo shoots for kiting and winging with them. It's been awesome working with the North and Mystic team; I feel like now we will keep progressing together.
What's it like having Jesse Richman as a mentor? Did you always watch him on the water when you were growing up?
I actually didn't know Jesse Richman very well until I started getting into wind sports. My parents had told me about him since they watched him grow up and used to kite with him a lot. When he would come down to the beach, he was always super nice to me and would get me so pumped up to go out. Now I'm like, wow, this is crazy to have such an awesome mentor. Jesse is so good, and he is just an awesome person all around. I love hanging out with him and doing sports and photo shoots together. He is super fun, energetic and always inspiring in and out of the water. I have learned a lot from him. I am so grateful to be on the North team; Jesse and everyone at North and Mystic are super cool, really helpful and progressive.
Win a Commander Twin Tip by Eleveight, CORE's all-new Link harness, or an ultra-light board bag from Prolimit this issue in our FREE subscriber prize draw.
What is your favourite kiting discipline? What are your top gear choices for this style of kiting?
At first, I really liked twin tip, and then I got into kitesurfing, and I really like surfing the waves; it just felt so natural and super fun. Now, I am learning to do some freestyle on the surfboard, which is also super fun! I'm not that good yet, but I'm getting better and always progressing. I like mixing it up depending on the wind conditions, or in a session, I will change a few disciplines from riding my Astra twin tip, to my 4'10 Charger surfboard or to the Scoop foil, and sometimes, I'll go wing in between. It makes it fun to mix it up some days. I never get bored.
You're multi-talented, shredding in kiting, winging, surfing, and foiling. What does it take to maintain a high level of skill across the board?
Maintaining a high level of skills takes a lot of practice, time, effort, passion, and drive. It also means taking care of yourself when you're not doing your sports, like cross training, eating right and getting schoolwork done.
What about when you're off the water? What does the life of Marley Franco look like on dry land?
When I'm not out surfing, winging or kiting, I will normally be skating with my friends or doing jujitsu. When my parents go to work, I usually go to the Paia Youth and Cultural Center, which is right on the beach and has a skate park. There you can surf, skate, shoot hoops or go on adventures with Brando, who is one of the rad counselors. If we are home, I'll be doing chores around the house, One Wheeling, skating the half pipe, doing school, hanging out with friends, driving around in the golf cart doing burnouts, or, at night, playing video games. As a family, we also watch the Formula 1 races and WSL surfing a lot. We go mountain biking in the Makawao forest in the summertime when there's no wind or waves.
What's coming up for you in 2022? Any exciting projects you're working on? Any family kiting trips or North shoots?!
I have a couple of exciting projects coming up this year. We are working on a fun trip later this summer to Europe to meet up with my godparents, who live in Holland and from there, we will travel to a few other countries. We will also go to the Gorge in Hood River, Oregon and see some of my family and do some camping and wind sports. I will also have some bigger photo shoots later this year, which are always fun with the other team riders. In between, I will keep working on progressing in my sports and go on some other trips!
Click here to find out more about Marley Franco on the North Kiteboarding website!
Editor at IKSURFMAG, Crystal Veness hails from Canada but is based in South Africa. When she isn't busy kitesurfing or reporting on the latest industry news for the mag, she is kicking back somewhere at a windy kite beach or working on creative media projects.
Featured in this Post
United States
229,663
65,651
12,673
Comments