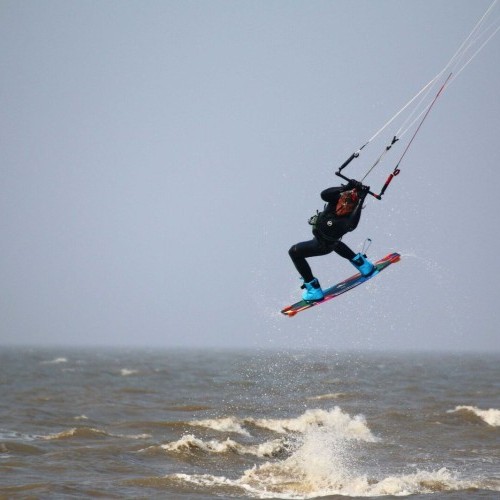 Sankt Peter-Ording
Germany
Why Visit?
2km wide and 12km long, Sankt Peter-Ording is home to a beautiful wide landscape featuring the biggest beach in Germany. One of the best things about the beaches is that when the kitesurfing season starts (from Easter until November), there is no need to walk the beach to get to the kite spots as all the beaches are accessible by car/van and you can park directly at the kite spot!
Sankt Peter-Ording is located on a peninsula and has a lot of different spots for almost every kind of kitesurfing conditions you could ask for! There are flatwater spots for freestyle kiting, shallow lagoons for beginners and wave spots (please don't expect a point break, it always a bit messy but we have gotten waves up to 4m before in strong winds!)
The Kitesurf World Cup has been hosted at Sankt Peter-Ording for the past ten years because of the fantastic conditions while at the same time its a great spot for beginners.
You will have a great time if you come and visit with a campervan as you will feel the freedom and the ability to go to all the kite spots but keep in mind that officially, it's not allowed to bbq or camp at the beach itself.
Wind and Weather
The local kitesurfers in Sankt Peter-Ording kitesurf all year long, as long as the northern sea isn't iced over.  During the season, it's still freezing with water temp below 10°C and lasts until November! As we are in the northern sea, in the north of Europe, you can leave you boardshorts and bikinis behind! It's rarely warm here, to be completely honest with you... except for possibly two weeks in summer! Bring your Snowwear, that's the best clothing at the beach (no joke) and its wind and rain proof!
From the end of March until mid of April you will need 6/5mm wetsuit,  5/4mm or 4/3mm, depending on how tough you are.
The best time is the end of March until the beginning of June then again from the start of September until November. The weather is pleasant, and the wind blows 15-20 knots or stronger most of the time.
I would recommend you bring along a 7m, 9m, and 12m kites and if you bring a light wind kite, you're covered and will be on the water almost all the time!
Courses usually run from the beginning of April until the end of October in 4mm or 5mm wetsuits, sometimes with boots and gloves, but just on freezing days.
Getting Around
To get around, there are taxis and bike rentals, but as the village is quite long, you are better off renting a car.  With a rental, it's a lot easier for you to move from one kite spot to another and be able to move your stuff easily as it's often raining and windy.
Food and Drink
In Sankt Peter-Ording there are so many restaurants; you will not go hungry, I promise!
Nightlife
If you are looking for partying in a club, this is not the right place!  There are some nice bars and restaurants but most of the time you will find the other surfers just hanging out in their vans at the beach, and that's usually the best vibe. There is a village party once a  week in summer and a big party every first Saturday each month in a well-known fish restaurant.
We also have an excellent Irish pub, called Eagans, just a few km outside the village on a golf place (don't expect just old boring people, we all go there for a few beers!)
No Wind?
If there is no wind, we go for a SUP tour on the northern sea or relax at the beach. You can play golf or go horseriding on the beach. The closest cable park is about 60km away, so if you have a car, it is possible as well. You can also always book a boat trip to the island Helgoland and have a look at the seals - they are fantastic!
Internet
We only have two good internet providers; Vodafone and T-mobile. I would recommend buying a sim card because not every restaurant or bar has free WiFi and you need the internet to check the forecast!
Accommodation
The whole village is packed with hotels and apartments, look on Airbnb. There is a nice motel called The Beach Motel, and it is pretty much just that, the rooms are nice, and some have a sea view if you ask for it. The Beach Motel is home to the main bar for drinks in Sankt Peter-Ording.
Featured


Located 220km from Lima, Paracas shares the border with a national park. The town has a large fishing community, as well as touristic shops and restaurants. Paracas is one of the closest kite spots to Lima, and it attracts kiters from all along the coast. The spot is perfect for all levels of riding; closer to the beach, the water…


I believe the Isle of Thanet to be quite a unique destination when it comes to kiting on the mainland of the UK. Once described as a boil on the butt cheek of Britain, I now like to refer to it as more of a beauty spot lovingly! As kitesurfers, we are undoubtedly spoilt; never being more than a 10-minute…


Tarifa is the most southern point in Europe, world widely known for having insane winds! If you are hoping to get very consistent wind, this is the place to go. There are loads of different spots that work depending on the wind direction. In Tarifa, you have a Levante that blows from the east and the Poniente that blows from…
Hauke Hinz has been a kitesurfing instructor for more an 10 years and currently runs a kitesurfing school in Sankt Peter-Ording, where they train beginners as well as advanced kitesurfers.
Been to Sankt Peter-Ording? What did you think?
Where are the Best Kitesurfing Beaches in Sankt Peter-Ording?
Hauptstrand is the main kite beach and is the most popular spot and has a good mix of flatter water and waves on the reef. When it gets windy, it can get choppy on the inside, and during peak times it can get busy. Hold off for an evening session or get out during lunchtime to avoid the masses. On high-tide, there are bigger waves and deep water. At low tide, you get little waves and bigger shallow area. Good at SW to N Winds. Never go in offshore winds!
Wind: Cross on from the right
Waves: Out on the reef
Shorebreak: No
FKK-Strand is the same as Hauptstrand but best at NW Winds. Never go in offshore winds!
Wind: Cross on from the right
Waves: Out on the reef
Shorebreak: None
Südstrand is a shallow lagoon with perfect flat water behind a sandbank. It is only kite-able 2 hours before, and 2 hours after high tide, otherwise it's dry! Perfect in SW Winds, but its working from SE to NW. In offshore winds, there is always a sandbank on the other side.
Wind: SW, SE, and NW
Waves: None
Shorebreak: None
Böhl[54.292618, 8.656312]
Böhl is best for beginners; it's a huge spot with shallow water and no waves at all. Check out Kitesurf-Training while you are there. You have to walk a bit, but its worth it! Best on W to SW, but also works from SE to NW. In offshore winds, it's a good spot at high tide because there is a massive shallow area, but you still need to know what you are doing! So for beginners: don't go in Offshore!
Wind: W, SW, SE and NW
Waves: None
Shorebreak: None
When is the Best Time to go Kitesurfing in Sankt Peter-Ording?
The windy months to go kitesurfing in Sankt Peter-Ording are March, April, June, September, October, November
Statistics
Kitesurfing Hotels and Accommodation in Sankt Peter-Ording
Do you know a good kitesurfing school here? Submit it below.