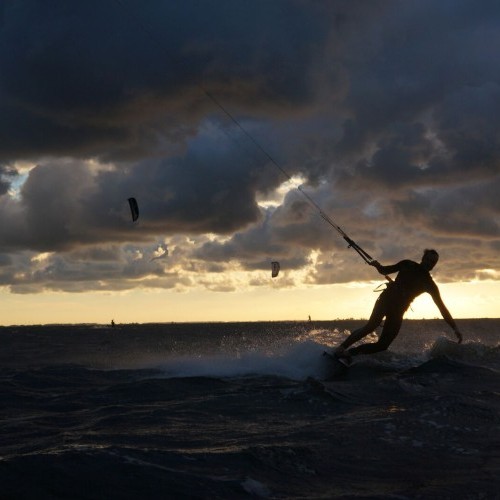 Why Visit?
The region around Greifswald is beautiful, wide and still not very touristy. The Greifswalder Bay is a huge bay with no currents and home to several great kitesurfing spots. It's perfect for training and also good for foiling (if you stay out of shallow water) and not too crowded. The kitesurfing is not tide-dependant, and in the summertime, you'll have some memorable sunsets!
Wind and Weather
Loissin is one of Germany's sunniest places! The wind direction usually comes from the west over north to east in Loissin with nearby spots for other directions. The additional thermal effect makes wind from the east generally stronger than predicted, and there is a 60% wind probability.
The air temperature from April to October can range between 10-30°C and water from 10-20°C. Wetsuits are generally always recommended! People still kite here during the off-season, but you'll need a thick wetsuit, hood, shoes, and gloves!
Getting Around
The easiest way to get to Loissin is by car, but you can also get here by taking the train to Greifswald and from there on taking a taxi (its about 25 EUR) to Loissin. Once you are here everything is close by so you don't need to move around too much.
Food and Drink
There is a supermarket near the camping spots that you can buy food from, and there are two good restaurants nearby as well that you can have a meal at.
Nightlife
Loissin itself is pretty chilled; we enjoy just listening to music by the campfire and having some drinks. If you are in the mood for going out, you can always head to Greifwald, and over there you will find several options including bars, a nightclub, and restaurants.
No Wind?
At Boardway (the kitesurfing centre), you can rent a SUP, or you can also go sailing (which works well in light wind) or rest at the beach. A visit to the nearby islands Usedom and Rügen or a walk in the city Stralsund are worth a day trip and are highly recommended.
Internet
The internet is not fast, but it's existent! You'll get some connection at the campsites as well as the kitesurfing station.
Accommodation
People tend to go camping or sleep in caravans, but if you are not in the mood for that, there are vacation homes for rental nearby.
Featured


Located just one hour from Fort Lauderdale or 30 minutes from Nassau, Cat Island is one of the 700 islands of the Bahamas where you can step out of the plane and disconnect with the world! Far away from mass tourism, this is the perfect place to relax or enjoy epic conditions for kiteboarding, surfing, sailing, scuba diving (and shark…


The Island of Paros has been growing in popularity over the years as more kitesurfers and windsurfers learn about the amazing wind conditions over July and August. With its authentic Greek cuisine, lively community and warm weather, there are very few reasons not to go! How to get to Paros Athens Airport is the main airport for international flights arriving…


When thinking of ideal kiting locations, turquoise water, sunshine and consistent winds spring to mind and Great Britain can deliver these despite its poor reputation. Southend On Sea is just a 40-minute train ride from London and offers some of the best flat water spots, with spacious lagoons and flat butter water! There is also an awesome kite community with…
Peter Goldbach has been kitesurfing since 2000. He started out by running a kitesurfing shop in 2002 and the Kitesurfing School Boardway in 2006. From 2007 to 2011 he worked as editor in chief for the German magazine Kitelife. Peter loves all kinds of kiting especially hydro-foiling and paragliding, but not as much as he loves his family!
Been to Loissin? What did you think?
Where are the Best Kitesurfing Beaches in Loissin?
Loissin's kite spot has a vast area with waist to chest-deep water. Water is flat to choppy, depending on the wind. On good days, you can even get 1.5m waves (not breaking) to play with further out.
If you stay outside the flat area, it's good for foiling. Rental and kite school are directly at the spot.
Wind: SW, WSW, W, WNW, NW
Waves: Up to 1.5m on some days but generally none
Shorebreak: None
When is the Best Time to go Kitesurfing in Loissin?
The windy months to go kitesurfing in Loissin are April, May, June, July, August, September, October
Statistics
Kitesurfing Hotels and Accommodation in Loissin
Do you know a good kitesurfing school here? Submit it below.