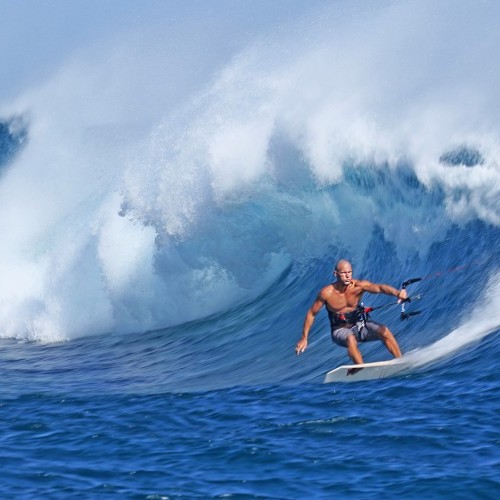 Why Visit?
Fiji is a beautiful and vibrant archipelago in the South Pacific. Here the pace of life slows as you're now on Fiji Time! The locals do not stress and are some of the friendliest people you will find anywhere. The Pacific Ocean meets the islands barrier reef systems, head-on. Producing many exhilarating and varied world-class surf breaks, including the famous Cloudbreak, Restaurants, and Frigates. The reef systems and their turquoise waters are also responsible for some amazing fishing, and diving conditions. Mainland Fiji's Coral Coast boasts a beautiful tropical coastline made up of numerous crystal clear water bays and coconut tree-lined, white sandy beaches to be enjoyed. You can access this pristine playground via the many luxury resorts found nestled tastefully amongst this tropical backdrop. This paints a pretty picture I know… but kitesurfers, what if I told you that during Fiji's winter, they experience consistent 15-25 knot trade winds in a complementary direction to the waves, which then allows you to kitesurf most of these surf breaks. We're talking real kitesurf wave adventure here…outer reef break boat missions and Coral Coast filthy long inner reef break down winders, linking multiple quality breaks at your leisure.
Wind and Weather
The windy season south-pacific trade winds kick in from June to November. The South East wind blows 60% of the time at 15 to 25 knots. When it's not windy, there are always waves. The Southerly swells batter the Southern reefs for 12 months of the year. Being tropical, it rains intermittently, and the contrast is nice between the hot sunny days. Board shorts and bikinis during the day, and occasionally you may want a hoodie in the evenings. For kiting bring a rash vest or at best a 2mm wetsuit top, for the odd southerly wind or late evening sessions.
Getting Around
Every resort and backpackers offer transport. Buses run up and down the Queen's highway around the island every half an hour. Taxis are super cheap, and the drivers are friendly. Car rentals are also cheap and go from $50 - $150 (FJD) per day.
Getting There
Nadi is an international airport, offering flights from San Francisco, Hawaii, Los Angeles, Sydney, Melbourne, Brisbane and even the gold coast. Smaller flights are also available from all around the smaller Pacific island nations.
Food and Drink
Fresh fruit and veggies, and seafood are in abundance here. The Fijian meals are basic but delicious, such as Vikavaka Lolo (fish in coconut sauce) as well as the famous Lovu (food cooked in the ground). A strong Indian population means you're in luck if you like fresh curries! It's super easy to find western and Asian food at many of the resorts and restaurants around the country. The local beers are cheap and cold. Fiji bitter being the pride of the nation, but I would strongly recommend Vonu, as its smoother and 10c from every bottle goes to turtle conservation. Australian beers are for sale at every liquor store as well as Australian wine. For the non-alcoholics, fresh fruit juice cocktails or coffee might be a better option.
Nightlife
Nadi and Suva have an exciting and colourful nightlife.
No Wind?
No wind, no worries…usually means the surf gets even better. Almost guaranteed to come home with dinner on the fishing charters, as fish stock are still abundant here. Scuba diving and snorkelling are on another level because of the water visibility. Day trips to the many islands, visit waterfalls or even white water rafting, the list is endless. There is pretty much something to please everyone...
Internet
Internet works consistently, with speeds around 6-8mbs. Remember it's Fiji time here, but it's relatively painless to upload photos to Instagram and Stalkbook. Rarely does it buffer when you're watching YouTube.
Accommodation
The Beachouse has a famous reputation in Fiji. It's cheap, fun, caters for all crowds, from families to party groups. It offers different levels of accommodation from dorm rooms to garden burees. Set on a beautiful beach with a wave and kitesurfing out the front it's hard to go past.
Mango Bay is set on a large lush acreage fronting a beautiful beach. It's a quiet tropical paradise where it's easy to lose track of time relaxing on the beach or by the pool. Twin, double, and standard rooms as well as dorms, caters for everyone. However romantic couples would not be disappointed.
The Uprising resort is in Pacific harbour (the adventure capital of Fiji) coral coast This resort on the beach is beautiful. It's large and caters for all groups. Close to the shops of Pacific harbour, the golf course as well as tour operators running zip lining and white water rafting. There is no lack of things to do while staying at The Uprising. Catering for all budgets, and all levels of accommodation.
Featured
Punta Chame, located close to a quiet fishing village, the spot offers a vast beach with a lot of space for beginner and advanced kitesurfers to practice and progress, making Punta Chame is an excellent place for kitesurfing. Besides that, there are fantastic places to travel to while you are visiting Panama. Wind and Weather Panama gets consistent wind from…
Hel Peninsula consists of one of the biggest beginner-friendly lagoons around Poland. The shallow (waist deep) lagoon stretches from 500 to 1000m across the entire Peninsula. Clearwater, sandy bottom, no reefs, no significant tides changes, no sharks spottings and lot of space make this place perfect for beginners and intermediate riders. Additionally, the positive, laid-back vibe and nearby accommodation at…
Paje is the Pearl of Zanzibar and is one of THE world-class kitesurfing spots. With vast white sandy beaches and beautiful turquoise water, it is home to one of the most beautiful beaches in the world. Paje has fewer tourists than the North of the island, but it still has plenty going on in the evenings. The majority of tourists…
Daniel is a passionate kitesurfer who has spent last 12 years travelling the globe for the best kitesurf locations. He now offers Guided Global Kitesurf Packaged Tours, and Wave Clinics in Fiji, Indonesia, and Mauritius.
Been to Coral Coast? What did you think?
Where are the Best Kitesurfing Beaches in Coral Coast?
Ranked in the top 10 best/most challenging waves in the world, and also a leg of the WSL tour, Cloudbreak is a fast barrelling left over a shallow reef that tends to get faster, shallower and more critical towards the end. This wave would be on every kitesurfers bucket list and works well with an SSE trade wind. Expect to plant multiple smacks down the line on this long left, and if conditions are right and you're a charger, you'll even get in the barrel. (Advanced Riders)
Wind: Cross-Cross off from the right
Waves: Outer Reef Break (Lefthand)
Shorebreak: No
As the name suggests, Namotu Lefts is just off the back of Namotu Island. It's a fun and very rip-able kitesurfing wave, not as exhilarating or critical as Cloudbreak. This predictable left gets a nice wall on it and also allows for some hits down the line with a gentle rap around the reef towards the end. Quite a good wave for unhooking when the wind direction is right, but you certainly won't be getting shacked here. (Intermediate-Advanced Riders)
Wind: Cross-cross on from the right
Waves: Outer Reef Break (Lefthand)
Shorebreak: No
Located 15km off the doorstep of the Coral Coast, Frigates is one of the southernmost surf breaks and picks up more swell than anywhere else. Offering three breaks in one and surfable all tides, it also is unaffected by the trade winds. The top break, Doctor Deep's, is super fast and more cross shore, and starts turning cross off through The Peak where mad barrels and many smacks at the face are the order of the day, and then leading into Sidewinders where it's still hollow but tends to become too offshore and harder to stay on the face. (Intermediate-Advanced Riders)
Wind: Cross-Cross off from the right

Waves: Outer Reef Break (Lefthand)

Shorebreak: No
There are seven separate reef breaks within a 20km distance of one another, with setups ranging from cross-on to cross-off, mushy to hollow and barreling, typically left-hand waves. These various setups will cater for numerous riding styles, such as redirecting the kite top to bottom, or hooked and unhooked down the line drifting.
Along with wave difficulty levels from basic to hardcore to choose from. Access to these coral coast breaks is mainly tidal dependent, and a level of coordination is required. The best way to experience these waves is to take a guided downwinder tour, and be spoilt with the selection of waves the whole way down, and rewarded with cold beers at the end.
Wind: Cross on-Cross off from the right

Waves: Inner Reef Breaks (Lefthand)

Shorebreak: No
Sigatoka is a quite fun beach break and the only one to be found along the coral coast region. Breaks are typically formed the whole way down the beach by the ever-shifting and migrating sand bars. There is an A-Frame to be found closer to the river mouth and certainly can be fun when conditions line up, allowing 2-3 turns down the line before sectioning out. Sigatoka is a great light wind day option, as it typically gets 10 knots stronger here than anywhere else along the coral coast. On a 25 knot wind day with an average swell, it's not uncommon for the waves to get as large as 1 ½ overhead, along with an angry inner dredging shore.
Wind: Cross-Cross on from the right
Waves: Beach break (Lefthand)
Shorebreak: yes
When is the Best Time to go Kitesurfing in Coral Coast?
The windy months to go kitesurfing in Coral Coast are June, July, August, September, October, November
Statistics
Do you know a good kitesurfing school here?