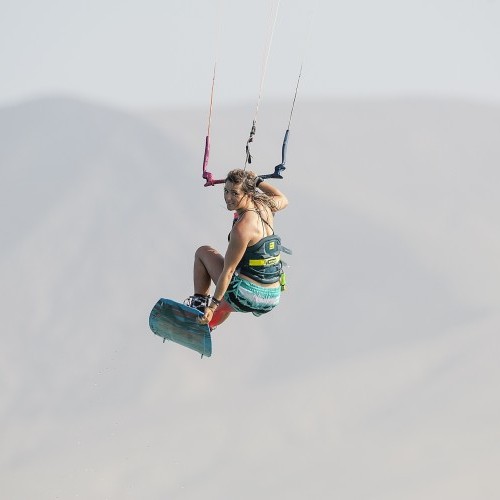 Why Visit?
Fuerteventura might sound already familiar to you. It has been home of the World Kiteboarding Freestyle World Tour for many years and place for many brands of the industry to test their gear or make their annual meetings. "Fuerte" is one of the 7 Canary Islands, geographically part of the African continent, this Spanish island is located in the middle of the Atlantic, 2h 30min from Madrid by plane and 100km from Tarfaya, África.
Being a local... What can I say about my place? Well, I can assure you I've been in many other countries, and places in the world (Philippines, Brazil, USA, Cape Town) and I still believe Fuerteventura is impressive. You got a nice temperature 12 months a year if you don't have wind you have waves, beautiful beaches to lay down, roads in the middle of nowhere to get lost, mountains to climb (yes, we have some), landscapes to enjoy and photograph... We also have parties, amazing parties! Fuerteventura should be on your list of places to visit kiteboarding related.
Wind and Weather
The average temperature of Fuerteventura is 20ºC. In summer we can get +30ºC and in winter 18ºC. Lovely, right? The predominant wind here is called "Alicia". The windy season goes from March to August.  This doesn't mean we have wind every single day (at least in the north of the island) and it doesn't mean we don't have a wind at all in the offseason but, if you want to get something closer to 100%, your time to visit the island is between June-August.
I get this asked many times, and I'll try to make it clear. No, don't come to Fuerteventura in September, it is famous between fisherman and surfers because, typically, the wind shuts completely down* *Note, with the climatic change this might differ a little bit which means, maybe you find wind in September, perhaps not in May or June but usually the island is a wind machine.
Getting Around
Unluckily, public transport on the island is not very efficient and it doesn't have many stops (especially not to the beach) so better get yourself a car, hitchhiking is also an option. Taxi can be an option if you're not living far from the beach but it is the more expensive option.
Getting There
Luckily Fuerteventura is very well connected. There's a lot of offers around Europe to fly here and a lot of direct flights. Which is the best company? Well, I recommend you to check first the baggage allowance since you will be coming with a board bag and... that's it. Easy. Most of the companies flying here are quite good.
There are also two other options I might recommend in case you find the prices are lower:
1) Via LANZAROTE (ACE). You can take a direct flight there (if it's not direct I wouldn't recommend it) and then:
1.1) Take another flight to Fuerteventura.
1.2.) Take a 1-hour bus + 15 minutes boat (more recommended option). This option allows you to see a bit of another island and cross the littler straight we have between Lanzarote and Fuerteventura and see Lobos Island from close. It's is beautiful!
2) Via Gran Canaria (LPA). Fly to LPA and then:
2.1. Take a flight to Fuerteventura.
2.2. Take a boat to Fuerteventura (there are two companies, Armas and Fred Olsen).
Food and Drink
In Fuerteventura, you can find a good and wide variety of food at various price ranges. There's a lot of local places with typical food from the island, some are fancier, some are less... but in Fuerteventura, there's something ruling, not the most elegant place is the tastiest one (when it comes to typical food). Water is not supposed to be drunk from the tap. Buy it at the supermarket.
I recommend you to try the following food:
- Gofio.
- Caldo de Pescado.
- Papas con mojo.
- Lapas.
- Goat cheese.
-Any fresh fish.
We also got some rum's made in the Canaries and some typical wines you should try. And, if you like natural homemade ice-cream, power smoothies, energy and healthy cakes... It's your lucky day! After your session in Flag Beach, you can visit Secreto del Sur. It' less than 5 minutes from the beach and it will be the perfect way of refuelling after your session. Honestly, if I go, I would have breakfast there, food and dinner!! So tasty (and healthy)!
Nightlife
Depending on when you come to the island there may be a lot of parties, usually something is going on the weekends. In summer almost every day you'll find some cool parties, and for sure you'll be able to have some fun.
No Wind?
If there's no wind, it looks like there's nothing you can do on the island, but I'm going to make a list of things you can do if there's no wind:
- Take the car and get lost (there are some key spots you should visit.)
-Learn to dive
Internet
Internet on the island works well. There's Wi-Fi in almost every bar or restaurant, and you can also get a sim-card to have some internet while on the go.
Accommodation
There's a bunch of places to stay at Fuerteventura. Depending on where you are going to stay, north or south and the budget and the kind of hotel you are looking for. Tripadvisor can be a really good help on this.
Featured
If you're looking for the perfect getaway vacation that involves water, beaches, water sports and a serene nightlife, you can't get any better than Boa Vista! It is the must-go-to-location for beach and water lovers. Boa Vista is located on the eastern side of the Cape Verde Islands and is the third largest island in the group. Boa Vista, which…
St Martin is mainly known for its consistently dry climate and sunny weather. However, not everyone knows that its wind conditions are also consistent year round and the crystal clear waters offer a wonderful playground for everybody. Half Dutch, half French, the island offers a multicultural  atmosphere. You will enjoy the French fine cuisine, duty-free shops on the French side…
Tarifa is the most southern point in Europe, world widely known for having insane winds! If you are hoping to get very consistent wind, this is the place to go. There are loads of different spots that work depending on the wind direction. In Tarifa, you have a Levante that blows from the east and the Poniente that blows from…
Julia is a kitesurfer from Fuerteventura riding for North Kiteboarding. After her shoulder injury she decided to spend her winter in The Philippines and she visited some amazing spots she decided to share with us. Her best result was Vice European Junior Champion in 2013 and she also did some world tour stops where she got 9th place.
Been to Fuerteventura? What did you think?
Where are the Best Kitesurfing Beaches in Fuerteventura?
Flag Beach is the most known and easier spot of the island. In the summer it is choppy-flat, and in the winter it is wavey. You should have in mind that this spot works with tides so on high tide you won't be able to touch the bottom (which is a mix between sand and rocks, mainly rocks) but with the low tide is not recomended to kite here unless you want your board a bit destroyed.
Wind: Side Off
Waves: In winter and with on-shore wind
Shorebreak: Normally not, however it changes with swell
Also works on tides and it depends on quite a lot of when you go. Normally it's a sandy beach, but you can also find it full of little (or big) rocks. The beach is quite long maybe being 1km long, and the views are super cool. On your back you will have the village of "El Cotillo", and your view will be the long coast of the North Shore of Fuerteventura. The wind is a little bit gusty since it touches the village but nothing too bad. It is important to have a bit of a good level in this spot; it can be tricky due to the number of different watersports and people that can be on the beach and the water. You'll also find some hidden rocks. Please, be careful.
Wind: Side On
Waves: Yes
Shorebreak: Quite big
One of those dream spots where you can find fine white sand, crystal clear turquoise flat water that almost only Brazil can be proud of. A spot not recommended for nonexperienced riders (and please, be realistic about your level, there's no rescue here) where you will have loads of fun.
Wind: Side Off-shore
Waves: Normally only in winter
Shorebreak: Normally not, however it changes with swell
Matas Bay Kiteschool discovered us a new spot on the island. We knew it was there, but it wasn't famous. Located on the South of the island, near Costa Calma, Matas Bay is one of the flattest spots on the island. Due to the wind being almost entirely offshore, we've got a bit of Venturi effect which makes the number of windy days increase big time in comparison to the north of the island.
The water is crazy flat! Lovely!
Wind: Off Shore
Waves: flat, flat, flat paradise
Shorebreak: no
When is the Best Time to go Kitesurfing in Fuerteventura?
The windy months to go kitesurfing in Fuerteventura are March, April, May, June, July, August
Statistics
Do you know a good kitesurfing school here?
Kitesurfing Articles that Mention Fuerteventura
Issue 83
This was the mantra on the Duotone shoot in Fuerteventura this summer, with only 12 days to get all the shots for the new boards and kites, it was a non-stop mission to ensure success! Luckily they scored some great waves and wind too!
Issue 77
5 x Brazilian Champion, 2 x Triple-S Winner, 5x Vice World Champion and a 3x Freestyle World Champion, it's safe to say that Bruna Kajiya is one of the most iconic female riders out there! Find out what she's been up to lately and how she has fitted into the North Kiteboarding team, click here!
Issue 1
No bullshit, no tales of great riding just all the facts you need to go there and have a great time.
Kitesurfing Videos and News in Fuerteventura