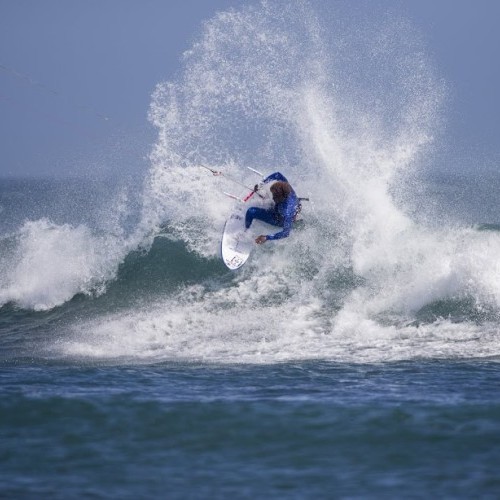 Why Visit?
Punta San Carlos is one of the most rad places on the planet; if you are into riding waves, then you must have heard about this fabled spot already. It's been frequented by windsurfers and surfers for over 40 years and is now home to a proper camp that has been set up and run by Mr Punta San Carlos, Kevin Trejo. This is wilderness kitesurfing at its best, accessible by a proper off road 8-10 hour drive in a serious 4x4 or by a private plane; once you are in Punta San Carlos you aren't getting out quickly, that's a good thing though as you'll fall in love with the place!
Wind and Weather
Punta San Carlos enjoys it's own microclimate, while the forecasts for the nearby area might look terrible it is often blowing at the spot. The best time of year to go is from February to November for wind, and the best waves are in the springtime, although of course, any swell out in the Pacific will hit the coast here. The wind is generally light in the mornings, so it's perfect for a surf, SUP or MTB ride, then it fills in during the afternoon and continues to blow through the night, before dropping again in the morning.
The water isn't super warm; a 3/4mm suit or shorty for the brave and a 5/4mm for those that feel the cold will be perfect. In the evenings the temperature drops, you are in the desert after all so take some warm clothes, a woolly hat, warm footwear, jeans and a light down jacket would be our top tip! During the day the air is warm, it's shorts and t-shirt weather, and the sun can be intense so use plenty of the free sun cream at your disposal!
The wind can blow from 12m weather right up to howling 6m weather; it blows cross offshore from the right. There is an elusive "system" that works according to high pressures in the Pacific; if that's not working, then you get a thermal wind too. There is no real magic to predicting the wind here, but there is so much to do, and it's consistently windy, so it is very rare for anyone to be disappointed!
Getting Here
Kevin and the crew at Solo Sports offer a package that includes flying you in from San Diego in a small plane. There is nothing for miles around at Punta San Carlos; it's about as remote as you can get. The drive from San Diego takes between 8 and 10 hours, and a good portion of that is on a dirt track. You'll need a decent 4x4 or a plane to get here.
The "fly-in" experience is pretty special, we're talking 6-10 seaters and flying in low over the coast and then landing on a dirt airstrip just at the back of the Solo Sports Camp, it's a 30 second walk from the plane to the bar!
The Riding
Punta San Carlos is all about waves, this place is home to one of the best right-hand point breaks I have ever seen, and I've ridden in Maui, Morocco, Mauritius, Australia and South Africa. It is quite simply insane how good the wave is here. With cross offshore winds, it is perfect for wave riding, and there are smaller waves out the front of the camp, bigger ones out the back and you can even get barrelled on the point.
Getting Around
Use your legs, there are no roads, and the only life is at the camp. All the kit is there ready to use, and the furthest you will have to walk is to the outhouse on the other side of the landing strip. There is no need for transportation!
Food and Drink
The food here is fantastic, Kevin has a crack team of cooks and helpers, and you'll be feasting on three cooked meals a day. It is a good thing the conditions are so good as you'd get fat otherwise! If you like tequila you are in luck, Mexico, of course, is full of it and the bar at the camp is well stocked with the stuff.
Be sure to try at least one Baja Fog while you are here, although if you make it through a week having just had one, then you are doing something wrong! All the food and drink is included in the price of your trip, and it is all you can eat and absolutely all you can drink!
A Baja Fog is a Corona bottle with tequila floated on top filling up the neck of the bottle, add freshly squeezed lime and you are good to go! They taste a lot better than they sound, especially after the first couple!
Nightlife
The camp bar is where the action happens; depending on who is at the camp at the time depends on how lively it is. The team helped run the bar, and things get pretty lively under the stars most evenings, there is nothing for miles around though, so don't expect to head out to the local disco for any potential action!
No Wind?
The waves here are amazing, so you'll be surfing and riding SUP most mornings, the equipment is of a high standard, and there is plenty of it, the use of everything in the camp is included with the cost of the trip. Solo Sports also have a garage full of high-end mountain bikes and gear, and we mean high end. There is a network of trails just out of the camp, and some of the world's best pro riders come here to shoot movies. If the wind doesn't blow, you won't get bored.
If the resident photographer Clarke Merrit is in the camp you can always get a history lesson about the early native settlers in the area, it has a truly diverse and magical past and Clarke knows a lot about it!
Internet
Here is the kicker; there is zero mobile phone network, no WiFi and only a couple of computers that have slow connections to the outside, world. If you ask nicely, you can check your emails on the shared computer, but you can't upload or download any pictures, as it is expensive and not that fast anyway. PSC is a place to relax and get away from it all, send your last messages in San Diego and enjoy being off the grid!
Perhaps the most amazing thing is that you'll discover your iPhone battery lasts a week when you don't use it!
Accommodation
There are a couple of options here; you can go for a full all-inclusive trip through Solo Sports, this includes the flight on a private plane down here (highly recommended). If you are all inclusive, then you get your tent, three cooked meals a day, all the drinks you want and as much suncream as you can use. You have full use of all the toys: kites, boards, windsurfing gear, SUP, MTB the whole lot. Solo Sports provide decent two-person tents, everyone gets their own, so there is no sharing, and it's pretty cool to sleep under canvas each night.
Alternatively, there are essential "pitch up and stay in your motorhome options" that you can arrange with Kevin directly. Other than the Solo Sports camp though there is nothing else here, so we'd recommend the full, experience and embracing it for all it is worth!
It would be cruel to not mention the lavatory situation, don't come here expecting a porcelain throne with gold taps plumbed into a sewage system. For number ones it's stroll away from the camp and take a leak at number one spot, number two's is a walk to an outhouse across the airstrip and sit on a bench over a very deep hole. Sounds basic, but by the end of the week you kinda get used to it!
Featured
Ålesund (Aalesund) is a must if you are visiting Norway! Travellers either arrive on a cruise ship, by plane or drive from Oslo to explore our Vikings traditions, Art Nouveau architecture from the 19´century and last but not least, the incredible nature surrounding it; including the fjords, the Alps of Sunnmøre and the islands. The main city connects to the…
Bariloche is one of the most touristic and well-known places in Argentina, and people from all over the world come to visit it every year as every season has its magic. Bariloche is situated in a national park full of mountains, forests, lakes, and rivers topped off with super lovely kite spots, what's there not to love?! You get to…
Dahab (meaning 'Gold' in Arabic) is a small Bedouin town on the coast of the Sinai Peninsula. Only an hour away from St.Catherine and Mount Sinai, Dahab was initially filled with travellers on spiritual/religious pilgrimages. Dahab is also renowned for its windy conditions and its incredible underwater world. Anyone that has ever visited Dahab will tell you what a unique…
Rou has been kiting since the sports inception and has been working as an editor and tester for magazines since 2004. He started IKSURFMAG with his brother in 2006 and has tested hundreds of different kites and travelled all over the world to kitesurf. He's a walking encyclopedia of all things kite and is just as passionate about the sport today as he was when he first started!
Been to Punta San Carlos? What did you think?
Where are the Best Kitesurfing Beaches in Punta San Carlos?
Right out front of the camp is the easier wave, perfect for learning to ride and generally smaller than the other spots. It's a right-hand point break that peels perfectly allowing you to get many turns in and dial in your riding. At low tide, it can be rocky as you come in to launch and land so wear booties if you have delicate feet.
Wind: Cross off from the right
Waves: Right Hand Point Break
Shorebreak: No
Further out the back, to the right as you look out from the camp is the Bombora, this larger break wraps around the head of the island, and it can be a great place to tuck into some glory hunters when the swell is pumping. You won't get so many hits on this one, but it will jack up and make you feel like a hero… If the swell is small, this is the place to be!
Wind: Cross off from the right
Waves: Large and powerful
Shorebreak: No
Further down to the left of the camp is the break known as The Point, this picks up big swells and peels perfectly for what feels like an eternity. You can pick the wave up out the back and then fade left to get deep before unleashing as it rolls past the rocky point. One of the best waves I have ever ridden, certainly a contender for best right-hand point break for kiting on the planet… There is no beach here, just rocks and a small cliff, so it is for confident riders only, if it goes wrong there is a rocky exit point if you miss that it's a long swim to the fishing village!
Wind: Cross off from the right
Waves: Right Hand Point Break
Shorebreak: No
This is a section of the wave that continues past the point and jacks up offering the perfect spot to smash the lip. Many a great shot have been taken here, once you've savaged it you can continue the ride down as far as you dare. When you drop out the end if you are on your own, you feel like you are miles from the camp and miles from anywhere! It's a long slog upwind so make sure the wind is pumping!
Wind: Cross off from the right
Waves: Right Hand Point Break
Shorebreak: No
When is the Best Time to go Kitesurfing in Punta San Carlos?
The windy months to go kitesurfing in Punta San Carlos are February, March, April, May, June, July, August
Statistics
Do you know a good kitesurfing school here?
Kitesurfing Articles that Mention Punta San Carlos
Issue 45
Rou Chater heads out to Punta San Carlos in Baja to ride one of the best right-handers on the planet with Mitu Monteiro and the F-One America crew.
Kitesurfing Videos and News in Punta San Carlos
6 years ago
In Punta San Carlos, Brendan Richards took his foil strapless in less than 10mph wind with a BREEZE 11m (light wind one strut kite from…
7 years ago
You can't beat watching the talented Mitu Monteiro slaying waves and smashing the strapless freestyle. Check out this short edit from Punta San Carlos, the conditions look…
8 years ago
How would you like to visit one of the best wave spots on the planet for a week of intense coaching from non other than…