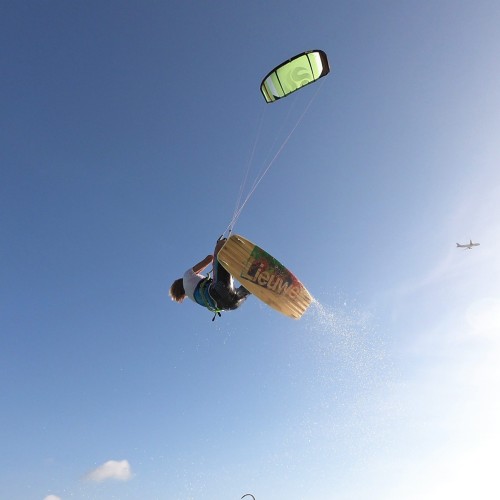 Why Visit?
This island is any kiters dream... with her crystal clear turquoise waters, white beaches, and constantly strong trade winds all year round, you can call Aruba a kitesurfing paradise! Besides kiting, there is an unlimited amount of activities you can do when you are exhausted from all the action on the water. After a stunning sunset every day, there are many bars, restaurants, and clubs around enjoy all night long.
Wind and Weather
Waking up and without checking the forecast, you know that you'll be kiting every day, all year round. The constant trade wind blows most of the days between 20 and 25 knots. Some days are lighter and range from 15 – 20 knots and some days the wind can pick up to 30 - 35 knots. The most used kite sizes are 7m to 12m.
Aruba does not really have a windy season, nearby heavy storms might affect the wind, however, the storms almost never hit Aruba, they take the wind away when they are passing by. You can still kite during these days, using larger kites or hydrofoil boards. Chances of low wind days are higher in September and October during the hurricane season.
With air temperatures between 25 and 30°C and a water temperature of 26°C all year round, you can leave your wetsuit at home and visit Aruba any time of the year.
Getting Around
If you stay in 'Noord', close to the beach and you do not mind talking a walk, then a car isn't really necessary. The flat water kite spot 'Fisherman's Huts' is within walking distance. However, a car will make your stay on Aruba a lot nicer since it will give you the freedom to explore the island and discover the local bars and restaurants. While you are here, you need to visit 'Boca Grandi' on the south side of the island for a session, you won't regret it!
Beside the car rentals, there are a lot of taxies and buses which will drop you to most places on the island, however, Boca Grandi is one of the only spots they don't go to.
Food and Drink
Aruba is a touristic island, therefore there are plenty of good restaurants and bars. There are also many supermarkets on the island where you can buy your groceries. The tap water of Aruba is one of the cleanest in the world and you can drink water from the tap without a problem.
Nightlife
Beach parties, lounge bars, nightclubs… Aruba's got it all! Start at the beach bar with your toes in the sand and continue partying in one of the nightclubs until sunrise. If you can't find a party in Aruba, then you probably did not leave your hotel room!
No Wind?
If you experience one of the rare days without any wind, there are plenty of other activities on the island to explore including scuba diving, renting a buggy, yoga, paintball, karting and more!
Internet
You won't be thinking about uploading pictures while you are here but if you do, the internet connection on Aruba is good. Just find a bar or restaurant and you will have a proper Wi-Fi connection.
Accommodation
For accommodation, it is highly recommended to stay in or nearby 'Noord'. 'Noord' or also called 'the High Rise' and is the place where all the bars and restaurants are located. If you don't mind spending a little extra, you find the most beautiful luxury hotels you can dream of. If you are looking for something simpler, there are a lot of affordable apartments close to the beach.
You can contact http://www.kitesurfingaruba.com/ for affordable packages including accommodation, car rental, and kitesurfing lessons.
Featured
The Island of Paros has been growing in popularity over the years as more kitesurfers and windsurfers learn about the amazing wind conditions over July and August. With its authentic Greek cuisine, lively community and warm weather, there are very few reasons not to go! How to get to Paros Athens Airport is the main airport for international flights arriving…
Rameswaram is a well-kept secret and one of the best kitesurfing spots in India. The eastern coast of India receives stable and steady trade winds for almost nine months every year, giving us a long kiteboarding season. Here you feel like real explorers, with so much on offer. You can indulge in the ancient history which features fabulous architecture and…
Zeeland is the record holder of most hours of sun every year in the Netherlands. Sixty kilometres of Northsea beaches make the area a trendy holiday destination for German and Dutch tourists during the summer season. Zeeland is known for nature, culture and numerous water sports possibilities. Zeeland has kitesurfing spots suitable for every wind direction, the most popular ones…
Ron van Leeuwen is a kitesurf instructor at Armando's Kite Shack Aruba. Besides teaching you how to kitesurf or how to improve your tricks, he shoots and edits all sorts of videos. Take a look at them on his pages and feel free to get in touch!
Been to Aruba? What did you think?
Where are the Best Kitesurfing Beaches in Aruba?
The Fisherman's Huts, located on the north side of the island, is the flat water spot of Aruba. This is where most of the kite schools are. The spot is within walking distance from all the hotels in Noord. The Fisherman's Huts has a big reef covered with seaweed. The wind is offshore, and because of that, the water is perfectly flat. The wind blows all day but is the strongest between 11 a.m. and 3 p.m.
If you go out kiting and because of the offshore wind you are not able to come back to the beach, you can walk back on the reef. If you cannot come back and you have passed the reef already, then the schools offer rescue services to get everyone back and safe to the beach and that costs about 20 USD/rescue. Because of the offshore wind and the obstacles on the land the wind can be quite gusty close to the beach. If you go further out to what is called 'the blue highway' you will find perfectly steady winds and amazing turquoise water. Don't stop kiting until you have seen at least one sea turtle!
Wind: Offshore
Waves: No
Shorebreak: No
Boca Grandi is a bay located on the south side of the island and is a spot for the more advanced rider. If you stay in 'Noord', it is a 50-minute drive to Boca Grandi. The wind is straight onshore and steady. In the bay, there are little waves from 0.5 to 1 meter. If you cross the reef upwind, you will find bigger waves from 1 to 2 meters. The wind on this spot blows all day but is picking up around 4 p.m. until after sunset.
Wind: Onshore
Waves: Yes
Shorebreak: No
When is the Best Time to go Kitesurfing in Aruba?
The windy months to go kitesurfing in Aruba are January, February, March, April, May, June, July, August, December
Statistics
Do you know a good kitesurfing school here?
Kitesurfing Videos and News in Aruba