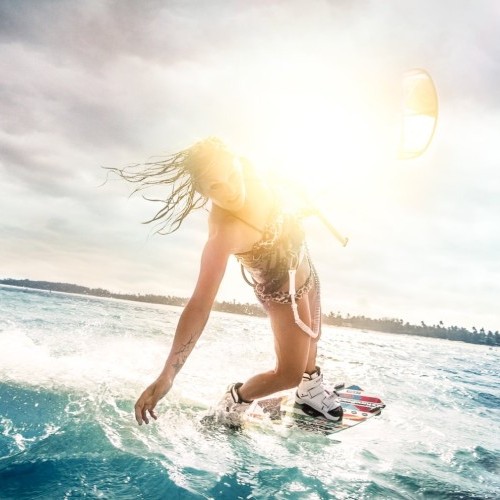 Why Visit?
Paje is the "Pearl of Zanzibar" and is one of THE world-class kitesurfing spots. With vast white sandy beaches and beautiful turquoise water, it is home to one of the most beautiful beaches in the world. Paje has fewer tourists than the North of the island, but it still has plenty going on in the evenings. The majority of tourists that go to Paje are mainly there for kitesurfing, so the town itself feels a lot more traditional and less 'touristy'. Zanzibar is a magical place, the locals are humble and honest, and the white sand is finer than I've ever felt!
Wind and Weather
There are two seasons in Paje; the first is from mid-December until February. This season is known as the Kaskazi, and it blows from the North at around 12-25 knots. The second season is from May until October, known as the Kuzi. The Kuzi winds tend to be calmer in the morning and stronger after lunchtime. During the December to April season,  Paje will get anticyclones from the Indian Ocean, which can send some decent swell, and that's when all sorts of surf spots start to come alive! Of course, when it's an offshore day, you have wave breaks! The reef in Zanzibar is not as vicious as some other tropical islands' surf spots. You do need to keep an eye out for sea urchins, though. Dolphins and turtles are seen regularly along the coastline and often join you for a surf session.
The tide in Paje dramatically changes the spot throughout the day, with low tides emptying the inner lagoon and sending kiters to the outer lagoon and sandbanks. The inner and outer lagoons offer perfect flat water knee-deep conditions at different tide states. The high tide sessions offer mild chop and some kickers for a bit of freestyle.
You need to watch the seaweed farms; they can easily be crossed at mid/high tide, but be careful!
Getting Around
You will get around on foot if you're staying in Paje itself! Everything is within walking distance from the beachside. However, if you want to venture out of Paje and check out different parts of the island (including Stone Town's capital), your cheapest way is the dala-dala. It costs about $1.5 per person to get to Stone Town to the north, east or south coast. Shared taxis operate from Stone Town for $10 per person. Regular taxis to Stone Town or any coastal area in Zanzibar are USD50 (minibus taxis accommodate up to 6 people). The dala-dala is the most entertaining and exploratory way to get around; it will be an experience you will not forget.
Food and Drink
If you are staying in a hotel, a restaurant will offer a diverse menu of anything from western cuisine to exotic fruit platters. Fresh fruit is abundant on the island - strongly recommended as a snack to stay hydrated in the heat! If you walk in the town of Paje, you will find numerous little fruit/vegetable carts around. Being right on the Indian Ocean, the seafood is delicious but can be pricey even at some local restaurants, so shop around before deciding where to dine. Every evening, a food market is set up at the beach, which can be the best place to try some of the local seafood and delicacies. If you are keen to test the proper local food, I suggest you walk in the town in the evening and explore the distinctive and delightful Zanzibari cuisine.
Nightlife
The community is small in Paje, and all the kitesurfing stations are relatively close. There will always be a party that can be found up and down the beach. Check out Jambos, Paje by Night and Teddy's place. If you seek somewhere in Stone Town, you'll find a variety of good restaurants, bars, and clubs. The clubs are relatively inexpensive, and the bars serve cheap beer. Reggae is the preferred music in Zanzibar, but many of the clubs and beach bars play a variety of genres of music.
No Wind?
There is plenty to do on the island when there is no wind! SUP is very popular, and SUP downwinders and tours are through the kitesurfing/surfing centres. Diving/Snorkelling is also top of the 'no wind' list, the marine life around Paje is stunning, and there is a big chance of spotting dolphins and humpback whales.
Jozani Forest is also something you want to experience. Home to one of the last remaining Red Colobus monkey sanctuaries. The forest is 6,207 acres in size and was declared a nature reserve in the 1960′s — a breathtaking forest with so much history. You will get a real rush if you are a photographer! Local superstition believes that leopards used to be sent from the forest by witches to feed on the local villagers. This was more recent than you'd think, only dating back to the 1960s when the government stepped in to cull all leopards on the island. Zoologists now assume them to be extinct in the area. However, there is still a myth that a leopard feeds there at night - perhaps that's why the forest closes at sunset.
Internet
There is free wifi in most of the hotels in Paje. So if you are not staying in one of the more prominent hotels, you can always pop in for a drink and log in to their wifi.
Accommodation
For accommodation, you'll find everything from super luxurious 5* hotels, boutique hotels, bungalows, Air BnB and holiday home rentals! Depending on your budget, you will find something that suits your needs.
Tanzania
Error getting country data...
Featured
Sao Miguel Do Gostoso is a kitesurfing paradise yet to be known by many. Imagine the best wind conditions in Brazil but without the crowds. Enjoy the adventure of northeast Brazil, a quiet and safe region full of like-minded good people. Hundreds of kilometres of wild beaches and dunes to travel with your buggy, epic downwinders, lagoons, waves, and more.…
This island is any kiters dream... with her crystal clear turquoise waters, white beaches, and constantly strong trade winds all year round, you can call Aruba a kitesurfing paradise! Besides kiting, there is an unlimited amount of activities you can do when you are exhausted from all the action on the water. After a stunning sunset every day, there are…
Nirvana Blue is a spectacularly remote off-grid boutique villa on a private 10-mile beach with world-class kitesurfing. Catch some of the best thermal winds of the Gulf of Mexico without having to share the breeze. Shallow waters, gentle waves, and high winds make for ideal conditions for experts and beginners alike. Nestled deep within the lush and vibrant Biosphere Reserve…
Italian/Egyptian Jen Tyler grew up on the sandy beaches of the Red Sea and has been on the IKSURFMAG & Tonic Mag team since 2017.
Been to Paje? What did you think?
Where are the Best Kitesurfing Beaches in Paje?
We want to welcome you to follow your passion for kitesurfing and surfing and enjoy the ocean with us. Our tiny paradise island of Zanzibar is precisely what you imagine for a tropical kitesurf destination. Learn to kite in a world-class flat-water spot or work on your surfing skills in a guaranteed uncrowded place. Our IKO or VDWS certified kite instructors and experienced surf guides would ensure a great kitesurf experience for you.
Wind: Depends on the season
Waves: Out on the reef
Shorebreak: Yes
The perfect association of this extreme sport, the laid-back atmosphere, and many enthusiastic friends inspired us to build one of Zanzibar's most attractive, fully stocked kite centres offering lessons, rental, storage, and a shop with equipment and accessories. IKO-certified instructors will lead you through the standard beginner and refresher course and teach strapless and freestyle clinics for those wishing to learn to jump, make their first backroll, un-hook, and nail those passes.
Wind: Depends on the season
Waves: Out on the reef
Shorebreak: Yes
Kite Centre Zanzibar on Paje Beach is set against a stunning background of the endless blue Indian Ocean, beautiful white beaches and an African village, where the pace of life hasn't changed for over fifty years. The reef is far off-shore, perfect for beginners and freestylers, with ample flat water. The reef itself offers great waves for the more experienced kitesurfer. The people are curious, friendly and welcoming, but they teach us what we in the fast western world lost a long time ago: Hakuna Matata (no problem in Swahili) and Pole Pole (take it slow). Therefore we believe Zanzibar is a truly unique place in the world. Combine this fantastic sport with relaxing and discovering the raw beauty of this relatively untouched island. We cannot wait to teach you this fantastic sport and share our knowledge of these waters and surroundings with you!!!
Wind: Depends on the season
Waves: Out on the reef
Shorebreak: Yes
Learn and practice kiteboarding in the optimal conditions: flat lagoon water, quiet beach and a high standard service paired with the latest equipment. We focus on safety and quality so that you can fully experience the joy of kitesurfing.
Wind: Depends on the season
Waves: Out on the reef
Shorebreak: Yes
When is the Best Time to go Kitesurfing in Paje?
The windy months to go kitesurfing in Paje are January, February, May, June, July, August, September, October, December
Statistics
Do you know a good kitesurfing school here?
Kitesurfing Videos and News in Paje
5 years ago
IKSURFMAG Partners With WINDY To Enhance Travel Guides The IKSURFMAG Team, along with the help of the incredible kiters we've met over the years, have…