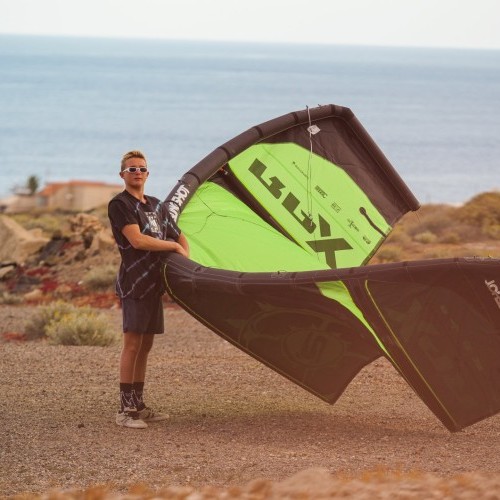 Up & Coming: Jeremy Burlando, 15
Features / Sat 8th May, 2021 @ 12:00 pm
It's not every day that a 15-year-old kiter takes the kite world by storm! Jeremy Burlando has impressed us with his powerful double handle passes, strapless freestyle moves, and strong performance on the kitesurfing scene. Already having 3 Junior World Champion titles under his belt and an international rider contract with Slingshot, Jeremy is one to watch out for…
Jeremy, thanks for taking the time to catch up with IKSURFMAG! You've been a part of the competitive kiting scene for a few years, but you've made some big moves in the industry over the past year! What's the most exciting thing that's happened for you in 2020/2021?
With a lot of pleasure, it's an honour being here answering questions for the IKsurfmag!!!
One of the most exciting things that happened to me in 2020 is to have joined the Slingshot Kite team! Such a good brand with perfect gear and so good people behind it! I renewed my contract just a few weeks ago, and I want to be with Slingshot for many more years!
You've participated in several freestyle competitions since you started kiting. Which titles have you claimed so far?
Yes, I started competing when I was 11 years old. My first one was in 2017 at the Youth Competition of the WKL in La Ballena Alegre, where I took first place in the U12 Category.
The rest of my achievements include 1st U16 Junior Spainkiteboardingleague Tarifa in 2019, 1st Copa Open Air Battle Spain (1st in both Adult and Junior) in 2019, Junior World Champion U16 (2019), Junior World Champion U14 (2018), 1st Air Battle Gran Canaria (1st in both Adult and Junior) in 2018, 3rd in Full Power Balneario Tarifa in 2018, and 3rd in WKL Youth World Champion U12 in 2017.
Win a Custom Designed Ozone Twin Tip this issue in our FREE subscriber prize draw.
What are your competition goals going forward?
This year the GKA finally organised a Junior Tour, although I wanted to compete with the adults. Let's hope that all these comps will be confirmed for this year!
How old were you when you first started kiting? Do you have any early memories of learning to kite?
The first time I saw a kite in my life was when I was 5. My father was kiting, and I was always watching him, and many times he was bringing me on his shoulders while he was riding. I played on the beach with the small trainer kite for many years until I was nine years old, then I went to the water, and I felt super comfy, and I started to ride right away!
What inspired you to get into the sport? Did you know right away that you'd love it?
For sure, my Dad inspired me. He always talked to me about Aaron Hadlow, and I've always watched many videos from him. I told myself that I wanted to be like him one day.
What is your favourite trick?
I've been pushing a lot the freestyle game lately, so I've been trying to double all the passes. My latest move was a Slim7.
What trick are you having the most difficulty sticking to?
As every trick has its own level of difficulty, I don't know. But you have the right mindset and don't think too much about it.
Who are you currently sponsored by? How have your sponsors helped you throughout your kiteboarding career?
SLINGSHOT, PROLIMIT and AVERS currently sponsor me. They've done a lot for me, and they're still doing a lot for me, and I feel fortunate that they're supporting me!
You were planning to go to Cape Town recently for a shoot with Slingshot. What was that like?
Unfortunately, I couldn't make it possible because of the Covid restrictions. But I'll go there this year for sure. Many people talked about it to me, and it seems like it's an enjoyable place.
Tell us a bit about your gear choices. What equipment are you riding and why?
I'm currently riding the Slingshot RPMv12. It is my go-to kite; I love it for everything, from freestyling to big air and strapless riding!
I use the new AsylumV5 for freestyle/wakestyle. For big air, I call it the "FERRARI", the new FORMULAV1 from Slingshot. It's the latest release from them, and I can say that it's the best carbon board I've ever ridden!
And of course, I can't forget about my waterwear sponsor, PROLIMIT! They've been doing really sick, stylish and high-quality stuff lately. My favourite wetsuit is the Predator wetsuit and the new Vapor Harness.
Congrats on opening your Pro Center in Italy! Can you tell us more about the location and why you chose it?
Thank you! My Dad and I are really stoked about it! It opened on the 15th of march in Lo Stagnone. We chose this location because it's one of the most famous kiteboarding destinations around the globe! Of course, we will be equipped with Slingshot and Prolimit gear!
For more info, you can check it here: http://www.jeremyburlandoprocenter.com
Are you involved in the centre's day-to-day operations, or do you do any coaching and teaching? What do you like about getting new riders on the water?
We have IKO instructors for the base courses, and I'll be available for clinics and advanced courses for people that would like to start to jump! I love the idea of getting people on the water, but not only to learn to kitesurf. I think that behind kitesurfing sits a lifestyle, and I can say that LIFE IS BETTER WHEN KITESURFING!
You've already achieved so much in your short career as a kiter. What else do you have on your list of long-term kiteboarding goals?
I wanted to become like Aaron Hadlow (5 times world champion) when I started kiting. I'm now 3 times world champion. There are a few more titles too, but for sure, I'd like to win more!
Which professional kiter do you admire the most? Why?
My biggest inspiration has always been Aaron Hadlow for his style and consistency. My father always told me that he was a big icon in the kitesurfing industry, and so I wanted to be like him. I also admire other kitesurfers from the freestyle world tour!
If you'd never discovered kitesurfing, where do you think you would be, and what do you think you would be doing right now?
Ohh, I can't imagine my life without the sea and my kite! I'd be somewhere around Europe wakeboarding or something, cause before kitesurfing; I've been wakeboarding for fun. I've always been an active kid, and I am still now. I never spent one day on the couch; I've always been outdoors doing something! Nowadays, I sit on the couch after a long day of kiting, hahaha!
When you're not kitesurfing, what are you usually doing for fun?
I'm super lucky to live in the Canary Islands! Tenerife especially, with its hot and tropical weather. I usually go out with friends, go skating or surfing, but I can't forget to work out and stretch outside of the water. I feel it's really important for my progression!
Win a Custom Designed Ozone Twin Tip this issue in our FREE subscriber prize draw.
If you could spend a season at any kite spot other than Italy or Spain, where would you choose?
That's hard to choose. I've been now for a long time here in Spain and would like to change now a bit. So I would stay in Lo Stagnone, Italy, not only for kitesurfing but also because of the food. 😉
What's next for you? Any exciting plans for the next year?
I've got some exciting plans for this year. I'll finish the mandatory school here in Spain in June, and then I'll leave for Sicily to visit my kite school. I'm so excited about it! Then I'd like to concentrate more on my training, and I'd like to start to film more around the world, and maybe start a photography career. But I still have lot's of time, and there is still lots to come. 😉
Sat 8th May, 2021 @ 12:00 pm
Editor at IKSURFMAG, Crystal Veness hails from Canada but is based in South Africa. When she isn't busy kitesurfing or reporting on the latest industry news for the mag, she is kicking back somewhere at a windy kite beach or working on creative media projects.
Featured in this Post
Comments