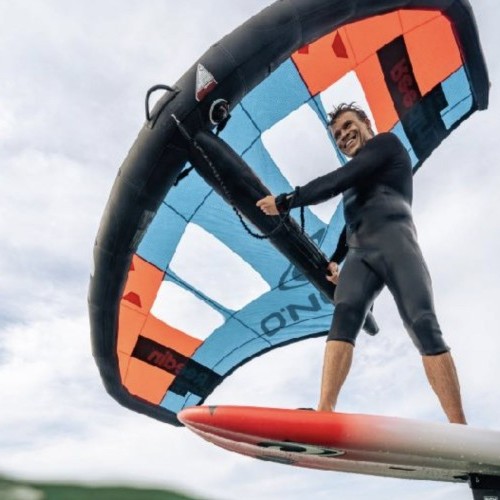 SS21 Kite Collab O'Neill x Reedin
Features / Sat 15th May, 2021 @ 8:11 am
BIG NEWS at O'Neill and Reedin! We're stoked to announce that O'Neill and Kevin Langeree's REEDIN kites have partnered up and created an impressive kite, wing and bar lineup! We got the full scoop right here at IKSURFMAG!
A little background about REEDIN Kites in case you missed the big news!
After years of riding, designing, and developing an even deeper passion for kiteboarding, Damien Girardin and Kevin Langeree have fused their talents to build Reedin—a kite brand that aims to create an incomparable riding experience and inspires riders to enjoy every session.
Their passion for kiteboarding and product design has propelled the journey to develop the "perfect kite gear" that appeals to all riders. Reedin aspires to give riders a unique kiteboarding experience that redefines the sport, pushing them to relish every session.
Team O'Neill's Kevin Langeree
Kevin was seven years old when he started flying kites on the beach. At age nine, he started surfing, and when he saw that two of his favourite sports were being combined, he was hooked. At age 11, he went kite surfing for the first time. From then on, he had the kiteboarding bug. What was first thought to be a two-year hobby turned into two decades of competitive sport. Becoming the freestyle world champion in 2009 and winner of the King of the Air in 2014, 2018 and 2019 placed Kevin as one of the most decorated kiteboarders the sport has ever seen. It's not just competing that has Kevin hooked, but a love of any sport involving water and the quest for the perfect wave, wind and place to ride that will keep Kevin grinning.
The Line-Up
SuperModel V2 O'NEILL
We believe that if a kite is good, it's good for all types of riding and levels. The SuperModel is designed to have it react and fly to perfection. The main focus is how it performs, feels, turns, forgives, and is predictable, no matter if we are riding a TT, a waveboard, or a foil. The end goal is to take your riding to the next level and make your sessions more fun.
One key characteristic of the SuperModel is how it swings out of the turns. This specifically will allow you to keep more flying speed in your kite to create more power while staying very light so that you can ride a smaller kite, you can have more constant pull during your turns while riding waves, you will finish your kite loop with confidence, you will land your jumps smoother, and you will be able to steer your kite in the marginal wind when riding underpowered on a foil.
Our unique design provides incredible stability to make the kite super forgiving while delivering the most glide in jumps. Our wingtip shape supplies instant response for quick turning to give great punch when sending a jump to easily get high quickly because, in the end, we all like to jump as high and long as possible.
Features
Arc stiffener + wingtip tensioner leading edge seam. The Leading seam has been moved to add stiffness to the kite's arc in the centre while also adding vertical tension in the strut. This new design allowed us to reduce the Leading Edge diameter even further for a kite that flies faster, reacts quicker to bar input and points further upwind.
Smaller struts for lighter weight and better flex for faster response to bar input and improved low end.
Super stiff bridles. Bridles use pure Dyneema lines weaved at low angle de and pre-stretched to the highest standard for virtually no stretch over time: this translates into a kite that reacts quicker to bar input that will keep its characteristics over time.
CNC Sewing. Manufacturing quality has been a huge part of developing the Reedin kites; to ensure the best quality possible, a lot of pieces on the kite are stitched using a CNC sewing machine.
Segmented Wingtip. The wingtip area is a key element of how a kite turns and engages the turns. Added segments in this area allow for the perfect shape definition of the wingtip. The super segmented wingtip provides the smoothest turning engagement of any kite for maximum efficiency of your steering power. Giving you extremely precise, fast, yet intuitive turning.
High-Density triple-ripstop by Teijin. The high density of yarn per square meter makes this canopy one of the stiffest and strongest on the most reactive and best-performing kite market.
For more information on Reedin x O'Neill's 2021 SuperModel V2, please click here.
Dreamstick 2021 O'NEILL
Our quest for perfection didn't end with the design of the original DreamStick; further testing and dreaming of perfection have pushed us to design this new DreamStick to create what we believe is again the best control system ever.
After introducing the groundbreaking auto-swivelling concept last season, we are now proud to have pushed it to an even more functional and streamlined solution.
Keeping all the great feature that has now made the DreamStick a reference on the market, like our Quick Release System that clicks for reloading, the skinny (21mm) diameter bar with offset finger ergonomics, the super-light bar length adjustment system allowing you to quickly change your bar length from 43 to 49cm while ensuring that the bar has minimal inertia when you spin it, the sleeved flagging and depower line guarantying full wear protection of these two lines for maximum lifespan. Our exclusive Cousin MEL flying lines pre-stretched with our unique technique and mounted using our unique locked splices with virtually no stretch while being easy to unfold and untangle.
Features
Auto swivel technology with ceramic ball bearing
Click-in quick release
PU covered the trim line and flagging line
Skinny diameter bar at 21mm with offset finger ergonomics
Textured grip and fingers ergonomic shape
Adjustable Bar width 43-49cm
Cousin MEL flying lines 22+2m, with "locked splices" construction.
Backline length adjustment is hidden inside floaters.
Aviation grade aluminium CNC centrepiece for lightest weight and durability
Lightest complete control system to date.
Short leash for maximum efficiency.
ISO norm approved
For more information on Reedin x O'Neill's 2021 Dreamstick, please click here.
What's New?
New and improved centrepiece with modified shape and new hard anodising for better auto-swivelling
New bar end floater with more room to roll lines and improved folding
New rope bar Chicken loop available as spare part.
New darker grip with more red on the left side.
New foldable lines set up to ride 12m lines for foil sessions or send the meanest kite loops.
"The first time I rode the DreamStick I was totally hooked by the skinny diameter right away, it felt like I had way more strength holding my bar, and then my first loop, seeing the auto-swivelling in action with my front lines staying perfectly untwisted, I was so stoked." – Kevin Langeree
Hyperfreak 4/3MM Chest Zip Overknee Wetsuit
As our stretchiest neoprene ever, the TechnoButter 3X gives the Hyperfreak 4/3+ Chest Zip L/S Overknee an incredible degree of flex where it counts, while the glued and blind stitched seams ensure no water gets in. These innovations mean that you get a super lightweight and incredibly weather-resistant wetsuit. The F.U.Z.E. chest zip allows for easy on-off, ensuring you can strike when the conditions align. The unique ¾ legs also ensure your suit doesn't flush or balloon when on or above the water. We've even added a 360° barrier with drain holes that not only protects you from the elements but also prevents your suit from leaking water and affecting your performance. You really can't go wrong with O'Neill's Hyperfreak 4/3+ Chest Zip L/S Overknee wetsuit.
Construction:
Full Body/ Legs: TechnoButter 3
Arms/ Shoulders: TechnoButter 3X
TB3X fully taped Glued and Blind Stitched seams
PLUS (+) = 0.5mm extra thickness for even more warmth
Aqua Alpha solvent-free neoprene lamination
For more information on Reedin x O'Neill's Hyperfreak, please click here.
SuperWing V1 O'NEILL (COMING SOON!)
The Superwing resulted from dozens of prototypes and was designed to provide the most stable and the most power per square meter possible. The design's objective focused on stability, power, and forward drive; this was achieved through a specific Arc shape for stability, a stiff frame for direct response, and a wing that naturally flairs out to fly forward as soon as the wind flows through.
The wingspan and aspect ratio is designed explicitly on each surface to provide the best handling for each size. The unique seams construction offers exceptional control of the canopy's profile, tension, and stretch, making a wing that performs better than any other. More stable, more efficient, more rigid, and with minimal deformation over time for a wing you can trust session after session.
Features
Double windows made with army grade clear material. Light, durable and weatherproof, can be folded with confidence and, most importantly, does not modify the riding characteristics thanks to the weight and stretch of the window material being very close to the one of canopy material.
Wide and stiff handles to easily adjust your hand's position, covered with sol and comfy neoprene sleeves that can easily be replaced. Wide handles allow for easy positioning of your hands to adjust to the wind force.
Double one pump hose for faster deflation of strut. Hoses are located in the very front of the strut to also act as a lock for the strut bladder to prevent unwanted movements of the bladder when the wing is deflated.
Stiff Leading edge for direct and efficient feel.
Canopy built under tension for the most stable profile and wing provides a very direct feel when riding. It ensures a very stable ride in both "matador" style riding when you hold the wind in the wing using the front handle and riding position.
Slightly bowed out Leading-edge curvature: the slightly flatter arc ensures maximum projected surface area for maximum efficiency, while the bowed out shape provides a very stable platform.
Convex centre strut: The convex shape provides a more ergonomic position of the rider and a much stiffer strut because the handles load is then less transversal to the strut than a straight or concave strut.
Vertical tension seams. Canopy seams are running vertically along the wing; each seam rigidifies and takes on most of the load; this provides a stiffer canopy that will have minimum deformation while riding and over time.
To view more Reedin x O'Neill products, please click here.
Sat 15th May, 2021 @ 8:11 am
Italian/Egyptian Jen Tyler grew up on the sandy beaches of the Red Sea and has been on the IKSURFMAG & Tonic Mag team since 2017.
Featured in this Post
58,627
1,159,006
3,525
Comments