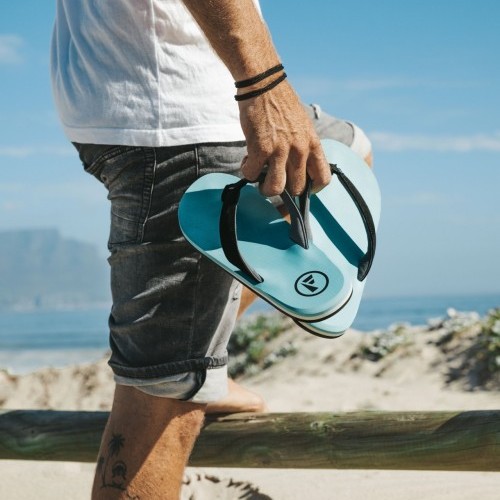 FoamLife Flip Flops Hit The Shelves In Time For Summer!
Features / Mon 17th May, 2021 @ 3:09 pm
As kiters flip flops are an essential item when heading to the beach, during the summer months most of us live in them, the good news is FoamLife have arrived on the market just in time for summer. A stylish take on a timeless classic with an eco twist is what you are getting, available in your local kite stores now and online too, treat your feet and get yourself something a little different, a shade greener and a lot better than that old pair in the cupboard.
FoamLife was created by a collective of like-minded friends, creatives, thinkers, makers, and doers. Our story is an unconventional one from the outset…
Born in March 2020 under deepest darkest Covid lockdown – a time of unprecedented change when everyone's lives and normal routines were put on pause.
They say that all change brings opportunity and that pause proved to be just the catalyst of change required for us to collectively envision a fresh and disruptive new footwear brand based on a simple shared idea;
'We believe that a life lived in flip flops is a life better lived'.
As athletes, artists, and musicians who've grown up living a 'beach lifestyle', we believe that a flip flop is more than just something that you put on your feet. Whether you're finishing a long day at work or you're just chilling with friends, slipping into a pair of flip flops just flicks that mental 'feel good' factor in us all.
As sports and fashion industry lifers, we are as passionate about creating great products as we are about creating great brands. With sustainability at our core; our aim is to create simple, stylish, and sublimely comfortable products that don't cost the earth. At the end of the day, FoamLife is the simple manifestation of our collective imaginations, belief systems and often times counter-intuitive approaches to life. Live less ordinary.
Sustainability
Are we a sustainable brand? Not yet, but we believe that our path to becoming a more sustainable brand is part of our overall journey.
Ralph Wado Emerson wrote, "Life is a journey, not a destination". It is an overused but simple quote that we buy into, we see the journey to becoming a more sustainable brand a journey that has no final destination.
One of the easiest places to start was with our packaging, packaging is an area we have strived to be plastic-free, not only from a consumer-facing point of view but also from behind the scenes. The product is shipped in cardboard cartons using adhesive paper tape rather than traditional plastic packing tape from the factory to our warehouse. Individual styles are packed into biodegradable bags made from cornstarch with a non-toxic, natural clay anti-moisture sachet. Our mailer bags are compostable and can be used twice in the case of any returns.
Recycled card is used for hangers and swing tags, which are attached with recycled paper string. They are small steps towards our longer-term sustainability goal and easier to implement early on when starting a brand.
The majority of our Men's & Women's collection uses a 'soft to step' 15-30% recycled EVA foam on the footbed and outsole. Our Men's Mully and Women's Wahoo styles are made from a brushed recyclable TPE foam, the toe posts are made from recycled plastic bottles (RPET) and the padded upper strap is made from a 100% hemp canvas that is lined with organic cotton for comfort. The whole range is vegan-friendly and PVC free.
You may see our display stands in your favourite retail stores, our stands are made in the UK using a blend of recycled and sustainably sourced materials and water-based inks. To transport these stands we use packaging by Flexi-Hex®. Flexi-Hex® is on a mission to reduce global plastic production within the packaging industry. Using a patented, honeycomb design made from paper, Flexi-Hex® sleeves are strong and adaptable. But most importantly, they are 100% plastic-free, recyclable and biodegradable.
We are not even remotely touching the surface of what is possible in our sustainability journey, our future goals are innovation of new sustainable materials and practices within our company that align with our sustainability goals. We are in a race with no finish line, but it is a race we are happy to be a competitor in.
What they are saying
"It's rare to see a best-seller before it's even launched. FoamLife is that product. Brought to life by a dream team of the best in brand, design and sports. This is the right product with the right brand at the right time". Simon Hill-Norton – Chair & Co-Founder | Sweaty Betty
"Flip flops. Nothing new there! And I guess that's the point, right… The market has become dull and unexciting. I was lucky enough to recently get a sneak peek into the development of FoamLife and their products. I'm 100% sure the team have both the brand and product to inject some much-needed energy and freshness into the category". Rich Philip – Brand & Marketing Director | Stance
"A great product combined with a great team. I believe FoamLife has the commitment, passion and vision to become a leading brand. Globally."
Harry Hodge – Founder | Quiksilver Europe
http://www.thefoamlife.com
info@thefoamlife.com
All Photos: Adam Sims and Amanda Beenen
Mon 17th May, 2021 @ 3:09 pm
Rou has been kiting since the sports inception and has been working as an editor and tester for magazines since 2004. He started IKSURFMAG with his brother in 2006 and has tested hundreds of different kites and travelled all over the world to kitesurf. He's a walking encyclopedia of all things kite and is just as passionate about the sport today as he was when he first started!
Comments